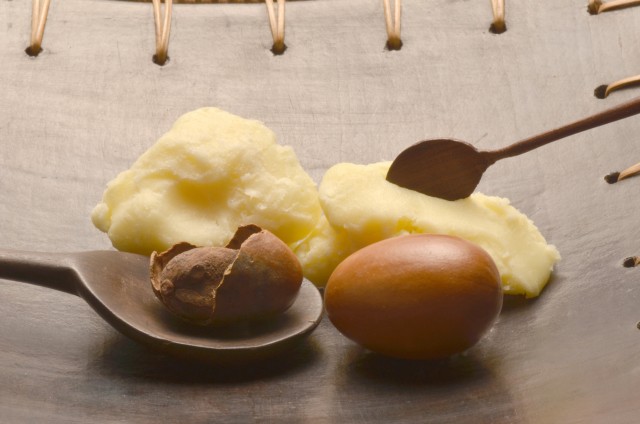 Let me guess — your skin feels a little chapped, or at least in need of deep hydration. Though we are just rounding the corner toward spring, it is late February and the winter weather seems to be on a rampage. While there are many things you can do to help protect your skin against the winter climate, there's one star ingredient that goes a long way toward restoring and maintaining soft, supple skin — shea butter.
Shea butter comes from the fat of the nut of the African Shea tree, and it's been used as a skin and hair treatment for centuries in Africa to combat the stresses of a harsh climate. It's also used in cooking.
With its high antioxidant content, anti-inflammatory properties, and essential fatty acids, shea butter has what it takes to protect and repair skin.
Shea soothes irritated skin and aids conditions like eczema and psoriasis. In fact, scientists have shown that several compounds related to cinnamon are present in shea butter that have anti-inflammatory affects on the skin. One compound in particular, lupeol cinnamate, actually prevented tumor development in one their tests. Shea is also rich in vitamin A and E and a variety of fatty acids, all of which nourish and protect skin's natural oils and boost the collagen production process naturally.
Not all shea butter is worth your time, however. Just like most natural ingredients, how shea butter is produced makes the difference between a nutrient dense and nutrient deficient product. Many shea butters are hyper processed, bleached, and deodorized. They lack the powerful boost that raw, unrefined shea butter can give to skin. You can purchase raw shea butter, and though it is quite dense and firm it will melt against warm skin. However, I prefer to get my dose of shea blended into products among other botanical oils and butters. Shea is used in a range of natural beauty products, from deodorant to creams and lipsticks. When you chose products with shea, you can be sure your skin is getting some of the best nature offers.
Want to add shea butter to your routine? Here are a few products that feature shea…
Meow Meow Tweet Cocoa Skin Cream (coming soon to Integrity Botanicals)
image via sheabutter.com