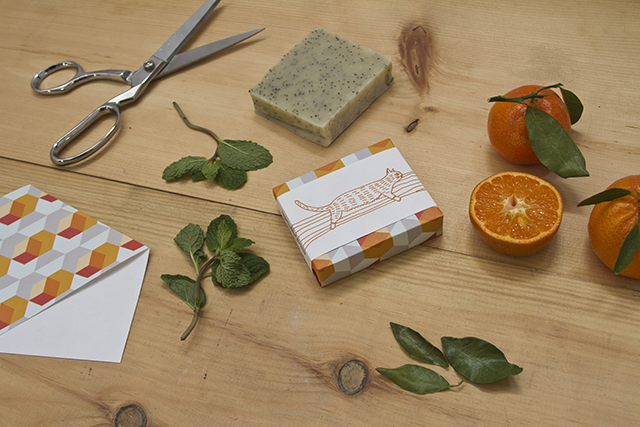 Mark my words, you are going to love getting to know half of the amazing duo behind Meow Meow Tweet, co-founder Tara Pelletier. Once you've experienced this line for yourself, you can really see how their philosophy influences their ingredient choice and product creation. Enjoy getting to know Meow Meow Tweet, and be sure to check out the special offer from Integrity Botanicals at the end of the interview.
Susannah: What is Meow Meow Tweet known for? What do you do best? What would you like to do more of?
Tara: At this point I think we are best known for our deodorant and our packaging. I think both of those reflect what we do best, make seriously effective products in fun and whimsical packaging.
I'd like to do more seasonal products that use the ingredients available from our local farms. Since we just moved our workshop to the Hudson Valley, you'll probably see a lot more of this in the coming year! Yay!
What's your skincare philosophy and how do you practice it in your own life?
Our skincare philosophy was born out of my experience cooking and managing kitchens in a couple of Southern California restaurants. It was just when the slow and local food movement was gaining traction, and I was so inspired by the ideology. At one of my favorite jobs, we went to the farmer's market almost every morning for ingredients and wrote a new menu daily. It was the first time that I was given free reign to develop my own creativity in the kitchen and had access to such amazing, fresh ingredients.
I learned about paying attention to your supply chain, seasonality and about the beauty of highlighting ingredients because of what they are, without trying to transform them too much. For me, it was all about pairings — pairing textures, pairing flavors and pairing colors.
We felt like there was a way to take those ideals and apply it to natural skincare.
Meow Meow Tweet is a vegan line. Why? Was it always your intention?
Everything is vegan because we are vegan. We were very intentional about this because we were underwhelmed by the options for vegan skin care on the market that had truly pure ingredients and good packaging. When we started, many of the vegan skincare products smelled like fake fragrance and had weird fake colorants. I think the vegan niche of the green beauty industry has come leaps and bounds since then, which is very encouraging.
Soap was the first product you ever made, right? Tell us why artisan soap is so good for our skin. What are some of the things that make Meow Meow Tweet soaps a standout product, besides the uber cute packaging (it's like unwrapping a little gift!).
Yes! We bought a book and taught ourselves in our little Brooklyn apartment. We have always said that soap is one of life's simplest pleasures. A beautiful bar of handmade soap is something that even a person with the most basic skin care routine can indulge in.
The main reason that artisan soap is better for your skin than most big-brand soap is that it still retains all of it's naturally occurring glycerine. Glycerine is a byproduct of the saponification process and commercial soap companies will extract and sell it separately because they can make more money on it. Since glycerine is the ingredient that attracts moisture to your skin- taking it out means a harsher bar of soap that dries out your skin. Not to mention the chemical performance fillers that you'll see in most conventional soaps- I could fill a whole page talking about nasty soap ingredients to avoid!
Another thing that I would be remiss not to mention is that when you buy an artisan soap bar you are supporting so much more than your personal health. That bar of soap was most likely made by a small company that is highly involved in the sourcing of their ingredients and the crafting of the product. So much of what we've learned with MMT is that a bar of soap is not just a bar of soap. It is the end product of a multitude of interactions in the world and a commitment to a craft that should be preserved and celebrated.
Besides the packaging of our soap, the amazingly pure ingredients and the unique scents, one thing that you may not pick up on (unless you try every bar and you're a soap fiend) is that we are obsessed with exfoliation. Every bar has some level of scrubbiness to it. From the gentle ground oat, to the fine pumice-like walnut hull, to the most vigorous cornmeal or coffee ground. Some of the bars can even take the place of a separate physical exfoliant, like a sugar or salt scrub. Who doesn't love multipurpose products?
In addition to founding and running a skincare line, you and Jeff are practicing artists, am I right? How does art inform your approach to business and crafting skincare?
Yes, Jeff and I are practicing performance artists, when we started Meow Meow Tweet we thought of it as an art project actually. We were feeling a little distant from our art practice and we wanted to engage with our audience more. We also felt like we needed a project that was an expression of our personal ethics. I think like most postmodern art projects, MMT started as a concept. "Let's make a soap company that doesn't seem like a soap company and celebrates one of the simplest necessities in life and delivers it as a pure pleasure." We wanted the company's branding to be unlike other things you'd see and to be a real reflection of us, which is why we do all of the design. Every label is evidence of our collaboration, with the color and pattern that I contribute and the quirky drawings that Jeff makes. 
As formally trained artists, we're more likely to make decisions outside of the box because we were never in the box. We're just learning what the beauty industry box is in many senses. This can be great and challenging. As small business owners we ask ourselves the same questions that we do as performance artists — who is our audience and how can we reach them?
The whimsical illustrations in your branding just slay me. It's so refreshing to see a brand push boundaries with packaging in a fun way. What's the inspiration behind these images and how do they come about?
Thank you! Many of the drawings are based on random jokes, anecdotes and stories that Jeff and I have. We're pretty crazy animal lovers, so you'll see mostly (actually all!) animals. We're not cynical or sarcastic people, so the drawings come from a sincere sensibility. Jeff makes all of the drawings and they usually start with a random doodle. He draws a lot — we have little bits of paper and pieces of cardboard saved in folders with his drawings and ideas. I may look at the initial drawing and make a basic suggestion before he does a final version. Jeff is a crazy cat guy, so I often say — "hey, can you draw something besides a cat?" Then he takes them to the next level with his own quirky perspective. I think his best drawings have equal parts oddness and cuteness.
The essential oil combinations in your body oils, soaps and toning mists all sound like perfect pairings. How do you approach your choice of essential oils?
I have three different approaches that I've developed over time, and they tend to overlap. The first is food-based: you'll see this mostly in the bar soaps. I think of attractive culinary pairings and figure out how I can translate that into the bar soap experience. Examples of this would be the Fennel Orange or Grapefruit Mint, modeled after two of my favorite summer salads (citrus and herbs forever, am I right?), or the Cinnamon Coffee soap, which is modeled after a Mexican coffee, with hints of cocoa, woody vanilla (from the balsam peru), cinnamon and coffee.
The second approach would be benefit-based, and you'll find this in all of our skin care. I think about whatever problem I'm trying to solve and who my target user is and I blend from there. This usually overlaps with my first and third approach to finish it off and make the product ultimately about pleasuring the senses.
My third approach as you may have guessed from my new side project, STILLLIFE, is scent-based. I suppose this is tied into the food-based approach but it comes out of my appreciation for the complexity of scent. While many folks may be frustrated by the volatility of essential oils, I'm so into the ephemerality of natural scent. I love how it changes on the skin and over time. As part of my self-training, back in 2013, I studied one essential oil per week for almost a year. I would sniff the essential oil everyday, sometimes I would dilute it and wear it, and then I would take notes about it in my "EO Bible". Aside from my research about what the essential oil was good for physically and psychically, I made my own observations that led to my personal style of blending. That project was indispensable to my experience and also matured my nose quite a bit. 
Natural deodorant can be tricky for people with sensitivities to baking soda. In fact, Meow Meow Tweet offers a deodorant that's baking soda free. Do you have any tips for minimizing irritation that some natural deodorants cause?
Moisturize. Exfoliate. Tone. 
I never thought that the number one thing I would talk to customers about was their armpits. I've coached so many people through making the switch to natural deodorant or about baking soda irritation. I think our classic recipe (with baking soda) is pretty gentle as far as soda-deo's go. The creamy texture means you don't have to rub hard on that sensitive underarm skin to get the cream to soak in. However, some folks still experience underarm sensitivity and these are my suggestions before trying our bs-free option.
Moisturize your underarms every single day with a small dab of unscented oil. Let that soak in a bit and then apply the deodorant cream as gently as possibly to underarms, rubbing it all the way in. Additionally, if you shave your underarms, try to shave at night, moisturize, and apply the deo the next morning or at least a few hours later, and be sure to use a sharp razor. Another thing that is helpful is if you gently exfoliate your underarms, I do this weekly with the rest of my full body treatment but folks always seem to forget about their pits! Finally, spray your underarms with toner before deodorant application to balance the pH and soothe the skin. For this, you can dilute raw apple cider vinegar (1 part ACV to 4 parts water) or try your face toner! 
I know this sounds like a lot of routine changes but one can quickly adjust and have great results. If you don't want to make any adjustments, you can try our baking soda free version. Though, I highly recommend you still care for those underarms, why should they be any less appreciated than your face?
SPECIAL OFFER: Buy 2 or more products from MMT and receive a Free Travel Size Baking Soda Free Deodorant. One free gift per customer while supplies last. Code: MEOW