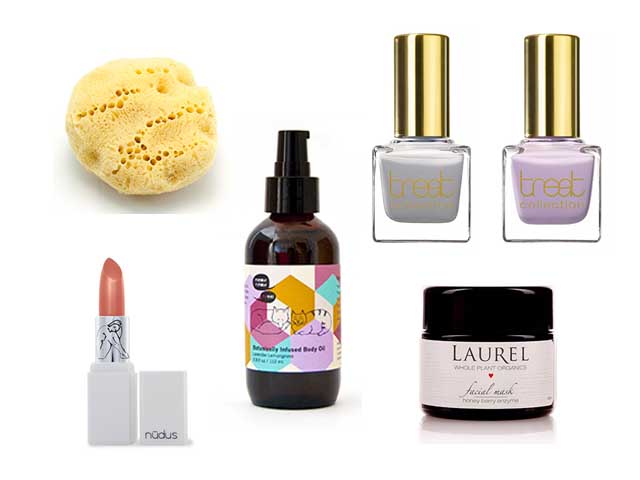 We are just a few weeks shy of spring, which means it's time to shed those winter layers and get ready for longer days and more sunshine. It also means transitioning from one seasonal mood to the next. March is a great time to start packing away the heavy sweaters and introduce some lighter options into your skincare and makeup routine. I've chosen a mix of skincare and colors options that will help you look and feel your best during this seasonal shift, when it sometimes feels like you have one foot in winter and one foot in spring.
Time for soft colors and scents. Let these products inspire you as you prepare to transition to spring.
1. St John's Mediterranean Silk Facial Sponge. Time to gently buff away any dry skin built up over the harsh winter. Use this sponge daily to gently exfoliate. It is soft enough for everyday use and is perfect for sensitive skin that has trouble with exfoliation. Natural sea sponges naturally inhibit bacterial growth and can last years with proper care.
2. nūdus Fairy Tales Lipstick. This light warm peach shade is perfect for transitioning to brighter colors for spring. With 27 active ingredients, nūdus colors are formulated from bioactive extracts of flowers, fruits, herbs and minerals. Shea butter, avocado, coconut and argan oils leave lips soft and moisturized.
3. Meow Meow Tweet Frankincense + Flowers Body Oil. Just launched at Integrity Botanicals, this body oil will really put you in the mood for spring. With it's fresh yet grounding floral scent, you'll feel ready for the seasonal shift and your skin will thank you.
4. Laurel Honey Berry Enzyme Facial Mask. With royal jelly, organic strawberries ad blueberries and raw honey, this mask will help boost healthy skin cell turnover and nourish with powerful antioxidants and vitamins B, C and A. Raw honey is hydrating and plumping as well as antimicrobial to help control breakouts. This mask will have your face in tiptop shape for spring.
5. Treat Collection Nail Polish in Laughing Out Loud and Fashion Week. These 5-free formulas are long lasting and come in colors for every occasion. Laughing Out Loud — a smoky pastel violet — and Fashion Week — an elegant light grey — are perfect for early spring, when you just want a soft hint of color rather than the deeper shades you've been rocking all winter.
Enjoy the first hints of spring in March, and look for more seasonal inspiration next month.