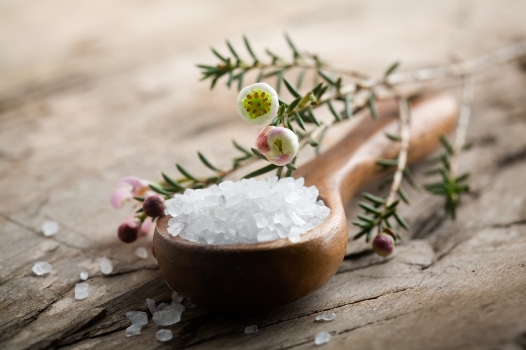 One of my favorite ways to practice simple aromatherapy is to take a relaxing aromatic bath. You can easily make your own bath salts if you keep a few basic ingredients on hand. Epsom salts make a great, affordable base for your mix, though you can mix Epsom with sea salt for added minerals and skin-softening properties if you wish. Epsom salt is an excellent vehicle for an aromatherapy treatment because it has it's own benefits, too. The magnesium in Epsom reduces inflammation and helps improve muscle and nerve functions, while the sulfates in Epsom help flush out toxins and improve the absorption of nutrients.
The combination of lavender and eucalyptus is both relaxing and invigorating. It's great for this time of year when our bodies are still in winter hibernation mode but sense that spring is right around the corner. Not sure about you, but I'm far less active in the winter when the daylight is scarce and the temperatures are so low. An aromatic combination like lavender and eucalyptus helps stimulate your senses in a rejuvenating but gentle way, and helps bring your body out of its winter sluggishness. These essential oils are also gentle and won't irritate or burn skin when used properly. This is especially important when using essential oils in a bath, because some essential oils are too strong and irritating for baths.
I also chose lavender and eucalyptus oils because they are wonderful, all-purpose essential oils that are worth investing in and having around your house. Essential oils should last you a long time because you only need a few drops at a time depending on what you're doing with them. Lavender is known as the ultimate relaxer, and it's true that it does put you at ease. It's a wonderful never tonic, so to speak, and it also has antiseptic and analgesic properties, meaning it is good for aches and muscle stiffness. Lavender is the quintessential spa scent. Eucalyptus oil is fantastic in a bath because the scent creates a cooling and refreshing effect. It is stimulating and helps alleviate mental exhaustion. With its head and sinus clearing properties plus its ability to bust up sluggishness, eucalyptus essential oil is often just what I need to revive myself.
Lavender & Eucalyptus Bath Salts

1 cup Epsom salt, sea salt, or combination of both
5 drops lavender essential oil
5 drops eucalyptus essential oil
In a mason jar or container with a lid, add all of the ingredients and shake well to distribute the essential oils well. Pour the entire cup into a hot bath and inhale deeply. Enjoy the rejuvenating benefits of lavender and eucalyptus oil.