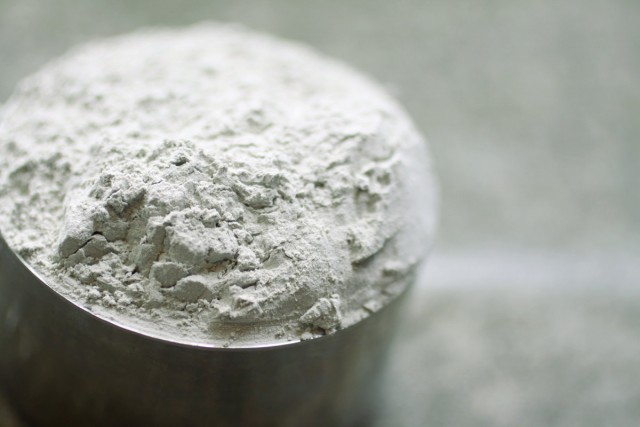 Since I've switched to gentle, all natural shampoos my hair has become more balanced and requires less washing, but I still have this romantic notion that I could one day do without shampoo altogether. The trouble is that I've never had success with the no-poo method. That's ok. I'm quite happy with the non-toxic shampoos in my life, but I have found that using a DIY detoxifying clay mask every few weeks helps keep my scalp and hair extra happy and removes any build-up that accumulates from products and shampoo.
Clay is one of my all-time favorite natural ingredients for its ability to detoxify, cleanse and soften (yes soften!) hair and skin. I'm sure many of you are already fans of clay facemasks, DIY or otherwise. (I'm wearing a clay mask as I write just to get into the spirit — I couldn't resist once I started in on the subject.) The same benefits that make a clay facemask so effective also apply to your hair and scalp when used as a hair mask.
There are many different types of clay that are wonderful for this purpose, including bentonite, French green clay and Rhassoul clay. Cosmetic clays are incredible for their ability to absorb oils, toxins and impurities, leaving you with fresh "new" skin and hair. Clays have a toning action that stimulates circulation and rejuvenates dull and damaged skin cells. They are also chock full of important minerals, which help replenish depleted skin and bring back life and luster when it's lacking, so while clays draw out impurities they also restore important nutrients.
This DIY clay hair mask is a simple recipe that you can use every now and then instead of shampoo. It gently lifts oil and draws out impurities and build up from your scalp and hair follicles.
Detoxifying Clay Hair Mask
Ingredients:
3 – 6 tablespoons of bentonite, French green or Rhassoul clay (amount needed depends on how much hair you have)
Aloe vera juice — make sure it is pure with no weird additives
2-3 drops of rosemary or peppermint essential oil (optional)
Directions:
Add the clay to a glass or plastic bowl and slowly add in aloe vera juice a tablespoon at a time, blending with the clay until you get a smooth blend that will be easy to massage into scalp. The key is getting a consistency that isn't too watery but isn't too thick. If using rosemary or peppermint oil, add 2-3 drops and mix thoroughly. Rosemary or peppermint oil are wonderful additions because they help stimulate the scalp. (See this post about the benefits of rosemary oil.) Mountain Rose Herbs has a great selection of high quality clays for a good price, and you can find some clays at natural health food stores.
This mask is easiest to apply to wet hair in the shower just as you would shampoo. I like to mix up enough for two applications in one shower. Just wet hair and massage the mask into your scalp for several minutes, then allow it sit for several more. Rinse and repeat so that the clay really has a chance to draw out excess build-up and detoxify the scalp. Once you've finished, I recommend following the mask with a simple hair rinse of one part apple cider vinegar to two parts water. The apple cider vinegar helps reset your hair's pH balance and gives great shine.