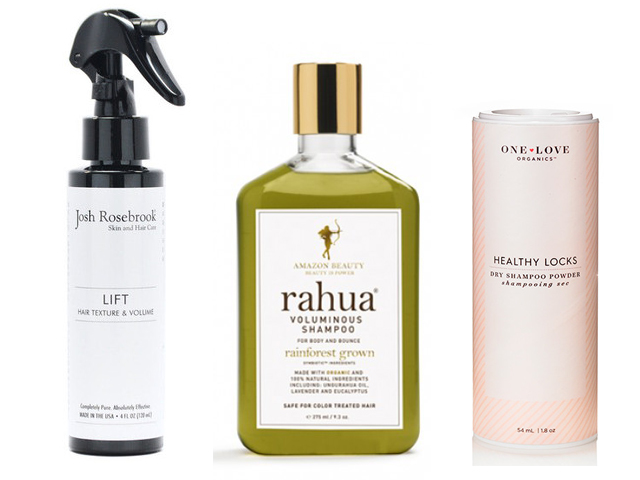 We fine haired people usually have one goal — get that volume! Whether you want to go Dolly Parton big or simply amp up and thicken your tresses a bit, you don't have to resort to aerosol cans of toxic hairspray and other iffy products in your quest for full-bodied, luscious hair. There are some wonderful, nontoxic natural options that help limp, fine hair look bouncy and full. I should know! My hair is quite fine, and whether I'm sporting a short cut or long strands (as I am now) I can always use help in the volume department.
One of the main challenges with fine hair is finding volumizing products that don't weigh your hair down, making it look more flat than it already is, at least that's been my experience. The other risk is that the product boosts volume but makes your hair an impenetrable rat's nest in the process. Not good! I'm always striving for hair I can run my fingers through or restyle without compromising comfort or my natural look. I'm a no-fuss gal, what can I say?
The following volumizing products give results, cause no harm and are a pleasure to use on any given day.
Rahua Voluminous Shampoo — This baby is the first shampoo I've purchased over and over again. Even when I stray and try something new out of curiosity, I end up back with Rahua. I've tried a lot of all natural shampoos — A LOT — and many of them don't cleanse my oily-prone roots well. Rahua not only cleanses beautifully, it actually keeps my hair clean longer than average thanks to the citric juices that break down excess oils. Clean hair is great, but clean hair that has body and bounce? Yes please! Lemongrass and green tea add fullness by also removing excess oils from the scalp and hair shaft, but hair isn't stripped and instead is nourished and conditioned by coconut oil, shea butter and Ungurahua oil. In fact, I often go without a conditioner when I use Rahua Voluminous Shampoo. A slightly citrusy scent with gentle hints of lavender and eucalyptus make shampooing a lovely treat. Expect weightless volume and body from Rahua Voluminous. This one is a keeper.
Josh Rosebrook Lift Hair Texture & Volume — When I interviewed Josh last fall for Integrity Botanicals he hinted that Lift was in production, and I have been eagerly anticipating it ever since. It does not disappoint! Lift is a unique texture and thickening spray that creates a full, weightless look that is easy to style. Actually, the added texture makes it easier to style than virgin hair. Ever notice how freshly washed hair can be slippery and difficult to work with? Lift gives just enough texture and pliability to hair that styling is made easy. Organic yucca plant is the magic ingredient that creates thicker looking tresses while giving lightweight body and dimension for manageable hair. As you'd expect from Josh Rosebrook, the formula is also full of herbal extracts that gently stimulate the hair follicle and scalp to increase circulation and strengthen the hair shaft. The scent is to die for with notes of ylang ylang and lavender — a little sweet and energizing, and the spray bottle makes application quick and easy. Definitely give Lift a try if you are looking for a leave-in product that offers oomph and salon-quality texture and finish.
One Love Organics Healthy Locks Dry Shampoo Powder — Wait, dry shampoo as a volumizing product? Absolutely! Dry shampoo has long been touted as the best way to extend your wash and style for days, and One Love Organics makes one of the best I've ever tried. Here's a little secret, though — I often add a little boost of volume and preempt oily roots before they happen by applying Healthy Locks Dry Shampoo immediately after I've freshly washed and dried my hair. Just a little dusting will do, and Healthy Locks is one of the only dry shampoos that does its job without causing hair to feel dry and overly matte. In fact, the formula leaves hair feeling silky and soft thanks to the hyaluronic acid and silica rich bamboo extract, while Georgia kaolin clay absorbs excess oil and provides texture and a slight boost to roots. The scent is a heavenly fresh gardenia note that is soft and feminine, not overpowering. Second day hair and a little more Healthy Locks makes for even more fabulous volume.
Though not reviewed here, the Yarok Feed Your Volume Shampoo, Feed Your Volume Conditioner and Feed Your Roots Mousse also deserve a special mention in this category. I'll review this happy little trio in the future!