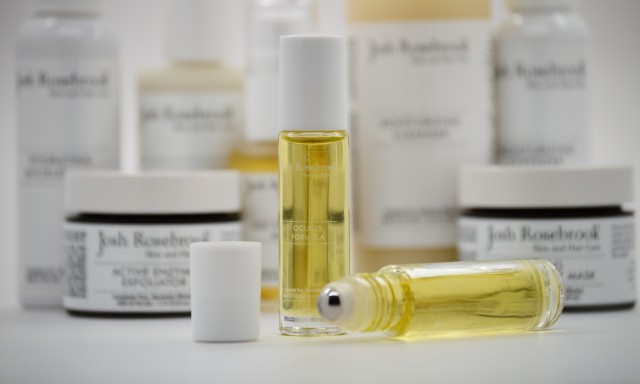 Have you heard? Josh Rosebrook Skin and Hair Care has just launched the Oculus Eye Serum. This oil-based treatment is infused with powerful herbal extracts that work to protect, brighten, and regenerate. In honor of this exciting launch, I caught up with the oh-so passionate Josh Rosebrook to talk shop.
Susannah: Your line, Josh Rosebrook Skin and Hair Care, has really become a staple at my house. My husband, who is a skincare minimalist at best, adores the shampoo and the cleanser, and I am hooked on the exfoliator, the Hydrating Accelerator, and the Nutrient Day Cream. It's unique that both of us are into your line. That normally doesn't happen, so tell me what makes your line so special.
Josh: When I first started the line my vision for it was absolute purity. At the time, there were so few lines that were completely pure. As we were creating specific products we found that there was a synergy that was taking over when we combined certain extracts and oils together. The results were exponentially greater. It was really exciting. Through this process of learning we found that synergy is created when we design and put together ingredients in a very orchestrated way. It creates that special X factor that people experience. It becomes a product that not only feels good and smells good, but you experience results. That's what was important to me. For me, there's no point in even being part of the high-end niche beauty industry unless I'm doing something that's exceptional.
Susannah: I understand that you were drawn to the personal care industry at a young age. How did you first become interested specifically in the use of botanical ingredients and herbal extracts? What led you to believe that this is what is exceptional?
Josh: I've always been very naturally inclined. I started purifying my diet when I was 18 — eating organic, vegetarian, vegan — all the various diets that lend to balance. But what I didn't see, obviously, was a lot of natural pure products in skincare or hair care especially. I was meditating a lot, doing yoga, purifying my diet, but yet I was being told by the skincare and hair care industry that even though their products weren't natural, they were what worked. Just like anybody, when you begin to switch over you start to ask questions. Why do the synthetic chemicals work on my body and my skin and they don't work in my diet? Why am I getting rid of my preservatives and artificial colors and flavors in my diet but yet I'm putting it on my skin and my hair?
When I was about 19, I started to experiment with different kinds of moisturizers. I was experimenting with really raw forms of beeswax. I was getting really great results during the winter because it created this moisturizing shield on my face. I was like, why does this simple product work for me, but the $50 creams I'm buying don't? That's when I really began to switch over. I started making my cacao mask at home and getting incredible results, and that's when everything started to fall away. I realized that the conventional beauty industry is not there for you or your skin. They are there to make money. I was working at a salon as a young stylist, and I was really blown away by how many people working in the salon didn't know what was in any of the products. All they can say is they like it and it smells good. Why? Shouldn't you at least be able to tell me what the chemicals are doing that makes my hair soft and shiny? I realized nobody really understands what's going on, especially in salons because they are so chemically oriented. I was really disillusioned by the industry.
Susannah: Tell me the story behind the Oculus Eye Serum. What was the vision behind the product and what differentiates it from other eye serums and oils out there?
Josh: We've been working on the Oculus formula for a long time. I wanted to create a really effective treatment because the eye area is the first to show signs of age, lack of sleep, poor diet, and stress. It's a very sensitive, delicate, beautiful area. On a physical level, the skin around the eye area is thinner than the rest of the face, so it's more prone. There are less pores around the eyes, and the pores that are there are smaller, so everything is working against you. I was challenged because it's a hard product to deliver results, but I'm either going to make a product that's going to produce visible changes, or I'm not going to make it at all.
I chose a particular combination of extracts that are highly anti-inflammatory and antioxidant. As soon as you can calm the skin, that's when natural healing can take place. There are many regenerative phytochemicals at work, but you'd be blown away by how much happens in the body on its own when you use natural ingredients to facilitate and protect. The high level of anti-inflammatories in the Oculus all work in synergy to calm and soothe, and then the healing process kicks in, and now these powerful concentrated extracts can neutralize free-radicals and jumpstart your collagen and elastin to firm, tone, and brighten.
The extracts are where you're getting the really condensed benefits. We have a proprietary mechanical process that we use for our extracts that retains the benefits of the plant. We are not doing any chemical or molecular tearing apart of the plants; we are retaining the integrity of the plants. For me, I've used a lot of different eye treatments, and I've made a lot of different eye treatments. I have liked them, but it wasn't until we produced this formula and I used it for a long time when I actually saw changes to the skin around my eyes. I noticed it being brighter, firmer, a little bit fuller. All you can ask for is an improvement. We're not trying to make it look like you've had under eye surgery. We are just looking for improvement.
Susannah: I don't think I realized this, but it sounds like you create your own herbal extracts rather than purchasing them ready to go. Is that the case?
Josh: Yes, we have the herbs and we create the extracts. We are not buying the extracts. It's all mechanical extracts and infusions. We don't use chemicals or alcohol. There are several ingredients we get from suppliers, and we've worked very hard to build quality long-term relationships with them. That's how you can control your quality — through really knowing who you're buying from and that they're on the same level as you. We regularly submit our complete formulations to third party testing for any toxicity, and they consistently come back with zero toxin ratings, which is very rare. But for me that's everything. If there was a slight presence of a toxin, that wouldn't be my product. It wouldn't hold that vibrational synergy that I put my name behind.
Susannah: I love it that herbal extracts are the backbone of your products. Tell us more. Why herbal extracts? What do they do for us, why do they work, and why is it something we want to look for in our products?
Josh: You can take one herbal extract, chickweed for example, and that's a powerhouse. It's packed with vitamins, minerals, fatty acids, antioxidants, and that's incredible. So if you took that and made an extract or infused that into an oil and used it as a treatment, it's going to be so much more beneficial to your skin then if you just used hempseed oil or coconut oil or another nutrient dense oil. The benefits are more concentrated. It's ancient knowledge, whether you're using Chinese herbs or more western herbs. It's profound healing for the body. They're not cheap to buy or make. They are very delicate, and we stress that the ingredients are alive. They are living and fragile. We make sure that the people who prepare our formulations are in balanced states. You can't be in a bad mood. You are handling ingredients that are susceptible to your energy, and it's all going to affect the final product in the jar.
Susannah: Can you give us any hints about what you're currently working on? I know you've just released the new Oculus Formula, but what else can we expect from Josh Rosebrook in 2015?
Josh: What's coming out in 2015 is a styling product for the hair called Lift. It provides texture and volume, and it also has a little bit of thickening.  I'm also working on a body oil serum. That's been quite a project because I have a specific vision for how I want this to perform. Oils are obviously extremely nutrient dense for the body, but I want something that comes out of bottle as a serum and has a higher level of oils, so you're getting the nutrient density of an oil with herbal extracts, but it absorbs and wears very light.
Next year we are also going to release three different shampoos and three different conditioners addressing all hair types and conditions. The Deep Nourishing Shampoo and Conditioner are going to remain, and that will be for all hair types as it has been. Then I'm going to introduce a shampoo and conditioner for fine and limp hair, as well as a shampoo and conditioner for coarse hair and dry, damaged hair. I will also have a scalp treatment shampoo for thinning hair that helps stimulate the follicle, which is my approach to thick Beautiful hair. It always starts in the follicle.
Integrity Botanicals will have the new Josh Rosebrook Oculus Eye Serum available for purchase November 22. To celebrate the launch, Integrity Botanicals is offering a free Travel Size Hydrating Accelerator when you purchase the Oculus Eye Serum. Make sure to sign up for the Integrity Botanicals mailing list so you can receive the special code.