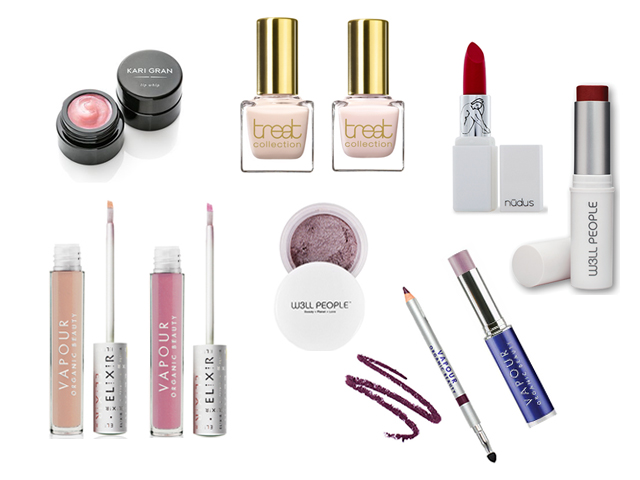 With each new season comes the chance to shake things up and refresh your look. Though the runway trends for spring 2015 had some classic high-fashion makeup looks that don't translate to everyday wear (or even special occasion wear, but hey it's art!), some of the runway trends are not only attainable and approachable, they are simple and gorgeous and can be recreated without a lot of technical expertise.
I'm highlighting a few favorite trends along with color and makeup recommendations so you can get the look for yourself. If you ask me, most of these looks are timeless and translate to almost any skin tone, they just happen to be very of the moment, too.
Plum & Purple Reign
While spring traditionally brings bright pastels and pops of pink, deep smoky plum could be seen across runways for a surprise twist on the seasonal standards. Plum shades are actually quite versatile and compliment brown, green and blue eyes. Keep it soft for daytime or deepen the look for evening. Try Vapour Organic Beauty Mesmerize Eye Color in Ace (smoky plum), or for more shimmer go for W3LL People Elitist Mineral Eye Shadow in Sparkling Plum. If you just want to a little taste of plum, check out Vapour Organic Beauty Mesmerize Eyeliner in Viper (decadent plum).
Barely There Makeup and Nails
The "no makeup" look continues to thrive this spring, and some runways featured models who quite literally wore no makeup at all, choosing to showcase bare luminous complexions instead (all the more reason to chose your skincare wisely!). As liberating as absolutely no makeup can be, a little natural enhancement never hurts. Skip the foundation and mascara and opt for a fresh-faced youthful look with pinky-nude lips and cheeks — just a touch! Get the look with Vapour Organic Beauty Elixir Plumping Lip Gloss in Flutter (a grownup sexy pink) or Pout (a sheer pinky nude). Blend into lips with your finger and then dab and blend excess color onto cheeks in lieu of blush. For an even more understated look, go for the Kari Gran Tinted Lip Whip. If you want a little more than barely there makeup, these pair beautifully with the plum eyes trend. Nail colors this spring are in keeping with the "I woke up like this" look. Simple, polished and natural is the name of the game. Try Treat Collection's Sugar Frosting or Treat Collection's Good Thing.
Flaming Red Lips — The Statement Piece
Subdued makeup overall looks stunning paired with a classic red lip, and this look made a big comeback this spring. High impact, saturated red color is being worn soft around the edges of the lips for a stained, lived-in affect. Forget the lip liner or filling in along the lines. Apply to the center of lips and blend toward the edges with a fingertip for a diffused look. Try nūdus lipstick in Revenge or W3LL PEOPLE Universalist Matte Multi-use Stick in Creamy Crimson. You can literally roll out of bed, throw your hair in a messy braid and apply red lipstick in a mad dash without looking in the mirror and you'll be hitting this spring runway trend right on the mark.