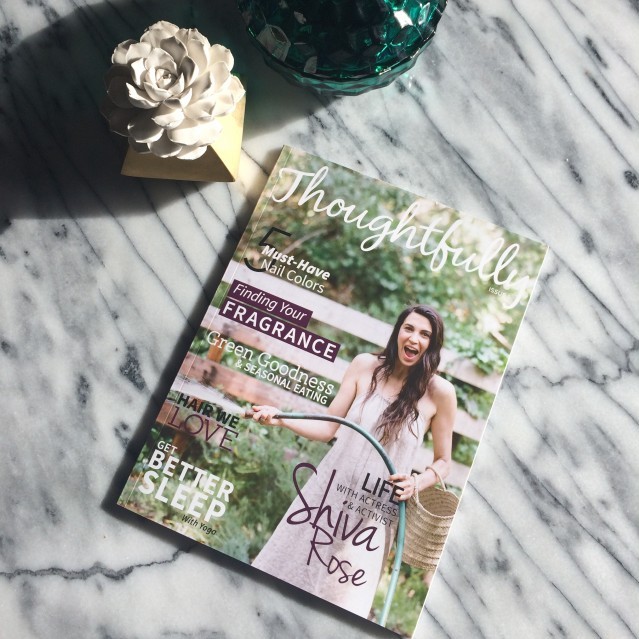 Early last October, I attended an event hosted by W3LL People at their studio in Austin, Texas. The evening was memorable for so many reasons. For starters, it was there that I met Terri and Marc from Integrity Botanicals and this blog collaboration was born. It was also where I met Brandie Gilliam, the founding editor and creative director behind a new quarterly magazine called Thoughtfully. That evening the W3LL People studio was full of people who are passionate about nontoxic beauty and wellness, and that's what Thoughtfully is all about, too. I teamed up with Brandie and the rest of the amazing writers behind Thoughtfully, and I've been putting my heart into it as Thoughtfully's Beauty Editor ever since. Here we are celebrating Issue 2 with the spring season! We wanted to introduce Integrity Botanicals customers to Thoughtfully because we think you'd really enjoy it.
Thoughtfully covers travel, culture, fashion, beauty, wellness and food with a passion and enthusiasm that is 100% authentic. The contributions come from real people writing about the simple things that move us everyday and make our lives more beautiful and engaging. Great design and storytelling are just as important as sustainability, what we eat and drink, where we shop — all things that define the Thoughtfully lifestyle and how we approach each day. Thoughtfully isn't just another magazine. Thoughtfully has soul.
Let's hear more about Thoughtfully from the woman who had the vision bring it to life, Brandie Gilliam.
Susannah: What inspired you to create Thoughtfully?
Brandie: I was inspired to create Thoughtfully about seven months ago after having an aha moment that I could fill the void that I wanted to see on newsstands when it came to authentic and inspiring non-toxic beauty and thoughtful living. In that moment, it occurred to me to just do it and so I did… and here we are with the new release of our second issue for the spring season.
What does it mean to live Thoughtfully?
To step back and think about how our actions, words and thoughts impact ourselves, others and the world around us. When we live with intention, purpose and mindfulness, we're living thoughtfully.
What makes Thoughtfully different from other lifestyle magazines?
I think what makes Thoughtfully different from other lifestyle magazines is its uniqueness, approachability and authenticity. We're not trying to be the next whatever (you fill in the blank). We're just trying to be us and do that really, really well. Living passionately, beautifully and thoughtfully every day is what we do and its a lot of fun so my goal is to make sure that comes through and translates on our pages both visually and with the information we're providing each issue.
If you could have anyone in the world grace the cover of Thoughtfully, who would it be?
I have quite a few people on my list but certainly having Jessica Alba, Miranda Kerr, Alicia Keys or Luptia Nyong'o grace one of our covers would be AMAZING.
Integrity Botanicals + Thoughtfully are giving away the print version of Issue 2 to 5 lucky people! Enter below! Giveaway ends this Monday, April 13 at 11:59 PST. Can't wait? You can purchase a digital copy of Issue 1 or Issue 2 for immediate download, or you can order a print edition. Thoughtfully also has national distribution through Whole Foods Market, so look for it during your next shopping trip.
Open to U.S. and International entries
a Rafflecopter giveaway