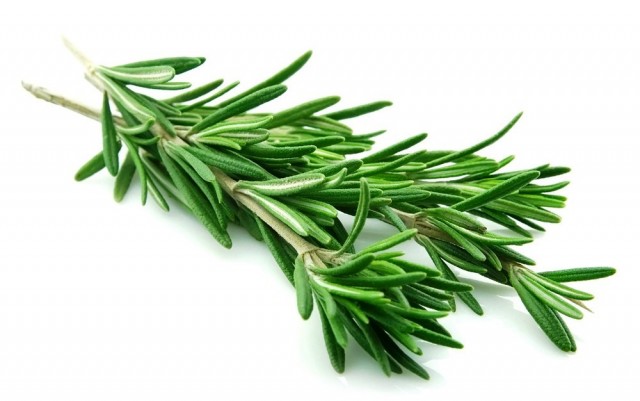 You may be most familiar with rosemary in a culinary context, but this herb is just as useful in skincare and hair care as it is in your kitchen.
Rosemary is an evergreen shrub that originated in the Mediterranean but now grows throughout Europe, North Africa, the Middle East and the U.S., too. I have a few shrubs in my yard, and the leaves are teeming with the oils that are distilled for use in skincare. Just rub your fingers across a sprig of rosemary and the invigorating scent sticks to your skin. The scent, which refreshes and rejuvenates instantly, reflects just what rosemary can do for you cosmetically.
It's rare that an essential oil can benefit so many different skin types, but rosemary has something for everyone — oily, acne-prone, sensitive and mature skin types in particular. Rosemary is prized in skincare because it is naturally astringent and has regenerative capabilities that help firm and tone skin. Those with oily skin and acne will benefit from rosemary because it is antibacterial and antimicrobial, which helps keep skin clean and deters breakouts and flare-ups. Rosemary's astringent qualities help tone and balance oily skin and hair without causing excess dryness.
Overall, rosemary has a stimulating effect on blood circulation and skin cells, and this helps cells regenerate and restores elasticity and firmness to the skin.
Because rosemary encourages cell turnover and renewal, rosemary helps prevent a dull complexion and aids broken capillaries and dark spots, too. Rich in antioxidants, rosemary also inhibits free radicals from causing premature damage to the skin and keeps your skin looking younger longer. Finally, rosemary is anti-inflammatory and great for sensitive skin. Those with conditions like rosacea and psoriasis may even respond well to rosemary.
While rosemary is wonderful for the skin, it has a bigger reputation for benefiting the hair and scalp. In fact, you'll see it in many natural hair care products, and that is quite intentional. Long prized as a preventative and treatment for hair loss, rosemary's ability to stimulate blood flow to the scalp and encourage circulation helps hair follicles remain healthy and resilient and kick-starts growth. As mentioned, rosemary balances oiliness, so if your scalp tends to get oily quickly, be sure to incorporate a product that features rosemary. Rosemary also helps dry, flaky scalps recover and rebalance as well.
Rosemary may not seem as exotic or enticing as some of the ingredients you find in natural skincare, but it is a powerful healing and regenerative agent, so don't just reserve it for your kitchen and garden.
Want to incorporate rosemary into your skin and hair routine? Here are some products to get you started…