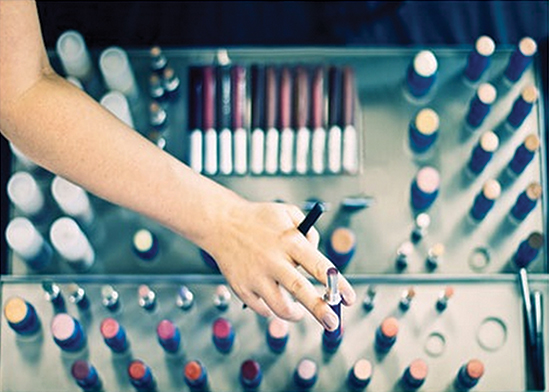 On paper, it's hard to believe a line like Vapour Organic Beauty even exists. Vapour is a luxury performance cosmetics line with light-as-air textures. Their formulas are 70% organic ingredients and 30% mineral pigments and essential oils. That's it, yet the sophisticated color range and the way Vapour wears on skin leaves you wondering how it's even possible.
Because Vapour is launching at Integrity Botanicals, I had the chance to get to know this line. I'm beyond impressed and excited to share my experience with you.
My Vapour routine starts with the Stratus Soft Focus Instant Skin Perfector, a 3-in-1 moisturizer, primer and no-color foundation. It balances all skin types, especially oily and combination, and leaves a smooth base for color. The Soft Focus Instant Skin Perfector has light reflective technology that helps correct skin tone and texture, hiding fine lines and pores. This product surprised me. I've never felt the need to use a primer, but I'm in love with this one. Perhaps it's the nourishing base that includes organic pumpkin and papaya, evening primrose, frankincense, tulsi and lotus. Or perhaps it's the way my skin feels like satin and makeup glides on after using this primer. It's wonderful all on its own, too.
The Atmosphere Soft Focus Foundation pairs beautifully with the Instant Skin Perfector and features many of the same nutrient-dense ingredients, but rather than evening primrose, the very first ingredient in the foundation is organic camellia seed oil, which brightens and rejuvenates skin. The Soft Focus Foundation evens and brightens skin tone and creates a flawless, dewy finish that wears well all day long. Skin looks alive and fresh, never overdone. This foundation is pure bliss in a bottle thanks to the airbrushed, weightless finish it gives.
After applying the Instant Skin Perfector and Soft Focus Foundation, I use the Illusionist Concealer to brighten up the area under my eyes. This concealer is lightweight and sheer but buildable. It does a beautiful job of evening the pink tone right under my lash line as well as brightening the entire area under my eyes. I also love dabbing it on my eyelids as a base for eye shadow. On days when I just want to freshen up my look and run out the door, a few strategic swipes of the Illusionist Concealer and a little blending do the trick. This concealer comes in a small stick, which makes it easy to apply and very portable.
Next up is the Aura Multi-Use Blush, also in a chic twist-up tube. I admit to being a blush fanatic, and Vapour's Multi-Use Blush is phenomenal. It's creamy and blends like a dream for a natural flush of color. The pigments start sheer but build quickly for a bold pop of color, which has fantastic staying power. I have this blush in Spark, a sheer pinky peach that has quickly become one of my all-time favorite colors. It's truly multi-use, too and looks great on lips and eyes — yes, eyes! I love dabbing a bit of Spark on my eyes in place of or underneath traditional eye shadow.
Speaking of eye shadow, the Vapour Mesmerize Eye Color is perfect for a sheer wash of color that sticks around and gives a natural but polished appearance. The colors I'm wearing are Embrace — a soft peach that is understated, beautiful and perfect for the "no makeup" look — and Nightfall, an elegant soft grey brown that can be adapted for a daytime or nighttime look. The eye colors also come in small twist-up tubes the same size as the concealer and lipstick, so they travel nicely.
Let's talk about lips, because Vapour makes outstanding lip products that truly exceeded my expectations in terms of comfort, color and wear. Not interested in color? Start with the Lux Organic Lip Conditioner. Integrity Botanicals went out of their way to share the Lip Conditioner with me, and now I know why. Packaged in a chubby little tube, this is one of the most hydrating and conditioning balms that has ever touched my lips. I might have overlooked this must-have item had it not been brought to my attention. It is a true standout product among a sea of lip conditioners and balms, and it makes a gorgeous base for the Vapour Siren Lipstick. Conditioning and surprisingly longwearing, I have the Siren Lipstick in Courage, a bright cherry red, and I couldn't be more pleased with the creamy finish, saturated color and durability of this product. I love the small size of the tube because it allows for a precise yet quick application.
When I'm not looking to go bold with Courage, I adore wearing the Elixir Plumping Lip Gloss. Hydrating but never sticky or tacky, the colors really enhance lips and brighten the face overall. I'm hooked — at least one of these glosses must remain in my purse and on hand at all times. Bitten is a deep red cherry stain that dresses up any look. Trust is a clear warm coral that has pink undertones, and Tease is a sheer hot coral that screams warm weather and sunshine. I love them all and hope to try additional colors. Lips look plump and inviting, and it tastes and smells good, too.
Now that I know how incredible the Vapour Organic Beauty line is, I can hardly believe I waited so long to try it out. The good news is that all of these gorgeous products will be available this week at Integrity Botanicals along with a limited special offer you won't want to miss. Check back with us on Thursday!