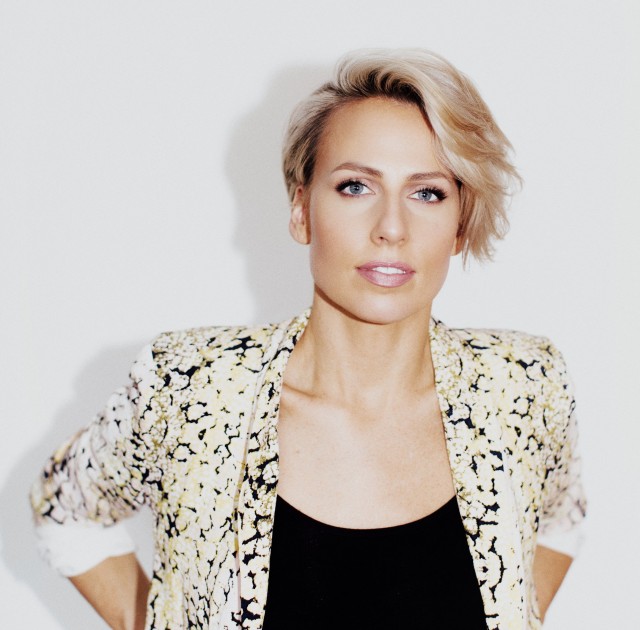 Vapour Organic Beauty just launched at Integrity Botanicals, and we've partnered with Amy Clarke, a makeup artist who relies on Vapour Organic Beauty for both her personal and professional kits, to tell us more about what makes this clean cosmetic line a standout.
To celebrate this exciting launch, Integrity Botanicals has a special offer for you. Details are at the end of the interview, but first a word with Amy…
Susannah: Tell us a little bit about what you do from day to day as a makeup artist, and why you were drawn to the profession.  
Amy: I have always loved makeup.  Luckily, my mom let me play with makeup at a pretty early age, and I learned how to do fun looks on my sisters and friends. Naturally, that turned into helping my friends do makeup for special events when we got older, and finally transitioned into an actual job when people paid me to do their makeup for their wedding day or a red carpet event.
Every day is completely different in my world.  One day I am in LA for a fashion shoot, and the next I am working with a bride in Thailand.  I adore bringing out my clients' most beautiful version of themselves for their special days.  I also love to collaborate with designers, photographers and artists to bring a creative vision to life.  It is all of these things that keeps me in my happy place as a makeup artist.
How did you discover Vapour Organic Beauty, and why did you start using it on yourself out of all of the makeup lines out there?
One of my dear friends is a green beauty guru.  She is always introducing me to healthy products that perform just as well as (or better than) traditional beauty products.  I really value a healthy diet and lifestyle, and I know that what you put on your skin also goes into your body. So it is important for me to stay in the know, and to always try lines that challenge the status quo. Vapour is definitely one of those lines. I knew that as soon as I started using it.  My skin adjusted to the formulations and began to improve, just like it would with a fabulous new skincare product. I loved the natural glow I had when using Vapour — and my lack of breakouts. It is really nice to know that the makeup I have on all day is actually nourishing my skin and keeping it balanced.
Do you think of Vapour as a versatile line? For example, how does it translate in both daily wear and for special events? 
I am obsessed with Vapour's versatility.  It is such a modern look to have fresh, glowy skin, whether you are riding bikes at the beach or walking the red carpet.  Very often I find myself reaching for Vapour's Atmosphere foundations when I want to achieve a really natural, current look. Unless there is a specific reason for it, I have found that masking the skin in heavy foundations can look so dated.
Special events usually require a long-wear makeup, in which case I simply set a Vapour face with a dusting of whatever powder I have on hand. That cuts down on touchups needed post dance floor sessions or tearful acceptance speeches.
You're currently using Vapour makeup in your pro kit. What are some of your favorite Vapour products that you use with clients?
Well, I obviously adore the Atmosphere Foundations, both the liquid and the stick formulas.  They just make skin look so amazing! The Aura blushes are the prettiest colors, and have a way of making the skin look lit from within.  These are a must have in my kit for all sorts of jobs.
I have recently really fallen in love with the range of Siren Lipsticks.  It is actually sort of difficult to find lipstick formulas that enhance the lip more naturally.  So many that I use are so densely pigmented and intense that they don't really work for a more natural look. Vapour's formula is moisturizing and lush, which just gives lips a plumped, pretty look.  And the shades are gorgeous. 
How do clients respond to Vapour as opposed to conventional makeup? Do you see any improvement to their skin that might be absent when you work with traditional makeup?
On set I always hear how weightless and pretty the formulas are, which isn't commonly heard on set. But my favorite times are when a bride or other client send me a special email to tell me how great their skin is doing after using my skincare and makeup recommendations.  I am not an esthetician and so have definitely had to learn what works for me the hard way.  So when I find something that I love, I just have to share it. It is so cool to help women find products that enhance their beauty and health.
I have found that it sometimes takes a couple of days to adjust to a nourishing makeup from something like a heavy, dry powder foundation or thick liquid.  You need to give your skin some time to balance to the new levels of moisture. Then the results are fantastic!
Could you share a few easy-to-achieve application tips for those of us who are new to Vapour? 
My best tip is to start with less product and build up as needed.  It is rich and effective, so you won't need as much as a tinted moisturizer or traditional liquid.  Also, I love to warm the color between my fingers and gently apply with my fingertips in a tapping motion. 
For personal use, the packaging is genius.  I can get my whole routine in a tiny bag for touch ups throughout the day.  I usually keep an Atmosphere stick around for a little under-eye or t-zone touch up on long days.  Sometimes I do a monochromatic look and use an Aura blush on my cheeks and lips.  It is really convenient to have one of those around to brighten color when I need a boost. 
Can anyone live without the Lux Lip Conditioner? This has to be the best lip balm ever created. Layer it under a lipstick or just use it alone.  It is crazy good.
Can you recommend some color picks from the Vapour line that are on trend for this spring? 
Spring has totally sprung here in Southern California.  But I actually find myself reaching for cool red lip colors, not the typical Springy pastels.  One of the most unique ways to look really hip right now is to embrace bold, Fall colors early.  I love the Siren Lipsticks in Courage and Holiday for an amped up everyday glam look paired with blackest-black eyeliner. It instantly modernizes.
At the end of the day, whatever color makes you feel happy and confident in your own skin is best. Smiling is always on trend.
* Amy will be offering a makeup workshop in Palm Springs on March 23rd. Click here for more information!
Special offer from Integrity Botanicals:

Buy 2 or more products from Vapour and receive a Free Lux Organic Lip Conditioner ($20 value).

Upon checkout enter code: VAPOUR