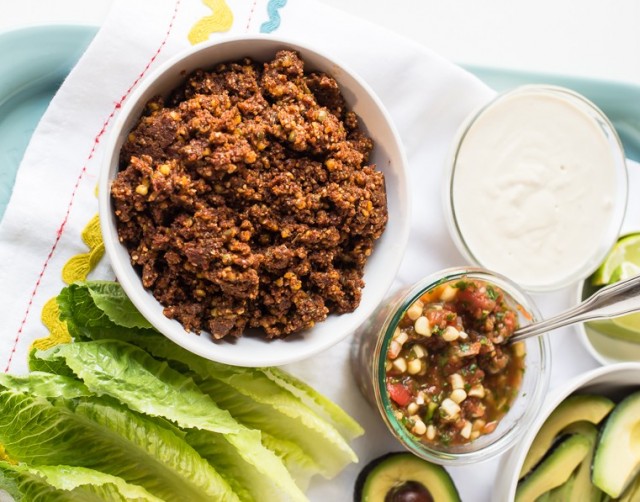 Last August I went to Los Angeles for the first time for A Night For Green Beauty. (Have you heard of ANFGB? Integrity Botanicals is sponsoring the next event, so check it out!) I had always heard how California is the land of healthy eating, and while my previous travels to San Francisco definitely ranked as foodie heaven, it wasn't until I traveled to L.A. that I truly discovered what people meant about the Cali health food craze. The number of juice bars alone proved that health is a priority and that fresh high quality produce is at the center of it all.
One lunch in L.A. was particularly memorable — lentil walnut "tacos" served on romaine leaves instead of tortillas. Honestly, I remember rolling my eyes a little bit because I adore traditional tacos, and this seemed like a wild attempt to satiate vegetarians who crave taco meat. Nope, this was something in a class of its own — refreshing, full of intense flavor and incredibly satisfying. The lentil walnut "meat" was the perfect stand-in texture for real meat, too. I knew I had to recreate this recipe at home.
It turns out that lentil walnut tacos are a pretty common vegetarian recipe with lots of variations. The beauty of tacos is that you can dress them up with different toppings and seasonings once you have the basics. Since this recipe uses walnuts and lentils for the meat, you're also getting a nice bit of protein along with the skin-loving omega fatty acids from the walnuts.
Lentil Walnut Tacos
1 cup uncooked French green lentils (you will need 1 3/4 cups cooked lentils)
1 cup walnut pieces, toasted
1 1/2 teaspoons dried oregano
1 1/2 teaspoons ground cumin
1 1/2 teaspoons chili powder
1/2 teaspoon fine grain sea salt, or to taste
1 1/2 tablespoons extra virgin olive oil
2 tablespoons water
lettuce wraps (large romaine or butter lettuce leaves)
Directions:
Bring a pot of water to a boil, add lentils, reduce heat to medium, and simmer for 20-25 minutes until tender. Drain the lentils.
Preheat oven to 300F. Spread walnuts on a rimmed baking sheet and toast for 10-13 minutes until lightly toasted and fragrant. Set aside to cool.
Add 1 3/4 cups cooked lentils and all the toasted walnuts into a food processor and pulse until roughly chopped (make sure to leave some texture). Stir in the oregano, cumin, chili powder, salt, oil and water until combined.
Place a large lettuce leaf onto a plate, top with taco meat, and add the rest of your desired toppings. I enjoy shredded green cabbage with a squeeze of lime and cilantro.
Have you had lentil walnut tacos? Would you try them?
*photo via ohmyveggies