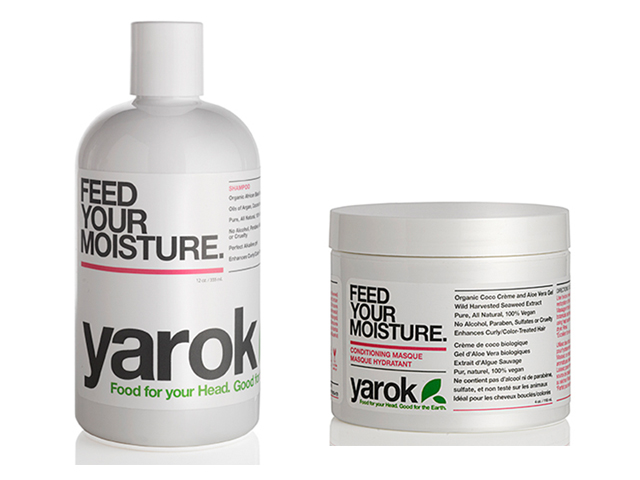 Yarok was the first clean hair care line that I tried outside of the brands I'd experimented with from local health food stores, so it holds a special place in my green beauty heart. I remember the initial allure and how happy I was with the Yarok Feed Your Volume Shampoo and Conditioner. It was the first clean shampoo that really worked well for me. I repurchased a few times before my curiosity got the best of me and I branched out to discover other clean hair care lines. (It's hard to stay loyal when there's so much to try!) It's been years since we first met and I fell in love with the scent and performance of that Yarok duo, so I was excited to return to Yarok and try out the moisturizing version of this all natural, 100% vegan line.
Yarok Feed Your Moisture Shampoo is a creamy, low-foaming shampoo that gently cleanses and leaves hair feeling ridiculously soft, even without conditioner. No wonder, as it's made from vitamin infused water, organic fair trade African Black soap and restorative oils like argan, coconut and organic hemp seed. It has a perfect alkaline pH balance for your hair, which is critical for scalp health and smooth frizz-free tresses. The scent is a delicious creamy citrus, blended from sweet orange, ylang ylang and rosemary. I love how the happy, energizing scent fills the whole shower.
You won't find any of the harsh detergents like sodium lauryl sulfate in the Feed Your Moisture Shampoo. Instead, you'll find a host of herbal extracts and essential oils that help cleanse and balance plus botanical oils to help hydrate. For a deeper cleanse, I like to wash once like normal, than wash a second time with just a dime-sized amount of shampoo. It activates any remaining suds that didn't get rinsed out fully and helps clarify my hair of any product build-up. The Feed Your Moisture Shampoo is ideal for people with thick, dry hair or those with curls and waves. For my fine, oily-prone hair it is too moisturizing for daily use, but I love it once or twice a week for a boost of moisture and shine.
Speaking of shine, the Yarok Feed Your Moisture Conditioning Masque is an intensely nourishing treat. For use once or twice per week, the Conditioning Masque is applied after you've shampooed and conditioned. You just massage it into your scalp and hair for a restorative treatment that adds shine and gloss to your hair. It is surprisingly lightweight, not a thick heavy mask, which I appreciate because I don't think my hair would respond well to something like that. The scent is calming and lovely — a blend of rose, sandalwood and lavender.
The Conditioning Masque is chock full of botanical ingredients that revive hair's natural luster. Organic virgin coco crème strengthens hair and provides antioxidants while wild harvested seaweed extract thickens hair, combats damage and provides minerals and vitamins. Organic aloe vera gel is anti-inflammatory, antifungal and soothes the scalp. Organic oats moisturize and balance sebum production while treating any dryness in both the scalp and hair. Yarok even recommends using a hot towel wrap or a blow dryer to intensify the effects of this masque, but I've had good results with just leaving it on in the shower while I do my thing. I enjoy the process of massaging this mask in and letting it sit while I do an exfoliation treatment on my body. The wonderful scent of this mask lingers in the air and adds a peaceful element to any day.
SPECIAL OFFER: Receive a Free Travel SIze Yarok Feed Your Moisture Shampoo with any Yarok purchase of $50 or more. Code: YAROK