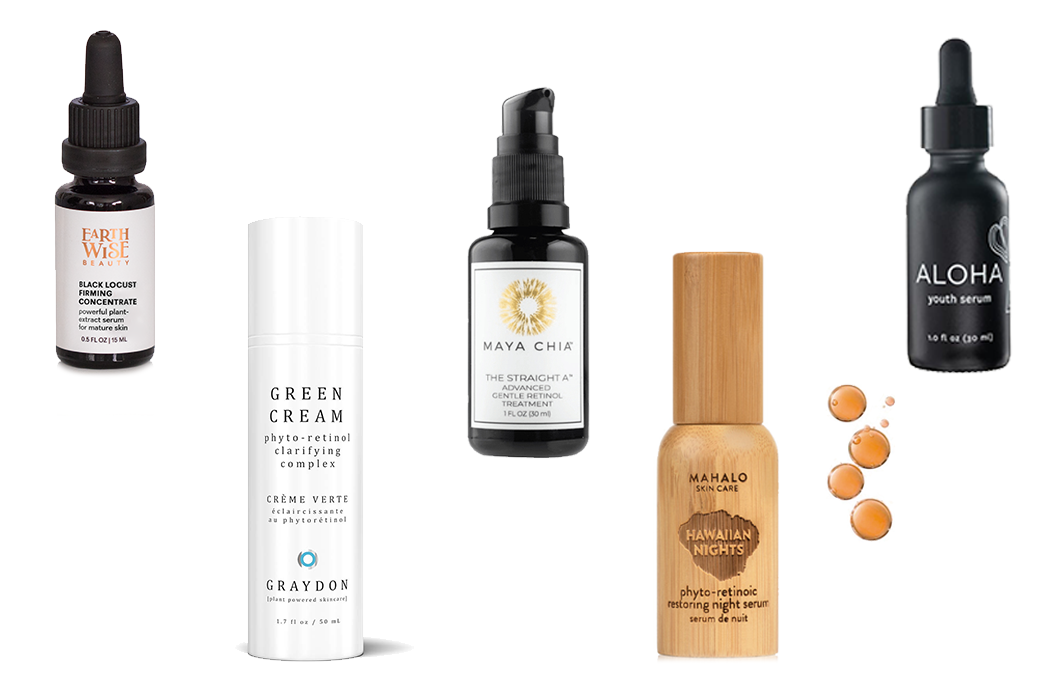 You know how sometimes, you hear a word or phrase tossed around so often that you feel like it's too late to ask what the heck it means? This was the case for me with Bakuchiol. Suddenly last year, this word was everywhere in green beauty. But I didn't really know what it was, or why people were comparing it to retinol. After smiling and nodding for a long time, as if I totally understood what all the fuss was about, I decided it was time to dig in and ask some experts what the deal is with Bakuchiol. Is it the same as retinol? What does it do? Is it "clean" and green? How did brand formulators discover it? And where does it come from?
If you've wondered any of the above, all your questions are about to get answered by some of our favorite brand founders and formulators, whether they've chosen to incorporate retinol, bakuchiol, or neither in their products, and also two holistic health practitioners who use bakuchiol in their practices. They are here to tell you all you need to know about this super buzzy ingredient.

First, here are the experts:
And now, for the questions (and the answers!):
Q: What is Bakuchiol? How is it used in Ayurveda?
A: (Julie Bernier)
Bakuchi [as it is known in Ayurveda] is an herb that grows in India, and both the seed and oil have long been used in ayurvedic medicine. It's combined with other herbs in many traditional ayurvedic formulas for skin health and it's particularly well known for its use in leucoderma. Bakuchi is considered a rejuvenating herb and it's also used for hair health, constipation, dyspnoea, cough, rheumatism, anemia, and parasites.
Q: How is Bakuchiol used in Traditional Chinese Medicine?
In Traditional Chinese Medicine we call this plant Bu Gu Zhi and it has been used topically as well as internally to treat skin disorders, asthma, and kidney imbalances. Mostly we grind up the seeds and the dried fruit and make a decoction with them (that's like a slow, stovetop cooking of the herbs to concentrate it's medicine).
Skin is considered the third lung in TCM, which explains why skin conditions and asthma are often linked. The health of both rely on a number of similar factors in the body but most importantly good, healthy, circulation as well as good hydration.
In TCM we classify all things with qualifiers such as: heat, damp, cool, dry, etc. We do this so we can pair up people with the appropriate plant medicines. For example, if someone has a heat condition happening inside their body such as inflammation, we would want to give them a cooling herb. If we give them a heating herb, it could exacerbate their inflammation. Sometimes plant and people-pairing is as simple as that!
Since acne and many other conditions are considered "hot and damp conditions" we would lean towards pairing a person up with an herb that is more cooling and slightly drying. Not to mention, all skin conditions have a relationship to the quality of the blood and to blood flow, therefore we always look to herbs that support both of these processes in our bodies. This is why Bakuchiol (Bu Gu Zhi) is an excellent treatment for all skin conditions but for acne in particular! It works by stimulating blood flow, cooling the heat (redness) in the skin, and slightly drying up any dampness/oiliness in the skin.
Q: Is Bakuchiol a plant-based retinol? Is it a clean alternative to retinol?
A: (Josh Rosebrook)
I think this is a big misconception out there. There is no such thing as "plant-based retinol" in cosmetics. I personally think calling Bakuchiol a plant- based retinol or "phyto-retinol" is confusing! Bakuchiol is not "plant retinol." It can be called an alternative to retinol, but they are completely different ingredients.
Bakuchiol can be a great natural active. It has been shown in one study to offer retinol-like function. However, Bakuchiol has no structural resemblance to retinoids. Retinol is Vitamin A, a fat-soluble vitamin. Bakuchiol is a botanical active, the major component in it is a meroterpene phenol which functions as anti-inflammatory, antioxidant, anti-bacterial among other benefits.
They are both very safe, so when beauty companies claim that retinol is unsafe, that is false, and thus, saying that Bakuchiol is safer, or that it is a "clean" alternative to retinol is false, as well. Retinol can't be plant-based. You can't source it and isolate retinol/vitamin A in nature and put it into a cosmetic formulation. It just doesn't work that way. It is true that there are trace amounts of retinoic acid present Rose Hip Seed Oil, but from my research, it's not nearly enough to deliver or compare to lab synthesized Vitamin A/Retinol clinical results.
The bottom line is that retinol and Bakuchiol are both great ingredients that can be used in formulations to do desirable things, like, in retinol's case, increase cell turnover and dermal thickness. But it's important to understand that Bakuchiol is not a plant-version of retinol. It's a separate botanical active that happens to function like retinol in some studies.
Q: Are "Botanical Retinols" the same as Retinoids or Retinols?
A: (Susanne Norwitz, Maya Chia)
It should be noted that "Botanical Retinols" – also referred to as "phyto-retinols" – do not have a structural chemical resemblance to Retinoids or Retinols. Moth Bean Extract and Bakuchiol do not convert into Retinoic Acid.
Q: What does Bakuchiol do that makes it a desirable skincare ingredient?
A: (Susanne Norwitz, on using Bakuchiol in Maya Chia's new The Straight A Serum Retinol Treatment)
I was interested in Bakuchiol as a gentle-acting way to encourage cellular turnover, to plump and revitalize the skin. Bakuchiol is not a retinol, nor a retinoid compound.
Q: What ingredients can be used along with Bakuchiol in a formulation for ultimate results?
A:  (Susanne Norwitz, on The Straight A Serum Retinol Treatment)
We paired Bakuchiol and Moth Bean Extract [two so-called botanical retinols] with Encapsulated Retinol, because we wanted this formulation to work exceptionally well without causing irritation. The Bakuchiol and Moth Bean Extract augment the formulation in a way that is substantive.
Additionally, our formulation includes Rosehip Oil, Raspberry Seed Oil and Buriti Oil which are all naturally high carriers of Vitamin A (not to be confused with Retinol).
Q: What does Retinol do?

A: (Susanne Norwitz)
The muscle of the formulation [of The Straight A] is Encapsulated Retinol that works through a slow release process to boost collagen production and revitalize the skin while at the same time clearing pores and controlling breakouts. The slow release process provides your skin a similar benefit to a prescription strength retinoid without the added irritation. Before Retinol was able to be encapsulated, Retinol degraded very quickly and was unstable. The encapsulation process has allowed Retinol to be more stable and have a longer shelf-life.
Q: Where and how do beauty brands source bakuchiol?
A: (Kapua Browning, Honua Hawaiian Skincare)
Since we primarily use Hawaiian ingredients, I thought for once it would be special to include a powerful healing plant from a thriving traditional practice like ayurveda and TCM who have both used babchi for centuries. I felt great contributing (even if only in a small way) to a sustainable farming community in India which may hopefully help to perpetuate their practice and culture for many more years to come. I feel so sad that Hawaii has almost completely lost all of our traditional healers and with that loss, came the lack of usage and desire for our traditional plants which then led to endangerment of many the plants/species. I wish there had been more companies over the years who had supported the sustainable farms which cultivated our Hawaiian plants. Had there have been, we may not be in the situation we are today.
Q: How did you first discover Bakuchiol?
A: (Graydon Moffat, Graydon Skincare)
I was first exposed to Psoralea corylifolia (aka babchi), which is a popular herb, long been used in traditional Ayurvedic medicine by my Indian doctor, when my Western physician had given up on me. In case you do not know, I'm talking about the same plant that the famed skincare ingredient Bakuchiol is derived from but I started using it long before it became buzzy.
Like many superfood ingredients (such as the now popular turmeric) I was turned on to this amazing superfood well before it became popular. This was a time in my life when I was experiencing some health issues, having recently given birth to my son. I was completely depleted and the medication prescribed by my western medicine practitioners wasn't helping me get better.
Living in downtown Toronto, I turned to my Indian doctor in Kensington Market. She prescribed many things to balance my Vata disposition and specifically prescribed Psoralea corylifolia to help me overcome my weakness, depression, hyperpigmented, sallow skin, and thinning hair. When Bakuchiol became popular as an alternative to retinol in the last year or so, I quietly smiled to myself. The power of plants never ceases to amaze me. 
And now that you know a little more about Bakuchiol, here are my personal recommendations if you want to incorporate it into your skincare routine!
With hibiscus and comfrey leaf, as well as Hawaiian turmeric and a host of other island specialty ingredients, this is a product that I've long-loved on its own, even before they recently added Bakuchiol to the formula! So you're really getting two-in-one: a great serum AND Bakuchiol, all mixed together.
This brilliant powerhouse has it all. Like, seriously, it has everything you could possibly want if you're at all interested in anything retinol- or Bakuchiol-related. In addition, it has vitamin C, plus the brand's legendary supercritical chia seed oil. It is the perfect one-stop product if you, like me, want it all, but only want to put on one product at night. That's why this is the Ace, the Straight A.
 This light cream is easily absorbed, and great to pair with Graydon's Full Moon Serum, which contains retinol, for a complete treatment experience. The Green Cream is only $46, which, for a cream with such amazing ingredients, is truly a bargain. (It's also available to buy as a sample, so you can try it out!)
 I love every detail of this Mahalo serum, from the etched bamboo bottle to the lush, herbaceous and floral hybrid scent, not to mention the results, of course.
This serum is made to help a variety of skin conditions, so it covers all your bases. It's very hydrating, and great for reducing stubborn roughness or dry patches.
Indian senna seed, a botanical hyaluronic acid, plumps the skin like nothing else, which is just plain great whether you're into Bakuchiol, Retinol, or none of the above. (I personally like to layer this cream over my Maya Chia The Straight A Serum for the perfect cocktail with extra hydration!)
Whatever you decide to use on your skin, at least now you know what Bakuchiol is. Next time you hear someone talking about it at a party (or on a  zoom call, as we're living in a COVID-19 world right now, and there are no parties!) you can jump in with interesting facts about Bakuchiol. Or you can just show them your glowing skin and let the Bakuchiol speak for itself! What ingredients do you love? Tell us in the comments if you're a die-hard Bakuchiol stan, a retinol devotee, or if there's something else out there you just can't live without. We all want to know, because we've seen your beautiful skin, and we just have to know your secret!