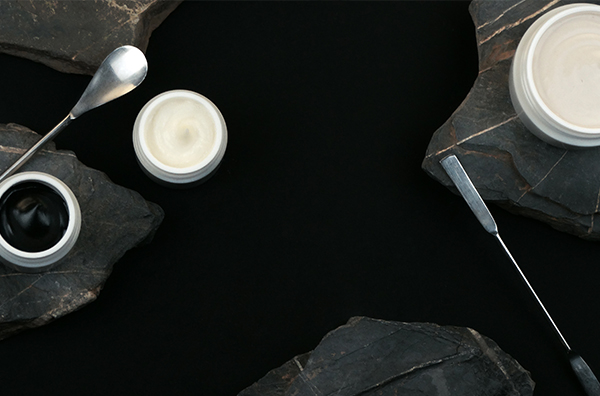 Have you ever thought that you basically have it all figured out? Not about everything, but about something in your life? For me, I thought I had my skincare routine all set. I thought I needed about 27 steps in my routine and 85 different products on my shelf. I knew that selecting non-toxic, all-natural ingredients from brands that were using sustainable and ethical practices was important to me, and from there, I kind of figured, what the heck? The more, the merrier!
Well, there's this other thing. Sometimes, it's not about "the more, the merrier." Sometimes it's all about "less is more." Or, in this case, Less is Beauty.
Ayuna – Less is Beauty is more than a line of products. It's a philosophy, a concept, a dharma, a way of being. And once they sent me their products over a year ago, I was 100% hooked. It was several things: Ayuna incorporates tons of science into their products. They're not just mixing organic oils and butters in their home kitchens. No, this is serious science happening here, but it's all within the context of sustainably sourced, non-toxic ingredients. Also, there's "Well-aging," a concept to which Ayuna ascribes and I love it. We are all aging. There's no alternative than to stop living! So why not embrace it and do it well? And there is the simplicity of the line, the less-is-more idea.
And then, there is the scent! The scent of Ayuna is pure heaven. I thought it must be too good to be true, but it's not. It's real, it's amazing, and it's totally, completely natural!
Given all this amazingness, I had to bring you an interview with the two #ladybosses behind the Spanish brand, Dr. Isabel Ramos and Begoña Sanjuan. You have to hear all about this line in their words. You must, must, must meet Ayuna! I asked them 7 questions to help you get to know the brand and the magic, science, and hearts behind it.
1. What was your main goal for creating a line of products?
Ayuna is striving to change paradigms in the beauty industry, beginning with the "anti-aging" concept, which implies an intrinsic war against aging, and instead transforming this struggle into a positive move, replacing it with the concept of "well-aging", a new approach to beauty that promotes positive, harmonious and elegant aging. Within this initiative, we saw a gap in the current market for both luxury and green beauty. Ayuna was born to fill this missing niche of a true luxury cosmetic – in terms of both efficacy and sensoriality – that is formulated in a 100% natural, non-toxic and clean format.  Ayuna – Less is Beauty's ECO-LUXURY collection is an ideal line for both the premium consumer, who demands exquisite and effective products, and eco-conscious, who insists on clean formulas without giving up the frills of luxury.
The general criteria for all the ingredients used is as follows:
100% natural or organic, when possible.
Sustainable, ethical and respectful sources.
Non-GM microorganisms, non-GM plant starting materials.
100% naturally derived ingredients, always obtained through clean and green processes, which do not generate any toxic impurities.
Acceptable under Ecocert/Natrue/Cosmos Criteria.
Sustainable palm oil sources (RSPO).
No irradiation applied.
No presence of toxic substances or substances of concern.
Any excipient is selected to have a multifunctional activity, providing benefits to the skin.
LESS IS BEAUTY has been the driving force behind the formulation criteria. Only additives which are necessary for a substantiated reason have been incorporated, and special care has been placed on the safety analysis, presence of impurities and process of manufacture, as well as the environment and ethical issues.
2. What was your inspiration?
Nowadays the cosmetic industry centers its progress around adding "more" to its formulas: more active ingredients, more concentration, more stimulation of the skin's metabolism, or even more exotic ingredients.  However, such activity can be counterproductive and result in the overstimulation and over nourishment of the skin, leading to sensitivity and oxidative damage.  If instead we nourish the skin with a balanced diet, providing it with only and precisely what it needs, we can accelerate the skin's natural ability to self-repair, regenerate and protect itself from toxins, oxidative stress and inflammation.  
AYUNA • Less is Beauty integrates the latest scientific advances into its formulas and establishes the philosophy of TOPICAL FASTING – to provide the skin with only what it needs, thus encouraging its proper function without overstimulation. The basis for topical fasting is the same as the basis for general fasting – when we eliminate overstimulation, limit the intake and provide a balanced diet, self-repair and self-regeneration mechanisms are immediately activated.
3. What is your favorite ingredient and why?
Our Botanical Cell Factors are our favorites!  Thanks to the use of patented & sustainable bio-tech processes to cultivate cell cultures originating from botanical stem cells, we can harness the full power of nature and extend its benefits to the skin.  The cultivation method of these cells is one free of pesticides or contaminants, and which does not exhaust or overexploit our precious natural resources. We've also lowered our water footprint for the cultivation of these ingredients by 99.9% over that of traditional methods. Essentially, our Botanical Cell Cultures are our sustainable factories: We are the first in the industry to use Phyto-peptides (from centella & turmeric root) and our Plasmas Rich in Botanical Cell Factors (from pomegranate, cotton and green carrot) create a synergistic combination of stem cells, growth factors, plus transcription and epigenetic factors.
4.  What product have you consciously decided not to make? 
True to Ayuna's mantra of Less is Beauty, there are several products we have chosen not to create. Within Ayuna's topical fasting concept, we are committed to providing the skin with only what it needs and nothing more, removing the need for extra steps within the line.
5.  What do you think makes Ayuna products different from others out there?
Our Green Technology and Eco-luxury focus are what set Ayuna apart from others. Ayuna is one of the first brands to answer the existent need for an eco-luxury skincare collection.  We have elevated the 'green' standard by moving beyond the wholesome benefits of natural products to provide high-performance benefits, thanks to unmatched formulas and the latest in bio-technology. Additionally, our approach of Well-Aging through Topical Fasting is something unique in the industry, allowing us to provide an in-depth experience that focuses on overall well-being through mindful beauty.
6.  What is your "hero" product and why?
CREAM and CREAM II are Ayuna's gems and the core of our Topical Fasting concept!  These two exquisite creams (not lotions, fluids or balms but luxurious creams), have excellent sensorial properties and expand the potential benefits obtained from botanical ingredients by incorporating the science of Phyto-peptides and Plasmas rich in Botanical Cell Factors. Rather than using multiple targeted products, both CREAMs provide global results seen through improvement to skin texture, elasticity, wrinkles, dark spots and redness. They are also multi-functional, taking the place of your daily face serum and moisturizer as well as your neck and eye treatment.
Ayuna's CREAMs are powerhouses of intelligent beauty, even adapting to the circadian rhythms of your body, making the need for separate day and night creams unnecessary.
7.  Tell us about your (amazing!) signature scent– we LOVE it!
Ayuna's signature scent, providing the fragrance for the entire collection, is Beautifulness, an olfactory creation that embodies AYUNA's core values. The name perfectly describes what inspires aestheticians, men and women: beautifulness – that ethereal quality in nature that transforms it into an inspiration for the here and now.
Beautifulness was formulated in the same way a perfume is developed – with layers of scent combined to create a full sensorial experience. Fruity Top Notes, a Floral Heart and Woody Base.
FRUITY TOP NOTES; a delicate, fresh scent that evokes youth and joy. The top note of rosemary awakens the mystery in the fragrance along with a touch of grapefruit and a hint of chamomile leaves.
FLORAL HEART; a captivating romantic bouquet of different flowers. The heart is entirely floral, elegant and of exceptional quality. Peach blossom, orange blossom and mimosa exquisitely blended with predominant notes of buchu leaf.
WOODY BASE NOTE; aromatic with sweet and intense base notes that stands out for its warmth. The fragrance is enveloped by a warm and woody hint of palo santo and myrrh in its base notes that pairs perfectly with a modern contrast of tea and gurjun balsam that evokes the DNA of Ayuna's conscious beauty.
 ~~~
Big thanks to the women of Ayuna for answering your questions. I love this line so much because you can buy (and use) just one product instead of three or four! When I buy my personal favorite, CREAM II, I know that I'm getting many products (toner, serum, lotion, eye treatment, etc.) for the price of one. And though the products are on the expensive side, I love knowing that the science behind them is solid, the scent is amazing, and I can really just use ONE PRODUCT at night after washing my face! Now that, my friends, is real luxury! Simplicity and saving time without sacrificing quality or experience. I truly can't get enough!