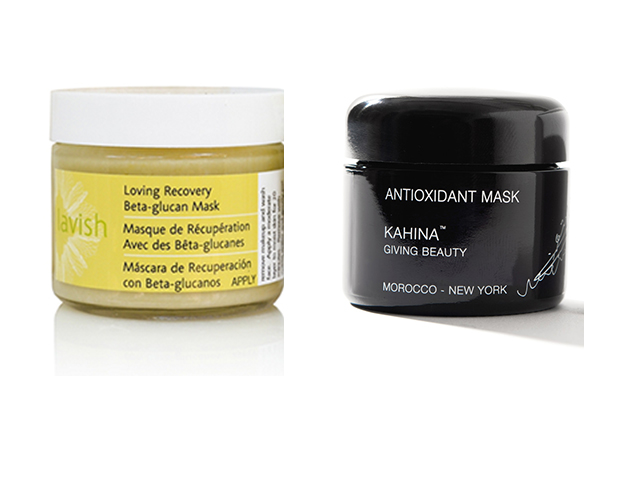 I try to avoid hearing those dreaded words — you look tired — from a concerned loved one (or a completely insensitive acquaintance) by keeping the usual good habits. Sleep enough. Eat well. Exercise. In general, I succeed, but as we inch closer to the holiday season, days get a little bit shorter and a lot more harried. Whether you're hosting festivities or attending them as a guest, you may find yourself short on time for those little "me moments" that not only make you feel refreshed and rested, but impact your looks, too.
We often think of face masks as something luxurious, something to indulge in during idle time or a long soak in a hot bath. The truth is that masks are perfect for multitasking around the house. Vacuuming before company arrives? Throw on a mask. Whipping up a sweet potato casserole for the Thanksgiving table? Smear on a mask first. Making a zillion phone calls? Yep, wear a mask. Unlike some skincare treatments that have a cumulative affect and require weeks or months of use to show results, a mask can have a big impact in just 20 minutes. That's the beauty of it.
As you prepare for a busy holiday season, keep these two masks in mind. I've chosen both because they are perfect for this time of year when the weather is beginning to dry out our complexions and stress triggers abound. Both are premixed, ready to apply, and don't make a mess. Even better, they bring life back to tired, stressed skin.
Peek inside the jar and you'll find a smooth, plump cream that's just about the consistency of full fat pudding. It looks delectable. The scent is gentle and invigorating, and I detect geranium in addition to the eucalyptus and mint scent that's advertised. From application to removal, you can feel this mask working its renewal magic. It's not overly stimulating to the skin, but it does have detoxifying and exfoliating prowess thanks to the rhassoul clay and lactic acid. At the same time, it replenishes antioxidants and minerals that protect and prevent premature damage, and you can practically feel your skin absorbing the blend of argan oil and pomegranate and acai extracts. This mask feels so soothing going on, and while you wear it your skin feels cushioned and cooled. It's both nourishing and cleansing, and it applies and washes off quickly with little mess. The Kahina Antioxidant Mask freshens your skin tone in a hurry.
Smoothing this treat over your skin is an act of pure kindness. No wonder it's called Loving Recovery. It looks semi-solid like a butter, but softens and gives under your fingers with zero effort, so you can take it from the jar and spread it easily. The scent is mostly neutral and soft, like oats — the base is organic oatmilk. It also contains reishi and maitake mushrooms, and the beta-glucans from the oats and mushrooms calm and sooth skin. If you're dealing with any redness or inflammation, this mask is your new best friend. Organic oils, cupuacu butter, and herbal extracts plump and fortify skin. It's a deeply hydrating treatment that washes off clean and doesn't leave a heavy or greasy residue. This mask is so easy to use, and you'll become addicted to how refreshed and soft your skin feels afterward.
Check out one of these masks for a true pick-me-up with tons of skin benefits. These are minimal effort, high impact products that boost spirits and bust skin woes.