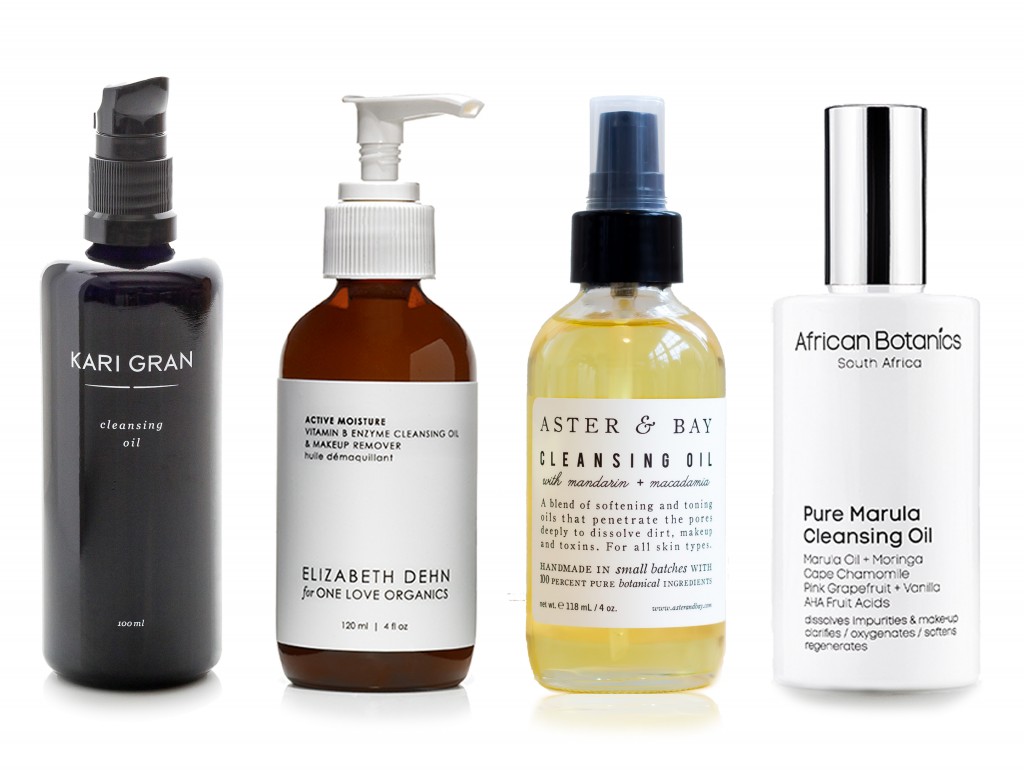 Washing my face used to feel like one big chore, but now it is one of my favorite moments of the day. I've always dutifully cleansed the makeup and dregs of the day from my face before bed. I developed the habit as a teen dealing with typical breakouts, and I'm glad I did — there's nothing like hitting the pillow with a fresh face. However, until I began oil cleansing, I disliked the process of washing my face. Sudsy water would splash all over the bathroom counter and run down my arms. My face would feel so tight and dry, and I'd rush to moisturize. As I've come to learn, traditional face cleansers contain harsh surfactants and detergents that strip the natural oils from your face. This actually causes an imbalance in skin, and your skin will produce more oil to compensate for what it lost.
While there are many natural cleansers on the market that don't strip the healthy oils from your face in the same way that the cleansers of my youth did, I opt for the oil cleansing method every night. It's easier than it sounds, and it balances and nourishes your skin in remarkable ways. First, let's set the record straight — botanical oils make wonderful cleansers because oil dissolves oil and lifts makeup, dirt, and toxins from the pores while leaving the good oils behind. Oil cleansing softens the sebum, which otherwise hardens in your pores along with the dirt it traps, pulls the bad stuff out, and wipes away leaving your face soft and moisturized.
Oil cleansing is the main reason that washing my face went from a chore to a pleasure. The process involves a quick steam of the face, which is super relaxing and great for winding down before bed. Here's how to do it:
1. Warm 4-5 pumps of cleansing oil between your palms. Gently massage the oil onto your dry face, using upward strokes. Be sure to inhale deeply — most cleansing oils include fragrant essential oils, and the therapeutic scent is a big part of the experience.
2. After a minute of massage, it's time to steam. This is where it gets really good. Wet a washcloth with hot (not scalding) water, wring it out, and press it over your face until the cloth cools off. Take your time and inhale deeply to get the relaxing aromatic benefits of the cleanser. When the cloth cools, repeat this process twice more.
3. Finally it's time to wipe away the cleansing oil with the damp cloth, and you're done.
You don't have to steam as much, but the sensory experience of pressing a steaming cloth against your face, especially when a therapeutic scent is involved, is worth the extra minute or two. Integrity Botanicals carries four oil cleansers for you to choose from, and I've tried them all. Here's my take on each, including some tips for use.
This was the first cleansing oil I ever used, and it holds a special place on my shelf. When I say that scent is part of the experience, Kari Gran's Cleansing Oil is a big reason why. This oil includes high-grade lavender essential oil in its formula, and the clean scent opens your air passageways while doing wonders to soothe dry skin and reduce blemishes. The oil blend is medium viscosity — not too thick or thin — and it feels so nourishing as you massage it over your face. It wipes clean easily and leaves your face feeling toned and hydrated, though no residual oil remains on the skin. Some people, certainly in warmer months, could go without a moisturizer after this cleanser. This is a beautiful, classic cleansing oil.
Elizabeth Dehn for One Love Organics Vitamin B Enzyme Cleansing Oil & Makeup Remover
The ED4OLO cleansing oil was the first I tried that can be rinsed off with water alone. You can follow the traditional method I described, or massage it onto your dry face and then add water to rinse, which turns the oil into a creamy, milky cleanser. I still prefer taking the cleanser off with a washcloth to help remove makeup residue, but I love the versatility of it. You can hop straight into a shower or bath with it, or do a quick rub and rinse cleanse at the sink if you're in a hurry. The scent is like sweet pineapples with a faint herbal note, and is one you'll come to crave. The formula features papain, a fruit enzyme that helps to exfoliate and soften skin, and a natural vitamin b complex to help detoxify and tone. I never experience tightness or dryness after cleansing, but because this cleanser can be rinsed off entirely with water, I always follow with a moisturizer. This oil cleanser is both luxurious and utilitarian, and is one I depend on a lot.
The subtle, sweet and astringent scent of the Aster & Bay cleanser uplifts without being overly stimulating thanks to the mandarin essential oil. The blend feels lighter than the Kari Gran cleanser, but it is equally if not more moisturizing. Macadamia nut oil is the first of four oils in the blend, and its high palmitoleic acid content lends an anti-aging boost to skin, while hazelnut, sesame, and castor oils tone, detoxify and heal. Due to the highly emollient nature of this blend, rinsing with hot water and a cloth is a must, but the results are worth the effort. It's a great cleansing oil to start the day with, too, especially if you wake up with parched skin. Plus, a little goes a long way. Aster & Bay's cleanser is great for all skin types. For those with combination to oily skin I'd recommend following with a toner. It's also available as part of the Aster & Bay Face Travel Kit, which gives you an opportunity to try more from this gorgeous line.
This cleansing oil features Marula oil, the star ingredient of the African Botanics line. Maurla oil is rich in antioxidants and essential fatty acids. It hydrates, repairs, and protects skin, and it has a naturally sweet scent, sort of like honey. Super healing Moringa and Baobab oils are also featured in this cleanser. Chamomile cape essential oil helps calm and sooth inflammation, while a blend of fruit-derived alpha hydroxy acids gently exfoliates. The scent has soft honeyed-vanilla undertones and the formula glides over skin with the ease of a cleansing oil, but emulsifies into a light, milky liquid when rinsed with water. This particular oil is gentle, but can sting sensitive eyes, so it's best to remove eye makeup beforehand. It's a great starting point for someone interested in transitioning from a regular cleanser to cleansing oil, or for people who need to wash and go quickly.