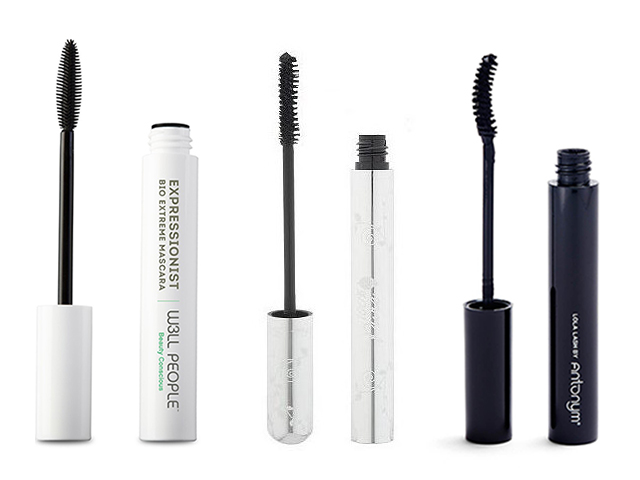 There are a few items that tend to make the "most challenging" list when you begin to swap conventional products for natural. Mascara nearly always makes that list. I've been there and felt that frustration, but do you know what I realized about mascara? It's hard to find a good one regardless of whether it's natural. Even when I used conventional mascara, it took ages to find "the one", and I was still always on the lookout for something better at making my lashes look full but natural. Lashes are so individual, so what works on my b.f.f.'s thick fringe will not necessarily do the trick for my long and fine lashes. Unlike some natural mascaras from back in the day, all three mascaras I'm going to tell you about perform just like their conventional cousins but with better ingredients. At least one of these will be a match for you, it's just a matter of picking the right one for the job, so let's cross mascara off the "challenging" list once and for all.
W3ll People's first mascara launched this year, and it's as glamorous as you would expect. Highly pigmented, this rich black mascara gives major doll eyes. It offers extreme length — think Twiggy lashes — and is a must for a big night out. The formula is a bit wet but dries quickly. You'll want to brush on a full coat before it dries, but that's easy to do with the molded rubber brush that's shaped to grab and lengthen each lash with ease, even the shortest. Start with your inner lashes and work your way out. The formula is smooth and non-clumping unless you apply too many coats. It stays put throughout the day, holds its shape, and is surprisingly easy to remove. Women with thicker lashes will adore the Expressionist Bio Extreme Mascara, as will women who want inky long lashes.
The Lola Lash Natural Mascara is a gorgeous everyday mascara. A few swipes perk up the eyes with little precision or effort needed. The curved wand helps curl lashes, and it's more versatile than you might imagine. Though it's shaped to fit the contour of your lash line, I like to flip the wand out and place the top of the arc at the base of my lashes, building from the bottom. Then I turn the wand to mirror the shape of my lashes and pull the lashes through the brush all at once a few times for feathery, full lashes. It's buildable, and provides more volume than the Bio Extreme Mascara, but it's less lengthening. Lola Lash holds its shape throughout the day but may smudge if you have a dewy eye area. Don't let this deter you, as it's minimal compared to most natural mascaras I've tried. This is perfect for lashes that just need a little oomph and color.
Can I be honest? I expected to like this mascara the least. Like you, I do my research on products before I try them, and I've seen some mixed feedback on this one — but wow! These are the lashes I remember from the days of my favorite conventional mascara. My fine, blonde lashes look full, dark, and natural. I can build and fan them out for well-defined, thick lashes without any clumping. The brush is dense with a slight dip inward at the center, and though it's a little tricky to reach the tiny lashes, this mascara offers volume and length in equal parts. My lashes look great all day long, yet the formula washes off with little effort — no tough tar pits to scrub from under the eyes. It also comes in additional colors, which gives you options if you find black too intense for daytime wear. If you have fine lashes that need major volume, start with the 100% Pure mascara.