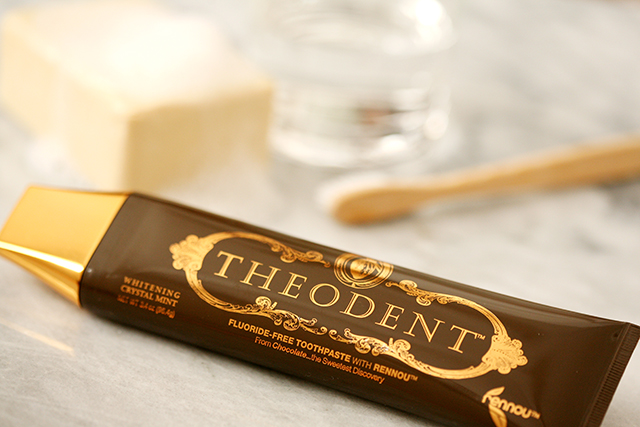 Dental hygiene may not sound very glamorous, but have you tried Theodent? Its chic packaging and pearly white formula defy the average in dental care. Plus, it's not just free from toxins found in most toothpaste like sodium lauryl sulfates and fluoride — it's innovative! Theodent boasts a non-toxic alternative to fluoride called Rennou, which hardens and remineralizes teeth better than traditional fluoride treatments, according to Theodent.
Rennou is Theodent's patented proprietary blend that helps strengthen tooth enamel. It's composed from a naturally occurring extract found in chocolate blended with other minerals. Here's a little science behind enamel… the primary mineral component of enamel, hydroxyapatite, is made up of thousands of calcium phosphate crystals. Larger crystals make your teeth less susceptible to bacterial acid de-mineralization (tooth decay) and keep your teeth healthy. Theodent's lead researcher discovered that the natural extract now used in Rennou causes the calcium phosphate crystals of enamel to grow larger, thereby hardening teeth. With Rennou, Theodent increases the size of the surface crystals of your enamel by four times. See you later, cavities.
The big discovery here is that Rennou provides an all-natural alternative to fluoride, which has traditionally been used to remineralize tooth enamel.
Fluoride is also naturally occurring, but ingesting fluoride is risky and potentially toxic business. Overexposure can lead to fluorosis. Fluoride has also been linked to bone cancers and thyroid problems. Will you accidentally ingest enough toothpaste to cause fluoride poisoning? Probably not, but the risk is greater for children who are likelier to swallow large amounts of toothpaste, especially if it tastes good to them. With an alternative like Theodent readily available, why risk it?
Speaking of kids, Theodent has a Kids Whitening Chocolate Chip Toothpaste. Yep. I haven't tried it, but I've been using the Classic Whitening Crystal Mint Toothpaste for about a month, and I love it. It has a faint mint flavor that freshens breath, but it's not overpowering. Most importantly, my teeth look and feel clean. The tube was much larger than I expected and will last for a while. The flat shape makes it simple to pack or store. While I'd prefer a more user-friendly cap, that won't keep me from purchasing this again — the results are too good!