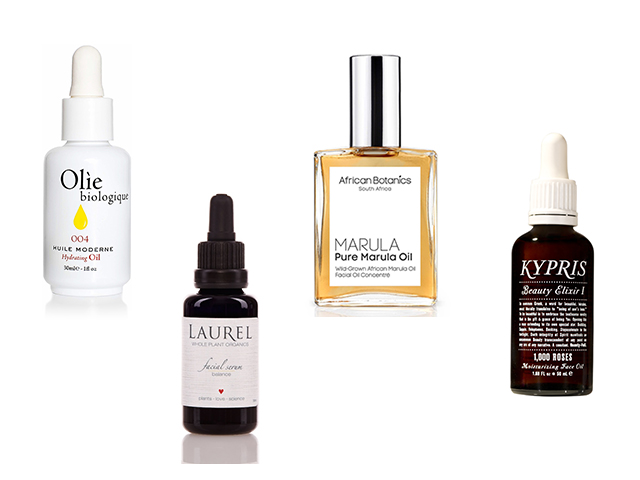 When I started my journey into clean skincare, I fell in love with facial oils. The results I was getting were so good, so unexpected that I was encouraged to go all-natural with my routine. Like most people, my initial reaction to the idea of applying oil to my face was one of doubt and trepidation. I had spent my teenage and young adult years trying to keep oil off my face. Little did I know, my methods were doing more harm than good and causing my skin to produce excess oil in reaction.
First, let's clear up a dangerous myth — your skin's oil is not the enemy. The oil your skin produces is called sebum and it protects your skin and keeps it balanced by creating an acid mantle, which keeps your skin slightly acidic and protects it from environmental toxins. When we try to rid our skin of excess sebum, we can easily throw everything out of balance. Stripping your skin by using harsh cleansers and astringent toners followed by "oil-free" moisturizers, as I did for much of my life, actually causes your skin to put oil-production into overdrive, resulting in unbalanced, overly oily skin. We need that precious sebum, and your skin knows it!
Moisturizing with facial oils is a wonderful way to balance any skin type — from breakout prone to dry and inflamed skin, there is an oil for everyone. Most botanical oils do not clog pores or make your skin oilier than it is. Mineral oil, which is a petroleum byproduct, is the culprit that clogs pores and causes breakouts. Plant oils, on the other hand, are rich in vitamins, minerals, and fatty acids that benefit your skin. Oils are lipophilic (fat-loving), so they are generally absorbed into the skin very quickly. Since oils generally have larger molecules than water-based moisturizers, they don't penetrate the skin as deeply and instead add a protective barrier that helps lock in moisture and keep other water-based products from evaporating while at the same time allowing skin to breath and eliminate toxins.
How To Apply Facial Oil
Proper application is critical to enjoying your facial oil. Too much oil will leave you feeling greasy. Three drops of any facial oil should be plenty for your face. The quality of the plant oil is critical to how it performs. Always use cold-pressed oils that are fresh and from trust-worthy sources.
If your skin is already balanced and doesn't need much moisture, you can skip the water-based moisturizer and use facial oil alone. Oils disperse more easily over skin that is slightly damp, so leave skin a little damp after gently cleansing or apply a toner or floral mist just before the facial oil. Dispense 2-3 drops of oil and rub between your fingertips. Press into cheeks, forehead, and chin and then distribute evenly using upward strokes. The result is a velvety finish with skin that looks fresh and balanced.
If your skin is on the dry side or seems dehydrated, first apply a water-based moisturizer and let it sink in. Next, apply 2-3 drops of facial oil using the method described above. The facial oil will lock in the moisturizer and keep skin soft and supple. The result is skin that is perfectly hydrated and plumped.
Facial oils can be used in your morning or night routine. Integrity Botanicals has an incredible selection to choose from, with facial oils for every skin type. Acne prone skin will enjoy the Purify Facial Serum by Aster + Bay or Laurel Balancing Serum. Normal, balanced skin will enjoy African Botanics Pure Marula Oil or the Kahina Giving Beauty Serum. Dry skin types will benefit from One Love Organics Supercritical Chia Oil or Olie Biologique Huile Moderne 004 Hydrating Oil. Damaged or mature skin types will benefit from KYPRIS Beauty Elixirs, Kari Gran Essential Serum and MUN No. 1 Aknari Brightening Youth Serum.