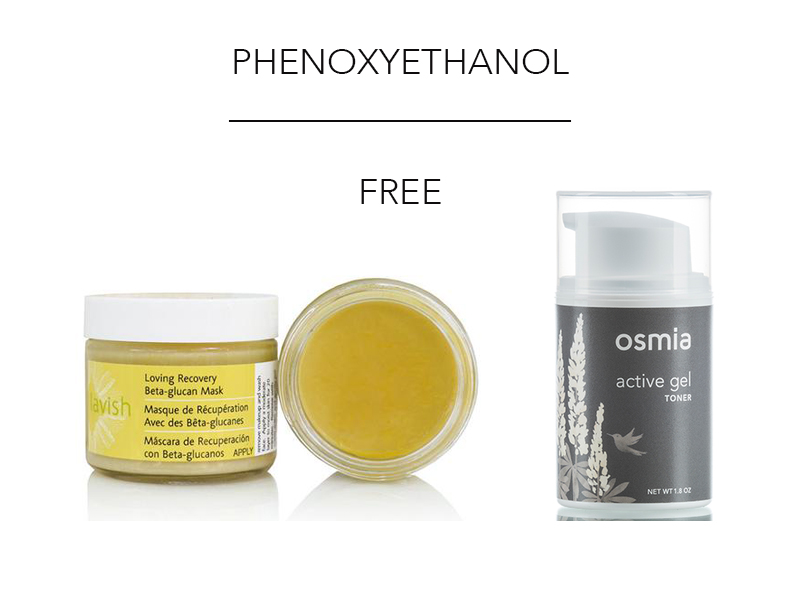 The personal care and cosmetics industry is pretty savvy when it comes to the bottom line. In response to consumer safety concerns, many products that line the shelves of beauty stores, supermarkets, and pharmacies are touted as free from parabens, sodium lauryl sulfate, and more in an effort to capture the market share of people who have begun to wake up to the truth about ingredients. But products aren't necessarily any safer for use just because they don't contain parabens. What else is lurking in that bottle?
Since the big paraben scare began, an ingredient called phenoxyethanol has increased in popularity as an alternative preservative, even among "natural" and "organic" brands.
Studies have proven that phenoxyethanol is an irritant to skin and eyes, but this type of allergic reaction is just the tip of the iceberg. Trust us at Integrity Botanicals when we say that phenoxyethanol doesn't belong in your products. The Material Safety Data Sheet (MSDS) on phenoxyethanol states that it's toxic to the kidneys, nervous system, and liver, and that repeated, long-term exposure can cause organ damage. While the toxicity effects listed in the MSDS are based on exposure to the preservative when it's undiluted, it's still concerning to think about the potential health implications of this ingredient over time.
In fact, back in 2008, phenoxyethanol began receiving negative press after the FDA issued a consumer warning about its use in a nipple cream for nursing mothers. The FDA warned that phenoxyethanol can be harmful to nursing infants and cause the shut down of the central nervous system or induce vomiting and contact dermatitis. Since then, several animal studies have demonstrated that phenoxyethanol has toxic effects on the brain and the nervous system at moderate concentrations. Nevertheless, in the U.S. phenoxyethanol is deemed safe for use in cosmetics in concentrations of up to 1 percent.
This is why it's important to be informed and make conscious choices about what products are used in your home. You'll never find phenoxyethanol in the products Integrity Botanicals offers, and our brands feel as concerned about this ingredient as we do.
Sarah Villafranco, founder of Osmia Organics, shares her company's philosophy, "There are two main reasons we don't use phenoxyethanol. First, it's an ethoxylated ingredient, which is on our No-No List due to the likely presence of the contaminant 1,4-dioxane in ethoxylated ingredients, and the effect of ethoxylation on the ground water supply for the same reason. Second, it's a petroleum-derived product (comes from phenol) and we don't use petrochemicals in our products."
You might be asking, if phenoxyethanol is the alternative to parabens, are there any safe preservatives out there, or do I have to choose between the lesser of two evils? Yes! There are absolutely safe alternatives, and the brands carried at Integrity Botanicals are on the cutting edge in this regard.
Julie Longyear, founder of Blissoma notes that her company does not include phenoxyethanol in their products because, "We believe it to be unnecessary with the wealth of truly natural new preservation options available in the ingredients market." She adds, "It used to be much more difficult to find natural preservatives, but that is no longer the case. More careful formulation effort is required to use them, and I think many brands and extract suppliers simply do not like having to take that extra time to ensure that their recipe is holding steady."  And if the reasons listed earlier aren't enough to convince you, Julie notes that phenoxyethanol has been shown to likely disrupt the skin's microbiome, and could be killing off healthy bacteria populations that defend us against pathogens.
Join the brands at Integrity Botanicals and say no to phenoxyethanol in your products—you're worth it!