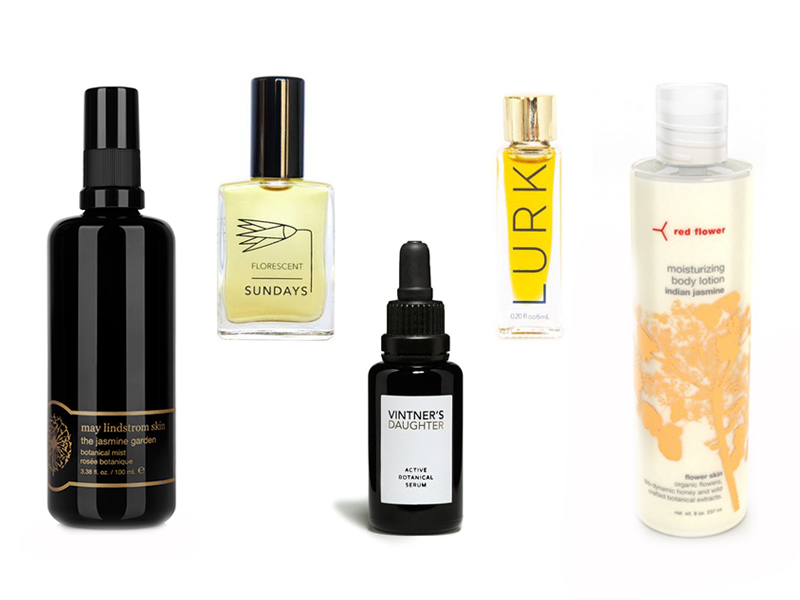 Tis the season for hearts and chocolates—but don't let roses steal the Valentine's Day show. Save those prim petals for next year, and let jasmine be your love inspiration instead. Jasmine, the "queen of the night", is no doubt a seductress with its sultry, heady floral scent, which can also be sweet, peachy, green, and tea-like. The fragrance is delicate but tenacious. Jasmine is also a marvelous agent of self-love and self-care, which is sorely needed during these cold February days. I use jasmine oil as an aromatherapy treatment to encourage a blissful state, and there are plenty of jasmine rich products that feature prominently in my routine.
Jasmine is royalty in the perfume world, but it's just as valuable in skincare, and you'll find it in some of the most luxurious products.
While the scent enhances the experience, compounds found in jasmine oil clarify, protect, and smooth the surface of the skin. Real jasmine oil is precious, expensive, and ethereal. Once you experience it, you'll know the difference the next time you're faced with a lackluster synthetic dupe. This is where the botanical products found at Integrity Botanicals truly outshine conventional beauty products—you'll only experience true jasmine, and trust me it makes everything better. Those moments to yourself in the bathroom, smoothing on a luxurious serum or applying your favorite perfume—it's elevated by the scent of fresh jasmine blossoms. Real jasmine is euphoric, an instant rush of happiness and serenity. That's jasmine's natural ability to fight depression and reduce anxiety in action, and it really works.
Keep products that contain jasmine in your routine, and you'll enjoy the benefits of this gorgeous blossom every day. Integrity Botanicals has a selection of facial mists, serums, body moisturizers, botanical perfumes, and more that feature jasmine prominently. Here are a few I think you'll adore as much as I do…
Facial mists are an easy way to get jasmine's instant aromatherapy benefits while hydrating your skin. Keep one in your bathroom and one in your purse. Jardin de Fleurs Skin Revitalizer by La Bella Figura keeps it fresh and floral, while The Jasmine Garden by May Lindstrom Skin pairs jasmine with luscious cocoa notes for more depth. Both are divine.
Body lotions and moisturizing oils make an excellent carrier for jasmine, and you can use them in lieu of perfume if you prefer a more subtle wear when it comes to scent. Try the Red Flower Moisturizing Body Lotion in Indian Jasmine, which offers a juicy burst of jasmine, or the Salvation Body Oil from de Mamiel, which showcases jasmine in a more complex scent arrangement when blended with other notes like frankincense, bergamot, and myrrh.
Potent face serums like Vintner's Daughter Active Botanical Serum or Maya Chia The Super Couple give plenty of glow while restoring skin to a balanced and bright condition, and they harness the goodness of jasmine to help do so. Vintner's Daughter displays the more floral and fruity aspects of jasmine, while The Super Couple  has a more grounding scent palate. Both lead to sweet dreams when used in the evening.
For the true jasmine experience, perfume is where it's at. Try Sundays botanical eau de parfum by Florescent, which features two types of jasmine along with ginger lily for a lush scent that is both fresh and seductive (one of Terri's favorites!). Perfume oil lovers will adore  PRJ V1 by LURK, which layers jasmine with rose and petitgrain for an uplifting citrusy twist that is pure heaven. The sweet bottle is purse friendly, too.
Treat yourself or your loved ones to some jasmine delights, and remember—you deserve the real thing.