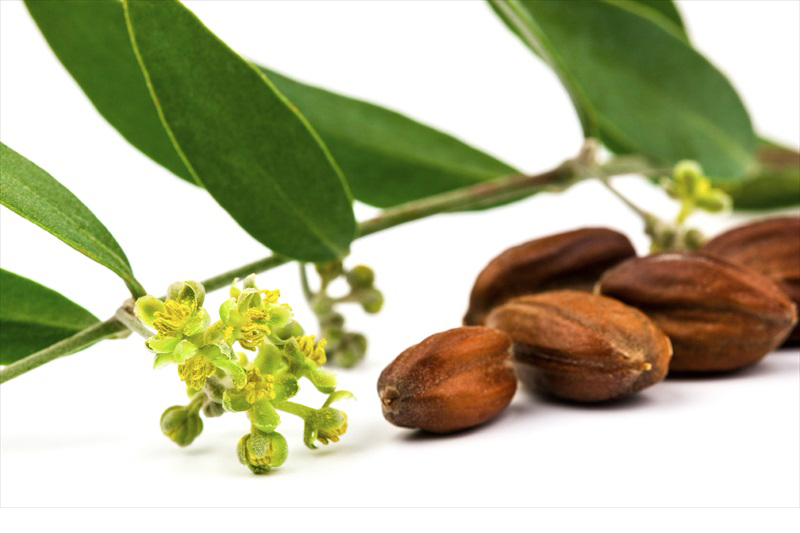 Could there be one, perfect botanical oil for all your skin and hair care needs? Jojoba oil certainly comes close, if you ask me. Through the height of the coconut oil and argan oil craze—(remember when your Pinterest feed was brimming with these two?)—I often found myself reaching for jojoba oil instead. This golden beauty oil was the very first "face oil" I dared to put on my bare skin. That was only after enough research convinced me it was worth trying despite the fact that I'd been using "oil-free" products since I was a teen. My how things have changed!
My experience with jojoba opened the door to all kinds of incredible botanical oils, and it still remains one of my favorite ingredients.
Jojoba oil is actually a liquid plant wax, not a true vegetable oil, but we'll call it an oil since that's standard practice. The oil is produced in the seed of the jojoba (pronounced ho-ho-ba) plant, which is a shrub that is native to southern Arizona and California, as well as northwestern Mexico. It's prized for having long shelf-life compared to most botanical oils, which means you don't have to worry about it oxidizing quickly and doing more harm than good. It's also resistant to high temperatures. Because it is such a stable oil and does not have a scent of its own, jojoba is often used as the carrier oil in natural perfume oils.
The truly magical thing about jojoba oil is that it acts like a second skin. The wax esters and fatty acids in jojoba are similar to sebum—the stuff you naturally produce to moisturize and protect your skin. When jojoba is applied as a moisturizer, it sinks in weightlessly and acts like sebum to help retain moisture and pH balance. Not only does it lock in moisture and keep skin supple, it actually helps unclog pores! Yep, that's right—jojoba prevents excess oil production and helps unclog pores, inhibiting bacterial growth that can lead to acne problems.
Jojoba's antifungal and antibacterial properties make it a great choice for breakout prone skin, but everyone can benefit from this ingredient.
The benefits don't stop with the skin. Jojoba can be applied from the roots to the tips of the hair to condition, strengthen, and add luster to locks. Additionally, it can help stimulate hair growth by keeping the hair follicles on the scalp healthy. Try massaging it onto the scalp as a nutritious treatment once a week before shampooing.
You can find jojoba oil in some of my favorite products at Integrity Botanicals. Look for it in these and more!