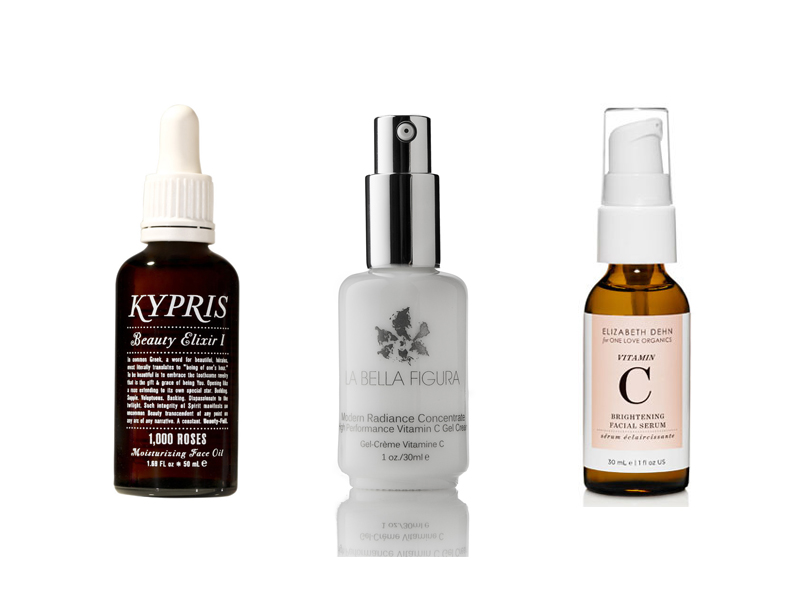 Vitamin C is one of the most powerful anti-aging ingredients in skincare, and it's especially useful after our skin is exposed to the summer sunshine and harsh summer elements. If you spent much time in the sun this summer, you may notice a bit of hyperpigmentation or sun damage as your summer color begins to fade. As diligent as I am with sunscreen and hats these days, sometimes I'm caught in the sun without as much protection as I'd like, and the effects of the UV exposure show up in my complexion along with some damage from my teenage days when I would purposefully bake myself under the sun. Consistent use of a vitamin C treatment helps fade sun damage and returns the skin to a more youthful state. If this sounds too good to be true, let me share some of the science behind this potent antioxidant.
Let's start with collagen, that fibrous protein that forms the structure of our skin. Collagen is what gives your skin elasticity, and as we age collagen begins to break down and wrinkles form. Vitamin C plays an important role in the production of collagen, and while our skin is full of vitamin C when we're young, those levels begin to deplete as we get older. In addition, exposure to UV light and environmental pollutants contributes to a decrease in vitamin C and the breakdown of collagen. You can replenish vitamin C levels by eating foods rich in this antioxidant and using products topically that contain vitamin C.
While eating foods rich in vitamin C is always a smart idea, topical application can be up to 20 times more effective at correcting skin damage. Vitamin C treatments help boost collagen production, which in turn keeps those fine lines in check. Sunspots and hyperpigmentation will diminish with regular use of a vitamin C treatment, too, but it takes a little while to see results, so stick with it! Your skin will look brighter and younger as a result.
Vitamin C not only helps reverse the damage done by UV exposure, it has sun-protecting properties, too. While this ingredient helps fade discoloration and treats fine lines, it can help prevent damage from occurring in the first place. This fall, incorporate a vitamin C treatment to help repair your skin post-summer, but don't stop there. Be sure to use your vitamin C treatment during the sunniest parts of the year, too, as a measure of protection. I like to wear a lightweight vitamin C serum like the Modern Radiance Concentrate under my moisturizer for this purpose.
Want to add vitamin C to your skincare routine? Here are some products to get your started…