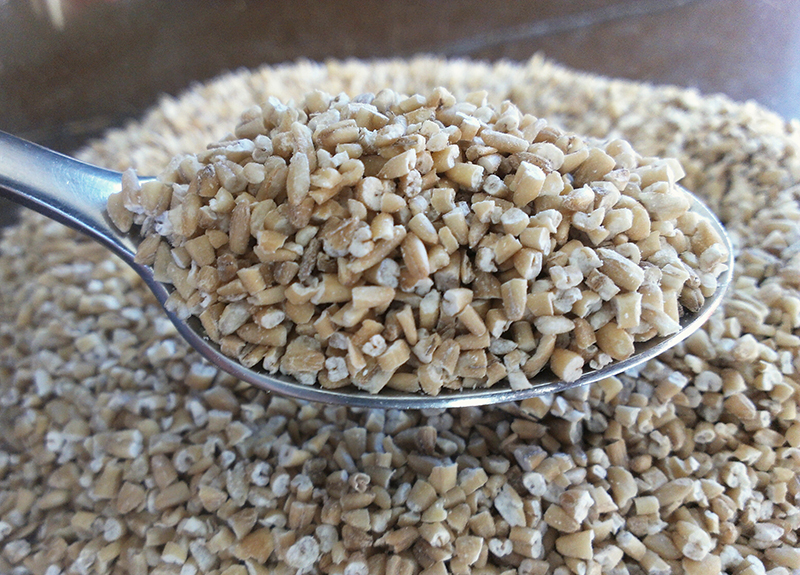 This week the temperature dipped down, forcing me to break out the sweaters and turn on a bit of heat. It seems early for that, but I'm letting Mother Nature do her thing and taking advantage of the cooler temps by breaking out my fall and winter breakfast go-to—steel cut oats. I never really enjoyed oatmeal that much. Even with yummy add-ins, the gummy porridge just wasn't my thing. Then I decided to give steel cut oats a try. I'd heard they were a little nuttier in flavor and heartier, too. The difference in flavor and texture is just enough to make me excited about eating oats regularly.
The main difference between steel cut oats and rolled is the way they are processed. Though both contain whole grain oats, steel cut oats are more minimally processed. The whole oat kernels have been chopped into large pieces whereas rolled oats are steamed, rolled, steamed again and then toasted. As a result, steel cut oats will digest more slowly than rolled. Since it takes longer for the digestive enzymes to reach the starch inside the thicker pieces, it's converted to sugar at a slower pace. For this reason, steel cut oats rank lower on the glycemic index chart than rolled oats, which makes steel cut oats a healthier choice even though their nutritional profiles are nearly identical.
Whole grain oats offer some fantastic health benefits. Because steel cut oats have a low glycemic index, it's beneficial for people trying to control their blood-sugar levels. Eating oats regularly may help prevent diabetes by reducing blood-glucose and insulin levels. In addition, the low glycemic index of oats helps you feel satiated and full for a longer period of time, making it an effective tool in weight loss or healthy weight maintenance. Steel cut oats also contain compounds that can help reduce blood pressure.
I like to cook a large batch of steel cut oats on Sundays. It's quick and easy, and then I have oats ready to eat for busy weekday mornings. To boost the nutritional benefits of oats, I always add a heaping amount of cinnamon (and sometimes turmeric or cardamom) to my bowl. Cinnamon is a healing spice that also helps control blood sugar and has a ton of additional benefits. Blueberries (often frozen) and chopped walnuts are additional add-ons that frequently make it into my bowl, adding healthy fats and antioxidants to the mix. Oat bowls are truly customizable, but try to avoid adding sugar so you don't undo all the blood-sugar stabilizing good that the oats bring to your body.
Steel Cut Oats Bowl
1 cup organic steel cut oats
¼ teaspoon salt
Recommended toppings: Cinnamon, blueberries and walnuts
Bring 3 cups water to boil. Add salt and oats, reduce heat to low and cover. Allow oats to simmer gently, and stir often. For a chewier oat, cook for 10-12 minutes. For softer oats, cook for 20 minutes. Store cooked oats in the refrigerator for up to 5 days. To enjoy, reheat a small serving in the microwave, top with a dash of milk or cream and add cinnamon, blueberries and walnuts or similar combination.