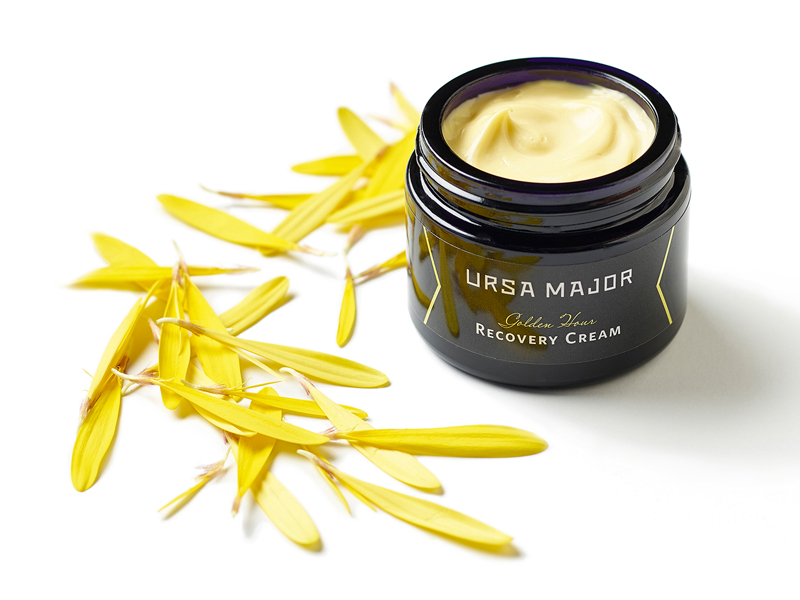 Ursa Major is on a roll with new product launches, and that excites me to no end. This summer the Force Field Daily Defense Lotion with SPF 18 was a big hit at my house with it's lightweight but highly moisturizing consistency. As the summer warmth wanes and we creep closer to cool fall days, the launch of the new Ursa Major Golden Hour Recovery Cream feels oh so timely. Just as I'm ready to reintroduce boots and sweaters to my wardrobe and chai tea sounds better than ever—I'm craving a soft, cocooning cream for my skin. The Golden Hour Recovery Cream really hits the spot.
Housed in a beautiful black glass jar, the Golden Hour Recovery Cream's packaging is a departure from Ursa Major's standard white pumps, bottles, and tubes. Even the box has a handsome black design. These touches set this product apart from the line and make me wonder whether we'll see more in this style from Ursa Major. One thing is certain—the black glass really showcases the gorgeous pale yellow color of the Golden Hour Recovery Cream and makes it even more enticing. One look at this cream tells me that it's full of nourishing and calming properties. I've come to see color in my products as a big part of the story, and the golden hue of this cream means that it's rich with sea buckthorn and calendula—ingredients you definitely want in your routine.
It's a toss up between what I love more about the Golden Hour Recovery Cream—the soft, plumping texture that feels so good on skin or the mild, heart-opening scent of neroli, sandalwood and rose. Let's just agree that the overall experience is as pleasing as can be. The cream is rich and deeply hydrating, but it absorbs quickly and thoroughly, leaving no greasy or heavy feeling on the skin. I've been using this as a night cream, though it's perfectly suitable for daytime use and will likely get a lot of daytime play later in the season since it wears well under makeup and keeps the moisture in. Without fail, after a night spent with the Golden Hour Recovery Cream I wake up with skin that feels baby soft and looks even-toned and recharged. Thank you skin smoothing sea buckthorn and ultra calming calendula! Did I mention that the rose and sandalwood not only smell amazing but also add serious benefits to the mix? Both have naturally calming properties that relieve redness and tone the skin. Sunflower and black currant help protect and repair, increasing skin's firmness and elasticity. The formula is brimming with important antioxidants, vitamins and essential fatty acids.
If you're looking for a new moisturizer that provides deep hydration without feeling heavy, or you have dry and sensitive skin that's in need of some TLC due to prolonged exposure to the elements (think city life, too—not just the natural elements) make sure to try the new Golden Hour Recovery Cream from Ursa Major. You'll absolutely love the results.