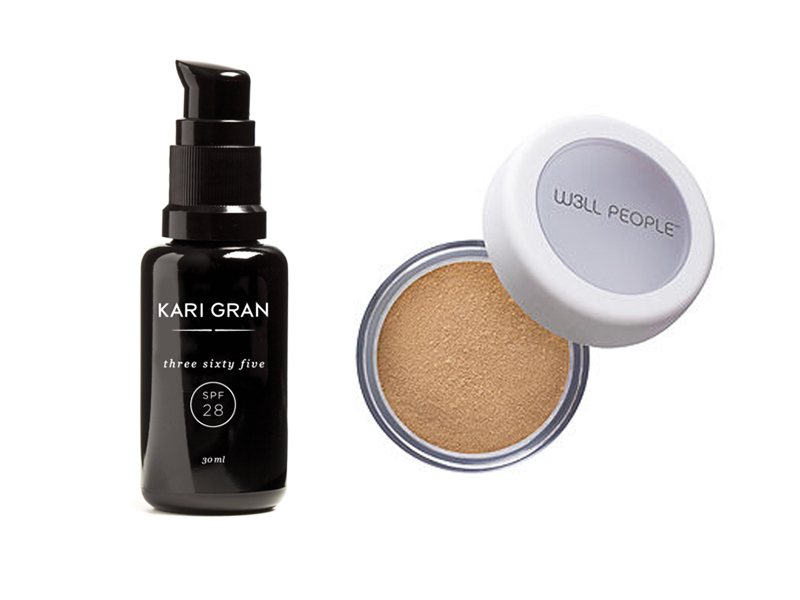 Sometimes great ideas are borne out of mistakes. I often find that the case with beauty products. Recently I ordered the WELL PEOPLE Altruist Mineralist Foundation, which I absolutely love for its ability to build from sheer to full coverage while always looking natural. I took advantage of Integrity Botanicals' great sampling program to help me figure out which shade I needed in the foundation. The trouble started because I ordered those samples during the middle of summer when my coloring was at it's darkest. By the time I ordered and received the foundation shade that matched my summer glow, I could tell within weeks that I'd gone too dark with my selection.
What was I to do with my brand new foundation that was just a hint too dark? Tossing it in the back of my makeup drawer until next summer was not an option—it's too good! I thought of how Shirley, one of the founders and makeup artists behind WELL PEOPLE, had blended her mineral foundation into the One Love Organics Skin Savior Multi-Tasking Wonder Balm when she did my makeup once. Blending these two products together created a creamy foundation that was gorgeous and nourishing. I decided to take this concept one step further. I didn't have the Skin Savior on hand, but I did have something just as amazing that also includes SPF—the Kari Gran Three Sixty Five SPF 28.
This new SPF serum from Kari Gran has been a favorite since it launched this summer. I've been so impressed with the beautiful formula made with naturally protective oils like red raspberry seed oil and French plum seed oil. With 9 ingredients total, Three Sixty Five is perfect for sensitive skin, and it wears just like a daily facial oil, replacing the need for an additional moisturizer in most cases—especially during this time of year. I love the way that the Three Sixty Five SPF 28 brightens and evens out my complexion, creating an almost airbrushed effect. The catch is that it's not completely invisible—the non-nano zinc oxide leaves a barely there trace. It is a non-nano mineral sunblock after all.
While I'm pale enough for this not to matter so much, it occurred to me that the Kari Gran Three Sixty Five SPF 28 would be the perfect medium to mix in my slightly too dark WELL PEOPLE Altruist Mineral Foundation. I was right, and now I'm obsessed with my "new" liquid foundation with SPF. Here's how I do it—first I tap a small amount of the WELL PEOPLE Altruist Mineral Foundation into the palm of my hand. You don't need a lot at all and you can customize the amount used based on the type of coverage you want. Then I add one pump of the Kari Gran Three Sixty Five SPF 28 to the foundation and blend right in the palm of my hand. The two blend quickly and seamlessly in a matter of seconds. You can see the liquid foundation coming together right before your eyes. This is all it takes to completely cover my entire face. I smooth this combination over my skin using my fingers to blend, and voila—I'm moisturized, protected and even-toned. Any hint of white from the SPF is gone and the once too dark foundation is now a perfect match.
Do you have a similar beauty hack? Have you tried this trick at home?