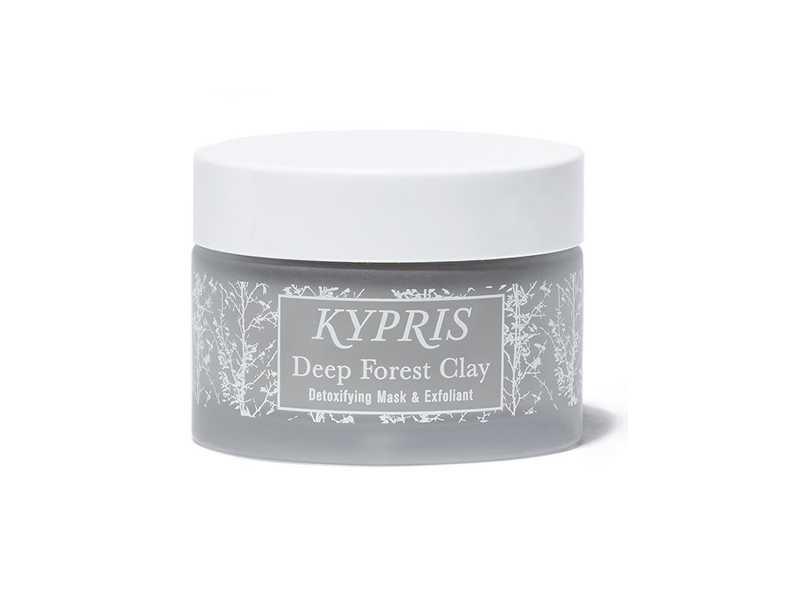 Is your skin feeling congested or dull after a long, hot summer? Fall may be here, but the effects of summer could still be doing a number on your skin. KYPRIS has just released the Deep Forest Clay Detoxifying Mask & Exfoliant, and it's perfect for getting your skin back into balance before the cooler days ahead kick in.
What I loved instantly about the Deep Forest Clay is that it has classic facemask appeal. Its beautiful earthy bluish-green hue is visually calming, and the scent embraces you with a grounding touch of vetiver and patchouli. The mask's creamy consistency makes it a breeze to smooth a cooling layer across your skin without tugging or taking much effort at all. You can apply a full mask or simply spot treat without going to the trouble of blending anything yourself. I love the Deep Forest Clay for a once a week mask treatment, and I also like to use it strategically as a quick spot treatment on the areas of my face that tend to get more congested, like my nose and chin. I just spread a little on those areas about 15-20 minutes before hopping in the shower.
The base of the Deep Forest Clay Detoxifying Mask & Exfoliant is montmorillonite—a detoxifying, exfoliating, and hydrating mineral clay that helps draw out impurities and replenish skin of vital minerals at the same time. Sea algae is included to help protect and soothe the skin's barrier with a dose of hydration. Sea salts add an additional boost of 73 skin-calming minerals to the picture while medicinal botanicals like acne-busting thyme, aspen, vetiver, chamomile, fir, butterfly bush, and hibiscus add a wealth of benefits. Decongestion and clearing of the pores is aided by both the physical and chemical exfoliation properties of the Deep Forest Clay mask.
After smoothing on the Deep Forest Clay Detoxifying Mask & Exfoliant, you may notice a warming effect or the skin's circulation being stimulated. The mask will dry on your skin during the 20 minutes you wear it, but it stays comfortable and won't harden in a way that pulls the skin too tight (ever experienced that with a clay mask?). If your skin is sensitive, remove after 5 minutes. Once you're ready to rinse away, dampen the skin and massage the mask loose in circular motions to benefit from the physical exfoliating properties. I love that the Deep Forest Clay Detoxifying Mask & Exfoliant clears the pores without excessively drying out my skin. The formula is a great balance of detoxifying and hydrating properties that make it especially nice for these seasonal transitions.
Special offer: Get a free trial size (2.5 ml) of Kypris' Deep Forest Clay at Integrity Botanicals with any Kypris purchase, while supplies last.  Upon checkout enter code: FORESTCLAY