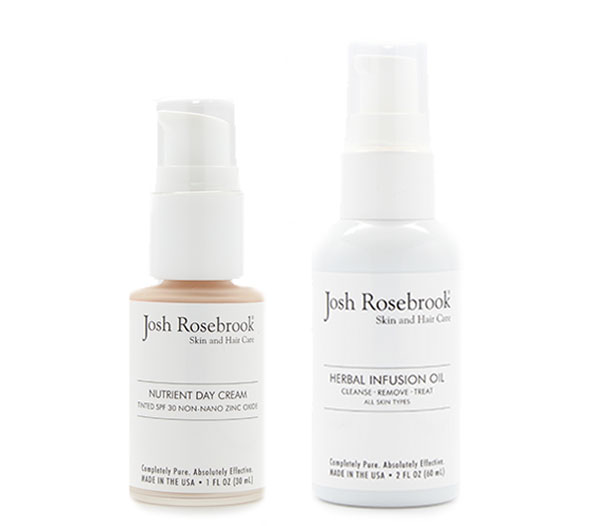 Josh Rosebrook has everyone in the green beauty community raving about his products, including me. The Josh Rosebrook line is packed with potent herbal infusions that give each formula added vitamins, minerals, fatty acids and antioxidants. These extracts combined with additional botanical oils and ingredients create a synergy that results in nutrient dense, high performing products that are a pleasure to use from day to day. If you didn't catch my interview with Josh in the fall, it will give you some additional insight into why this line is so special. Two new products are being introduced this week, and you are going to love what's coming. Today I'm giving you a sneak-peek of each, so get ready to fall in love.
Nutrient Day Cream Tinted SPF 30 Non-Nano Zinc Oxide. Josh Rosebrook has introduced a tinted version of his original Nutrient Day Cream. The formula is identical except for the addition of some mineral-based color. I was curious how the tinted version would wear since it's one shade and we all have different skin tones. Not to worry! More than anything the tint just evens out the complexion a bit, provides a nice glow and ensures there is absolutely no white caste to the SPF, which is funny because the original Nutrient Day Cream is one of the only SPFs I've tried that doesn't leave a hint of white on my face. The NDC is, dare I say, a perfect product. SPF aside, it offers everything I want out of a moisturizer. It hydrates and feels deeply nourishing, but it is lightweight and absorbs well. The finish is not too matte and not too shiny, and it leaves a smooth base for makeup. If worn all alone, you get a lovely natural glow. Infusions of 25 different herbs combined with oils like evening primrose, shea butter, borage and sea buckthorn give this moisturizer protective and regenerative qualities. The scent is gentle, herbal and a little vanilla-like.
Herbal Infusion Oil. This brand new product is an all-in-one herbal oil cleanser, makeup remover and facial treatment that anyone can benefit from, including acne-prone and sensitive skin types. As someone who almost exclusively uses oil cleansers, I was beyond excited to give this cleanser a try. At the same time, I've become pretty spoiled by another brand's oil cleanser, which turns into a milky substance and rinses clean with water alone, so I was curious whether returning to a traditional oil cleanser would be more time consuming. Not at all! I adore using the Herbal Infusion Oil. The cleanser glides on and feels wonderful being massaged into skin. It's a lighter weight oil cleanser than something like the Kari Gran or Aster + Bay versions. It quickly dissolves makeup and pulls impurities from the skin. It contains one of my favorite ingredients, Damask rose, so the cleanser has a gentle rose scent that isn't overpowering, just relaxing. To remove the cleanser, I press a warm damp cloth over my face and wipe away the oil. It works like a charm and leaves my face feeling hydrated, clean and plumped—never stripped dry.
I continue to be so impressed with the Josh Rosebrook line, and the Nutrient Day Cream Tinted SPF 30 Non-Nano Zinc Oxide and Herbal Infusion Oil are beautiful additions to any routine. The ingredient purity and quality shines through. You can get the newest products this Saturday, June 13th at Integrity Botanicals.