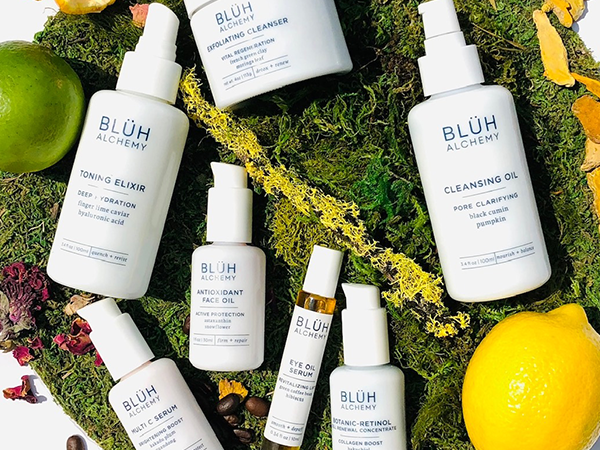 Whenever I get the opportunity to hear directly from a beauty brand founder/formulator, I know I'm going to fall more deeply in love with their brand as a result of the experience. There is nothing like learning not just the "how" but also the "why" behind the myriad decisions and methods and processes a founder must make when creating and maintaining a beauty brand. It never fails to make me appreciate the work and attention to detail that goes into their creations, not to mention the care and thoughtfulness that an indie- and green-beauty brand founder has to have to begin with.
My interaction with Blüh Alchemy founder Becky Blüh was no exception– if anything, it was exceptional in that the high level of admiration I had for her, her products, and her formulations, actually grew! (Picture when The Grinch's heart grows three sizes in the old cartoon version– except if it already started out large and got even bigger!)
So, instead of me telling you what Becky said, and why *I* think it's so amazing, it's my extreme privilege to share with you her exact words! I'm happy to have the ability to connect brand founders to readers through this blog whenever possible– there is nothing like getting the full story directly from the source to make you understand how special a formulation is!
So get ready for your heart to grow a few sizes here– and enjoy my chat with Becky Blüh. (And keep reading to the end because we're offering an incredible gift with purchase worth $55 when you buy any Blüh Alchemy product, while supplies last!)
Integrity Botanicals: 
Can you tell us a bit about what makes Blüh Alchemy's formulas so special and unique?
Becky Blüh: 
Our skincare line integrates cutting edge science with small batch botanical alchemy to create a targeted, treatment-focused range. As a founder and formulator I'm intimately involved in every facet of the process from sourcing the highest quality organic and fair trade ingredients to formulating and fulfillment.
Our products contain some of the highest concentrations of organic, bioactive ingredients on the market and are handcrafted in small batches to maintain optimal quality and fresh, vital energy. Our commitment to discover and methodically research the most innovative and effective ingredients lead us to the world's first cellular extracted, wild harvested botanicals from Australia. Unachieved before, this cutting-edge extraction process works to rapidly harness a plant's complete phyto-active profile, pure, stable and unadulterated as it exists in nature. The vital constituents of a plant are not damaged, unlike with conventional methods that often overheat or leave plants stewing, rendering them less effective. This allows the full power of the plant's bioactives to be delivered directly to your skin.
Cellular Extraction is a game changer, accessing potent antioxidants from once thought impervious sources that far exceed industry benchmarks and ORAC (Oxygen Radical Absorbance Capacity; the world antioxidant rating) values for vitamin A, C and E, Green tea, Goji and much more, as evidenced and backed by independent clinical studies carried out by Southern Cross University.
Blüh Alchemy is proud to be the first skin care brand to bring these exceptional extracts to the U.S. Cellular Extraction redefines what can be achieved with natural ingredients and evolves natural product formulation, making Blüh Alchemy's vision to deliver the most Advanced Bioactive Solutions an exciting reality.
Integrity Botanicals: 
Speaking of Advanced Bioactive Solutions! Can you tell us more about the origin of your tagline, "Advanced Bioactive Solutions" and what that means?
Becky Blüh: 
The medical definition of Bioactive is: 'Having an effect upon a living organism, tissue or cell.'
Substances like antioxidants, enzymes and vitamins are bioactive- i.e. biologically active. Australia's geographic isolation over millions of years has resulted in their rich and unique flora. Nearly 80% of their botanical species are found only on the Australian continent. These plants have developed extraordinary traits that allowed them to evolve and thrive under the most extreme conditions. It's believed that these plants developed powerful constituents which include extremely high levels of antioxidants which helps to neutralize free radicals and protect them from oxidative stress. It's through the ground breaking technology of Cellular extraction that we can now fully harness the unparalleled levels of antioxidants and nutrient dense bioactives which are at the core of all our formulas.
Integrity Botanicals: 
We love your products because they are "results driven," which is a term we don't use lightly! Can you talk more about what that means to you, and how it's shaped Blüh Alchemy?
Becky Blüh:  
My primary goal in developing a product is to promote the optimal health of your skin. I utilize a methodically curated selection of organic, bioactive ingredients that are formulated at percentages that yield clinically proven results. I choose ingredients that address specific skin concerns.
For example, in formulating our Multi C Serum, my aim was to target hyperpigmentation, hydration, skin tone and overall protection. Kakadu plum offers the highest known source of stable, bioavailable vitamin C which activates collagen production and brightens skin tone. I chose Kangaroo Paw Flower for its rich source of ferulic acid which improves the stability of vitamin C, offers photo-protective benefits and boosts hydration by reducing trans epidermal water loss. Quandong is a rich source of rutin which strengthens capillaries and works synergistically with vitamin C, intensifying its ability to reduce oxidative stress. Quandong is a potent source of phenolic acid which has antimicrobial, antioxidant and anti- inflammatory properties, reducing the appearance of fine lines and wrinkles.
For our Toning Elixir, I chose Finger Lime Caviar and MSM for their ability to enhance the absorption of vital actives, improving the overall performance of the formula. Mountain Pepper Leaf is a powerhouse antioxidant setting new benchmarks on the global ORAC (world antioxidant rating) as the highest antioxidant currently achieved, outperforming popular antioxidant sources by 5 to 100 times. It's loaded with powerful actives including anthocyanin, chlorogenic acid and flavone glycosides. Hibiscus, known as the "Botox plant," and hyaluronic acid boost hydration and plump the skin. Snowflower is rich in catechins and gallic acid and acts as a photo-protective agent, with powerful UV absorbing properties.
Integrity Botanicals: 
Your Retinol product is called "Botanic-Retinol Cell Renewal Concentrate." What is different about botanic retinol vs other forms of retinol people may have used or heard about?
Becky Blüh: 
Our Botanic-Retinol Cell Renewal Concentrate contains Bakuchiol, a retinol alternative derived from the Ayurvedic plant Psoralea corylifolia, specifically the seed, delivering retinol-like results without the negative side effects. Bakuchiol has a myriad benefits. It helps reduce the appearance of fine lines and wrinkles, evens skin tone, boosts collagen, improves skin elasticity, while activating the skin's regenerative process without any of the negative side effects often associated with synthetic Retinol like redness, dryness and irritation. Bakuchiol was discovered in 1966 but it came into the spotlight in 2018 after a study was published by the British Academy of Dermatologists which pitted Bakuchiol and synthetic Retinol against each other in a 12-week, double-blind clinical trial on human subjects. Forty-four participants received either a twice-daily 0.5% Bakuchiol product or a once-daily 0.5% synthetic retinol product. Their progress was evaluated by a dermatologist who didn't know which group was which.
Both groups saw improvements in the reduced appearance of hyperpigmentation, wrinkles, and redness, and there was no statistically significant difference between their results, which suggests that using Bakuchiol twice a day is as effective as using Retinol once a day. Plus, the Bakuchiol group reported less skin scaling and flaking than the retinol group.
Regarding the sustainability of this plant, there have been concerns that it is endangered. Some Psoralea plants are, however Psoralea corylifolia is NOT registered on the International Union for Conservation of Nature's Red list and in fact there are very strict guidelines in place regarding its harvesting.
We source our Bakuchiol from a leading manufacturer in the industry for its ethical and sustainably sourced Bakuchiol. Unlike other sources that cold press seeds resulting in products with varying percentages from 1-12 % which can include contaminants, our source utilizes a proprietary monomolecular extraction process that is standardized rendering greater than 99% pure Bakuchiol.
Integrity Botanicals: 
Do you have any new products on the horizon? (Fingers crossed!!)
Becky Blüh: 
I launched Blüh Alchemy with an edited line of six products with the intention of expanding as the need presents itself. When it comes to new product development my motivation and excitement is informed by innovations with ingredients, delivery systems and new preservation methods. Most importantly though, I want to be responsive to the needs of our loyal customers and partnerships. I listen to their requests and desire for certain products. So, I've been busy in the lab working on a few different formulas. We'll be launching something new at the end of the year which is super exciting for us.
—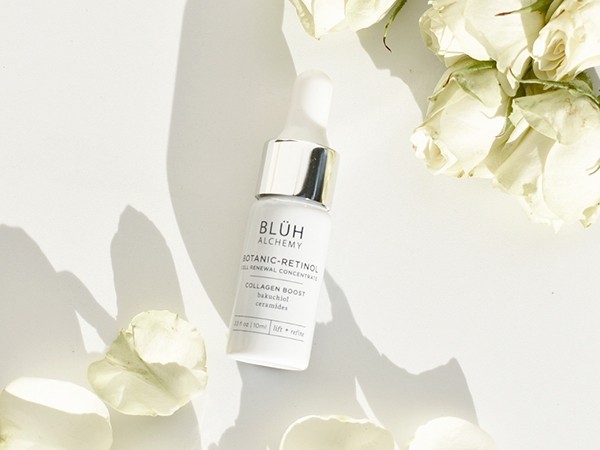 We can't wait to find out more about Blüh Alchemy's next launch, and we promise to share the details as soon as we get them! Any guesses? Comment below or on social media. We'd love to hear your guesses!
But while we wait on news of this new product, you don't have to wait another moment to have your very own Blüh Alchemy goodness! Use the code "RETINOL" (in the discount code field upon checkout) with ANY BLÜH ALCHEMY purchase–  WHILE SUPPLIES LAST!– to receive a FREE Botanic-Retinol Cell Renewal Concentrate (Travel Size / 10 ml – $55 value)!
Huge thanks to Becky Blüh for taking the time to share her incredible wisdom and insight with us. We love our brand founders, and the chance to connect them with you!