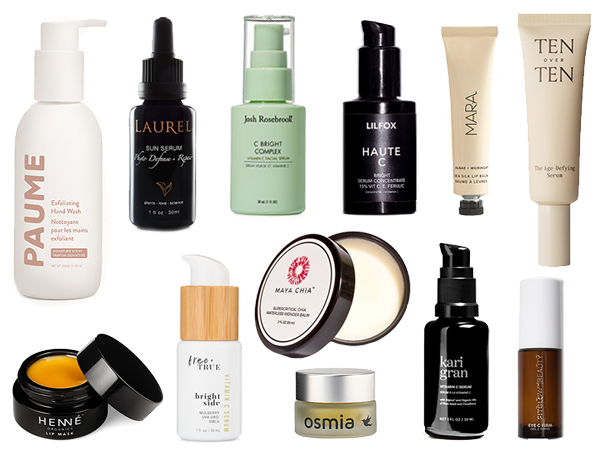 Post sun repair
Labor Day has come and gone, which means that summer is *technically* over. Now, I'm all about extending summer as long as possible, wearing white all year round, pretending the amount of daylight is still getting longer even when it's dark before dinnertime, and basically ignoring all the "rules," but eventually, we do have to admit that seasons change.
With September, we also have to face the fact that we might need to do some damage control, some Sun Damage Control, that is, after extra time in the summer sun.
Here are my top three tips– with tons of product recommendations, of course!– to help you recover from the summer sun!
Tip #1:
Utilize Vitamin C to help repair sun damage
Vitamin C is known to help with a lot of the things people complain about their post-sun exposed skin, namely dark spots, hyperpigmentation, dullness, and fine lines. There are many forms of Vitamin C our favorite skincare formulators use in their products– 3-O-Ethyl-L-Ascorbic Acid, THD Ascorbate, L-Ascorbic acid, Ascorbic Acid Polypeptide, Sodium Ascorbyl Phosphate (Vitamin C), Magnesium Ascorbyl Phosphate (Vitamin C), Tetrahexyldecyl Ascorbate (Vitamin C), and more. It can also be found within ingredients we all know and love, like Kakadu Plum, Lychee, Sea Buckthorn, and Rosehip oil.
Here are some of the Vitamin C laden products we love all year round, but especially use (and stock up on!) as summer turns to fall.
Free + True just reformulated their widely-adored Bright Side Vitamin C Serum to be even more potent and yet simultaneously even more gentle on sensitive skin. After a five week study testing a group of diverse individuals, 100% of participants agreed that their dark spots faded AND that their skin looked and felt more hydrated; 91% of participants agreed that their skin texture had improved, and 82% of participants agreed that their skin tone looked brighter and more even. We love those numbers!
Josh Rosebrook C Bright Complex It's in the name– this combination of multiple forms of Vitamin C is not simple in the best way: it's COMPLEX! As per the brand's description of why this Vitamin C complex is so fabulously extra, "A fast absorption formula structured for potency, C Bright complex harnesses two fully stabilized and clinically proven biomimetic Vitamin C complexes. Complex One features a gentle, superior form of Vitamin C (3-O-Ethyl-L-Ascorbic Acid) backed by heavy-hitting antioxidant cofactors, Ferulic Acid and Vitamin E. Complex Two is a mighty medley of cutting-edge pure L-Ascorbic with regenerative Colloidal Gold and Glutathione."
LILFOX Haute C Bright Serum Concentrate This serum is lightweight with a zesty herb and citrus smell, and is packed full of ingredients in addition to Vitamin C that will make your skin glow. HAUTE C utilizes Kakadu Plum to deliver plenty of vitamin C, but then goes above and beyond with Camu Camu and an extravagant 15% of Tetra-C. Bamboo Extract, Niacinamide and two forms of Hyaluronic Acid make this a fantastic overnight treatment as well as a daytime one.
Laurel Sun Serum Phyto Defense and Repair I love this serum (and see below: there's also a body version!) because it is dealing with sun and sun exposure from multiple angles. Laurel is known for her meticulous research as well as for her gorgeous formulations, made from products grown lovingly by farmers who Laurel has vetted and worked alongside to ensure the utmost purity and integrity. The Sun Serum can be useful both before and after time spent in the sun, as it features whole plant extracts that address both prevention and repair. It pairs well with sunscreen to offer a more complete spectrum of protection, thanks to plants like Sea Buckthorn, Rosehip, Red Grape, and Calendula.
One Love Organics Vitamin C Body Oil, Botanical C Scrub, and Botanical C Moisturizing Facial Serum One Love Organics gets it: Vitamin C is always a good idea! I came to these products for the delicious scents but stayed for the super-powered, effective ingredients! The fact that OLO has three Vitamin C-rich products means the brand clearly understands how powerful and beneficial the ingredient can be. And have we talked about the scents? All three of these products smell incredible– everything One Love Organics makes does! The body oil and scrub both have the most amazing, tropical pineapple scent, and the face serum has a nice, subtle rose scent.
Kari Gran Vitamin C serum I don't mean to brag, but I was one of the first people to get a lab sample of this oil-based serum before it was officially released, and I've been in love with it ever since! I love that it provides moisture along with vitamins, thanks to being oil-based, and it uses THD Ascorbate, a very stable form of vitamin C. Being oil-soluble, it penetrates more deeply and quickly into skin and is ideal for sensitive skin.
Ursa Major Brighten Up C Serum uses Ascorbic Acid Polypeptide – A super-stable, water-soluble form of Vitamin C that tones, firms and brightens skin. You might want to use it on its own as a lightweight moisturizer, or pair it with a heavier moisturizer like the brand's Golden Hour Recovery Cream (one of my personal all-time faves!) or top it with Ursa Major's new and improved Force Field sunscreen for daytime.
Tip #2
Don't forget to pay special attention to your hands!
Hands are a body part we often forget to cover with sunscreen pre-exposure, and, given their level of use and the need for frequent washing, hands are extra-vulnerable. To keep our mitts looking soft, supple, and free of sunspots and damage, here are products we LOVE.
Tenoverten's The Heroine and Age Defying Hand Serum. When I look at the ingredients for Tenoverten's products, I always think about how I could be looking at a serum or cream I'd put on my face! But they're built especially for hands, and I appreciate the luxury it is to be able to treat the skin on my hands just as poshly as I treat my face! I use these two products together: the serum first on slightly damp skin, followed by The Heroine to seal it in and add moisture. For a truly decadent treat, I LOVE the brand's Cocoon overnight.
Maya Chia Supercritical Chia Waterless Wonder Balm. It's no secret to anyone that I love this multipurpose balm, and I particularly love it for this time of year, when the AC is still blasting, drying my skin right out, and I'm washing my hands more because the kids are back in school. I never leave home without my Waterless Wonder Balm, and there isn't a spot I haven't used it on. Lips, face, elbows, legs… you name it, I've coated it in WWB. But I always particularly like to slather it on my hands before bed. And I dab some below my nose because I just love the scent that much!
Laurel Sun Body Oil Phyto Defense Repair is so good you'll definitely want to put it all over your body, but this is your official reminder to not forget to use it on your hands! We all forget the hands when it comes to sunscreen and post-shower moisturizer and anything else where there's a lot of focus on face or body, but this luxurious oil will help protect your hands from the sun AS it helps repair damage from previous exposure. So, yeah, you'll want to remember to put it on your hands!!!
Tip #3
Eyes and Lips need extra love
Much like the hands, our eye and lip areas are particularly in need of TLC after a summer of exposure to the elements. To help these delicate areas recover, we recommend:
Mara Sea Silk Lip Balm: Can I bathe in this? Seriously, is that possible? I love how it smells, how it feels, how it makes my lips feel when I wake up in the morning having worn it overnight. I can't emphasize enough how this little balm makes me look forward to going to bed or waking up or any excuse I can find to apply it again!
Ere Perez's Lychee Creme Corrector has vitamin C (see above for why that's important and great!) and works to correct skin tone that might be off from sun exposure or lack of sleep or just, you know, life! It's antimicrobial, antioxidant, anti-inflammatory and super easy to blend in yet incredibly hydrating. You know how we love a multi-tasker, and this one really does it all!
Fitglow's Cloud Collagen Lipstick and Cheek Balm is another beloved multi-tasking miracle. It comes in so many good shades and yet also delivers true skincare benefits. I personally like Glad for my cheeks and Tea for my lips, but honestly, you cannot go wrong with the colors. Plus, you know you're getting Fitglow's pro collagen complex and ceramides to replenish the moisture barrier every time you apply!
Henné Organics Lip Mask is gold in color for a reason: it is as good as gold! Call me a rebel, but even though you're technically supposed to apply this soothing balm on your lips and then wipe it off after 15-30 minutes, I never wipe it off! It's too good! Why would I remove it?!
Osmia Lip Repair is my go-to recommendation for people who are really struggling with their lips. Cracked, dry, peeling– whatever the issue is, this is the most likely thing to fix it, and the least likely to irritate or add any issues in the process. Organic manuka honey, myrrh extract, and lanolin are all heavy-hitters when it comes to fast relief.
Fitglow Eye C Firm Cream contains caffeine, which is my favorite ingredient to drink, so why shouldn't it also be great for my skin? Well, it is– it wakes up the eye area the way drinking coffee wakes me up on the daily, and this formula also has, of course, Vitamin C, as well as probiotics, peptides, pomegranate, and Vitamin K. It almost sounds edible, but don't eat it! Put it around your eyes.
Much as I often dread the end of summer, compiling this list of products to help return your skin to its pre-sun-exposed best has actually made me excited about the change in seasons. Whether it's Vitamin C or taking good care of parts of the body we often overlook, there's a lot to look forward to as summer becomes fall. We love to hear your tips and tricks about post-sun skincare– tell us in the comments or on social media what you can't live without!