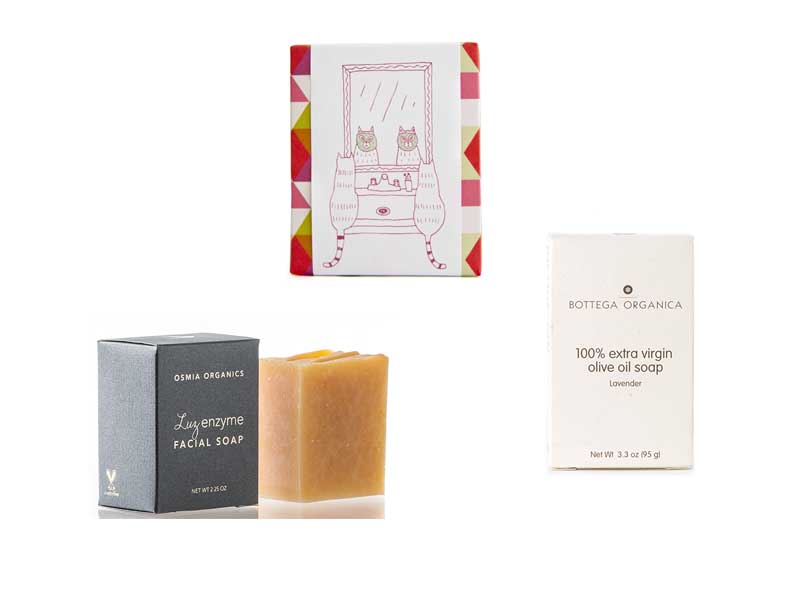 I found the key to falling in love with bar soap—look for soaps that are handcrafted from rich, high quality botanical butters and oils. Your skin will feel comfortable, clean and moisturized—never stripped. Most conventional soaps are full of harsh surfactants and other ingredients that strip skin of the protective oils you naturally produce. This adds up to dry, itchy and often irritated skin. Yuck! For this reason, I ditched soap altogether several years ago, but I fell in love (for the first time) when I got my hands on soaps from Osmia and Meow Meow Tweet. Then came Bottega Organica, and I fell in love with that, too. Now I'm a bar soap convert. In fact, it's all you'll find in my shower at this time.
Soaps with the right combination of oils and butters will gently cleanse and supply your skin with love and nutrients. Many add essential oils to enhance the experience. Here are three moisturizing soaps I'm loving for these reasons and more…
Bottega Organica is all about the olive oil. Every ingredient Bottega Organica uses is harvested and processed naturally from their farms in Italy and New York, so it goes without saying that the Bottega Organica 100% Extra Virgin Olive Oil Lavender Soap is made from some incredible olive oil—probably better than what I have in my kitchen! The soap is infused with purifying lavender essential oil, but the scent is mild. It also includes active extracts from grape leaves, golden and prawn sage which serve as anti-aging ingredients. The soap lasts a long time and doesn't just melt away in the shower, plus it leaves skin soft and gently cleansed. This is simple sophistication in a pretty bar.
I've tried a lot of soap from Meow Meow Tweet, and I plan to try a lot more in my lifetime. Each soap is a delight to unwrap with its pretty and bright geometric paper, but it's the gorgeous scent combinations and beautiful ingredients that make this soap a true gift. Meow Meow Tweet's Rose Pink Clay Bar Soap is no exception! I adore the delicate scent of geranium, lavender and palmarosa essential oils that come across as soft as a flower while toning the skin. The soap is infused with French pink clay and crushed rose petals to provide a very light bit of exfoliation. The bar is enormous, which makes this soap a great value. I leave the shower feeling blissed out with soft, radiant skin thanks to this beauty.
The Luz Enzyme Facial Soap by Osmia Organics is my latest foray into bar soap land, and it was a big leap of faith for me to try it. For a woman who swears by oil cleansing and little else, I wasn't sure how my face would take to a bar soap. Of course, Osmia didn't let me down. I never imagined a soap could be so cleansing yet so moisturizing for the face. It removes makeup beautifully, and my face feels hydrated afterward—never tight or dry. Just wow. The ingredients are absolutely premium, with a base of organic olive butter and mango butter plus coconut, sweet almond and avocado oil. Coconut milk helps give a creamy lather while organic pumpkin and tomato offer a gentle enzymatic exfoliation. Also included are restorative essential oils like carrot seed, carrot root and geranium. I love how clean and soft my face feels after Luz. Plus, traveling with a facial cleanser just got a whole lot easier.