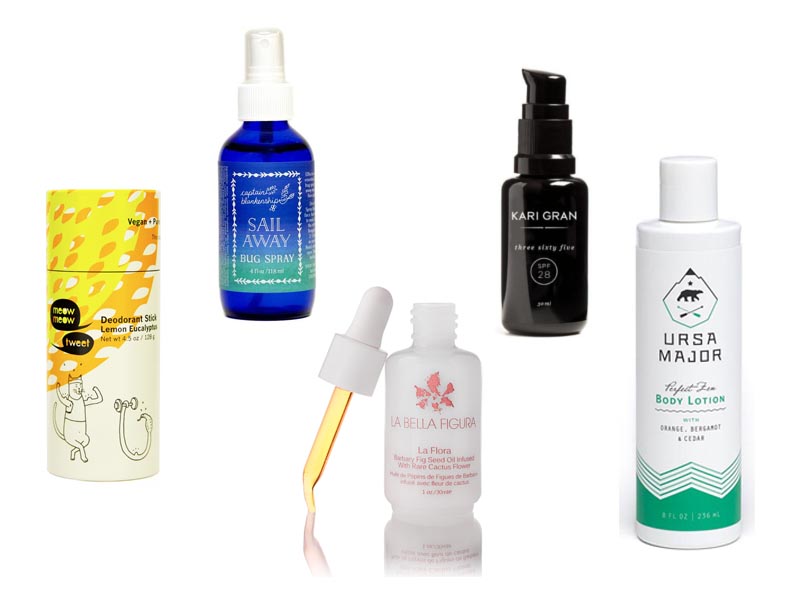 Summer can be really tough on skin and hair, and it presents its own seasonal challenges with bugs, bright sun and more. There are some products that just seem to make summer's hot weather and everything that comes with it more tolerable. These are my top 5 favorite products for summer…
Kari Gran Three Sixty Five SPF 28 — I'm completely enamored with this simple yet effective formula made with naturally protective oils like red raspberry seed oil and French plum seed oil. With 9 ingredients total, Three Sixty Five is perfect for sensitive skin, and it wears just like a daily facial oil. I use barely a pump's worth for the whole face everyday. It absorbs nicely and acts as a great primer under makeup. Depending on how my skin is feeling, this can act as my sole moisturizer. It's the perfect weight—not too heavy and not too light. I love stepping out into the sun knowing that the Three Sixty Five has me protected from damaging UV rays.
Meow Meow Tweet Lemon Eucalyptus Deodorant Stick — Completely vegan and packaged in push-up tubes that are totally biodegradable, the new Meow Meow Tweet stick deodorant is something I've reached for everyday this summer. I love the fresh lemon eucalyptus scent, and the formula keeps me dry and stink-free in the muggy summer weather. Plus, the stick formula means application is quicker than ever. It's the little things that keep me coming back to a product.
Captain Blankenship Sail Away Bug Spray — This beautiful alternative to DEET bug sprays works like a charm and smells delicious, too. The formula relies on a blend of essential oils that act as a repellant to mosquitos and ticks, like geranium, clove and lemon eucalyptus. The Center for Disease Control has stated that lemon eucalyptus oil in particular is as effective as DEET, and this natural alternative is free of the scary ingredients in traditional bug spray. The fine mist spray makes it easy to get good coverage. At this time of year, I don't go outside without my Sail Away Bug Spray.
Ursa Major Perfect Zen Body Lotion — This light moisturizer hydrates well and sinks into skin beautifully. It's the perfect weight and texture for summer. It never feels sticky or greasy, which is a must when you're dealing with hot weather. The scent is relaxing and calming, and while it's pitched as an orange, bergamot and cedar fragrance, I can definitely pick up the notes of lavender and sandalwood that help soften the scent. Another aspect I love about this body lotion is that I can apply it right before bed and not worry about it absorbing into my sheets or leaving smudges on the book I'm falling asleep with.
La Flora Barbary Fig Seed Oil — Barbary Fig Seed Oil is my go-to botanical oil for inflamed skin. While the regular Barbary Fig Seed Oil has been a mainstay in my routine for a while, the new La Flora is a gorgeous treat with the addition of rare cactus flower oil to enhance the scent and antioxidant content. Rich in essential fatty acids, active minerals, amino acids and powerful antioxidants like betalains, Barbary Fig Seed Oil is lightweight and absorbs readily but performs like heavy hitter. Intensely healing thanks to its high vitamin E content, it conditions while combating free radicals. It's also rich in vitamin K, which helps heal dark circles under the eyes and promote healthy circulation in the skin.
What are your favorite products for summer?