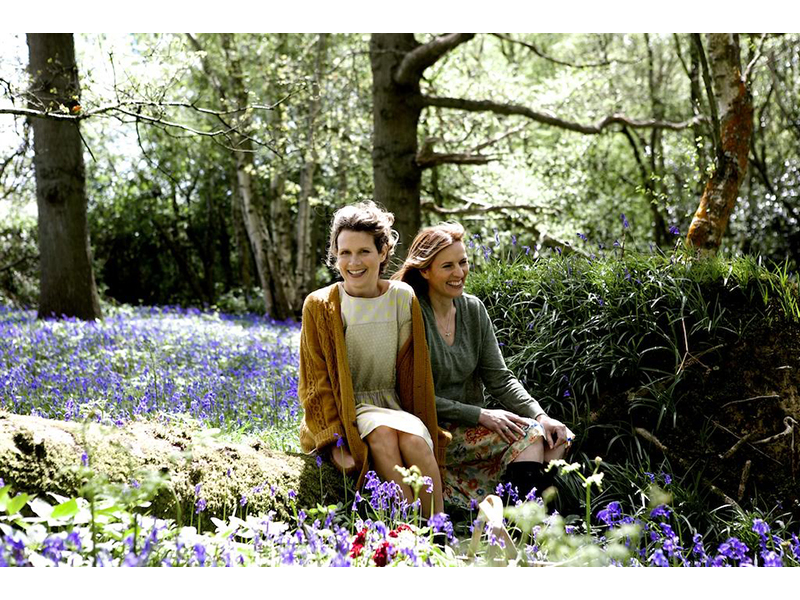 About two weeks ago I was introduced to the Amly Silver Rich Facial Mist. As a face mist fanatic, I couldn't wait to put this gorgeous looking spray to the test. Amly takes its old English name from an organic wild-flower meadow in East Sussex, England. Bursting with botanical goodness in a base of silver rich spring water that's sourced from this wild-flower meadow, the Amly Silver Rich Facial Mist is just as beautiful in person as it sounds on the page. This radiance boosting silver rich water is infused with highly concentrated flower waters, herbal extracts and pure essential oils. In addition, skin-beautifying ingredients like hyaluronic acid and pea and copper peptides help plump and smooth the surface of the skin and boost collagen production.
The mist is oh so refreshing with a light floral fragrance that's bright and uplifting. That's the neroli, rose otto, chamomile, jasmine, linden blossom and frankincense at play. One inhalation with your eyes closed and you might just think you're standing in those wild-flower meadows yourself. The Amly Silver Rich Facial Mist calms skin, and it also helps keep skin feeling moisturized thanks to the touch of glycerin and rapeseed oil, a vitamin E rich emollient known for its ability to protect against UV radiation. While it's perfectly refreshing and replenishing for summer, I can see this being a year-round staple.
Since Amly is new and I've been enjoying their revitalizing Silver Rich Facial Mist so much, I pitched Kerry, one of the co-founders of Amly, a few questions so we can all get to know the brand better.
Susannah: What's the origin story behind your new company, and how did you become interested in producing a botanical face mist? 
Kerry: Both Lisa & I have a shared love of all things health & natural beauty. With my background in homeopathy & holistic health & Lisa's in art & organic living we had explored the idea of creating something together but nothing had felt quite right. When Lisa moved to Hawthbush Farm & discovered this incredible water source, she called me and it was a real 'Eureka' moment. The rest just seemed to fall into place.
Tell us about the natural spring water from East Sussex that you use as the base of the Amly mist. What makes it special and beneficial for skin?
When Lisa & her family arrived at Hawthbush Farm their first objective was to fully convert the land to organic. Fortunately most of the farm had not been agriculturally managed intensively for over 50 years and as a result they were able to preserve the wild flower meadows and hedgerows, which boast an array of rare orchids, native herbs and medicinal plants. The next intention was to secure their own water source so they asked a renowned dowser to search for an underground source. He discovered an artesian spring 100m beneath a wild flower meadow. The water was analysed & the results showed as well as other minerals it was very high in silver salts.
These are important for several reasons. Silver has been known for centuries for its anti-bacterial, anti-microbial properties. It is also a super anti-oxidant & accelerates the healing process. The silver in the water is naturally occurring—it is taken on board by the flowing water passing over the silver/mineral rich bedrock. This makes the silver more bio- available, which means our skin/body can utilise it more easily.
In addition to silver rich water, your formula includes some beautiful active botanicals. What are a few of your favorite ingredients in the Amly mist and why?
The silver rich water in a way is a product in itself, however we felt this could be enhanced with the addition of botanicals & essential oils that had an affinity to the source of the water. The blending of these traditional ingredients with the more modern actives was our way of introducing the alchemy, so pertinent to the silver, a real melding of traditional & modern. We were very clear that we wanted to remain as pure as possible while creating a product that performed. We really have packed in the botanicals, so many of our favourites & some more traditional, not so well known.
I would perhaps highlight the Lady's Mantle (Alchemilla Vulgaris) given its name, which means alchemy. In ancient times the dew collected in the leaves would be used for tinctures, which were believed to have magical properties. It is wonderfully healing & anti- inflammatory. With our 'Botanical Alchemy' we couldn't really leave it out.
We also love the Horsetail extract as it helps collagen and elastin synthesis in the skin, which rebuild and regenerate damaged skin cells. It is the most abundant source of silica in the plant kingdom. Marshmallow root extract provides multiple benefits for the skin. It is plumping & helps to smooth out fine lines. It is anti-inflammatory & a 'normaliser' establishing balance. It softens skin, helping to break down dry, hard tissue. Plus the name, who doesn't love marshmallow!
What kind of results can we expect to see from using the Amly Silver Rich Facial Mist?
The Radiance Boost really is a multi tasker. Many of the botanicals & essential oils were chosen for their anti-inflammatory properties, as this is a major contributor to skin aging & degeneration. With regular use your skin is constantly replenished with moisture boosting hyaluronic acid, & plumping copper peptides, soothed with anti- inflammatory botanicals & protected with the naturally anti-bacterial silver. The aim is to capture the look & sense that you have been for a long walk in a flower filled meadow, you are relaxed, uplifted. Your skin is fresh, dewy & glowing. Be warned once you start you can't be without it!
The Amly Silver Rich Facial Mist is available exclusively at Integrity Botanicals. Check Integrity Botanical's Instagram tomorrow for your chance to win this gorgeous treat!