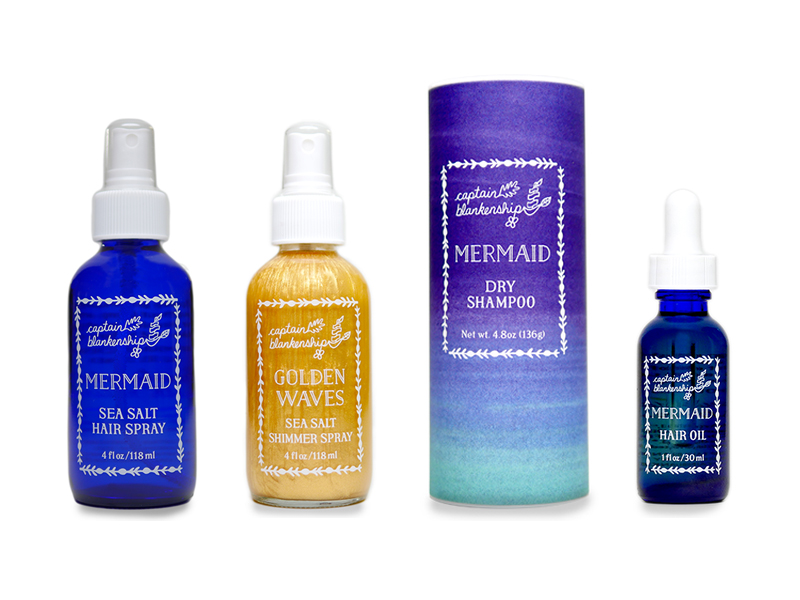 Once we coast through the month of May, summer feels official. And with summer comes the slow and lazy days that make this the ultimate season of relaxation. In this busy world we live in, I always welcome the much-needed slow-down of summer, and it's reflected in everything I do, including my beauty routine.  One of the first things to go for me is frequent shampooing and extended hair styling habits. Who wants to blow dry or style hair with hot tools when it's 90 something degrees and the humidity is cranking? Not me.
Fortunately, Captain Blankenship's hair care products keep my coif looking fantastic and healthy all summer long. You can get the beach hair of your dreams without even leaving the comfort of your cool air-conditioned house (though I highly recommend a good summer adventure or three). These products are staples in my routine year-round, but they especially shine during the dog days of summer when I just can't be bothered with a complicated beauty routine.
Here's everything you need to get an effortless and healthy hair style this summer…
Captain Blankenship Mermaid Dry Shampoo has been my top choice for years now. Every time I try something new, I end up returning to my Mermaid Dry Shampoo. First of all, this simple talc-free blend of arrowroot powder, kaolin clay, rice powder, and aluminum free baking soda is light and airy, so it won't weigh your hair down as some powders can do. A little sprinkle here and there at the roots gives me volume and whisks away any trace of oil.
This alone would be enough to keep me coming back, but there's something more that makes this baby 100% addictive—the organic rose geranium and organic palmarosa essential oils. Talk about fresh and clean! The beachy rose scent makes my hair smell better than ever. Hugs from friends and family usually come with a compliment about how nice my hair smells. All that and I get to skip the regular shampoo for days on end! You can see why this is a staple. The Mermaid Dry Shampoo comes in a travel and full size. Here's a tip—apply it at your roots while your hair is still clean, before the oil becomes visible, and it works even better.
Clean hair is one thing, but style is another. One of the best, no-fuss styling products you can lean on this summer is the Mermaid Sea Salt Hair Spray. This little potion will revive your locks and add body, texture, and a hint of moisture. Plus, it manages to do everything you want from a sea salt hair spray without causing hair to feel stiff or sticky. Paired with the Mermaid Dry Shampoo, the Mermaid Sea Salt Hair Spray works to give easy and effortless style, and with that winning combination of rose geranium and palmarosa essential oils present again, you'll swoon hard as you spritz into your hair. Captain Blankenship has included aloe vera gel for moisture and light hold, as well as organic sea kelp extract to add beneficial minerals and vitamins that nourish the scalp and hair. I love when products are as functional as they are pretty.
The Mermaid Sea Salt Hair Spray has a few variations that you should check out for summer as well. The Golden Waves Sea Salt Shimmer Spray adds natural gold mica to the original formula for a subtle golden shimmer. Finally, raise your hand if you ever added lemon juice to your hair while at the beach to lighten your locks. Now you can get the same effect without all that DIY effort. The Ray of Light Sea Salt Sun Spray adds organic chamomile, lemon, lime and grapefruit essential oils to gently lighten hair under the sun. Genius!
The Mermaid Hair Oil is the perfect compliment to the Dry Shampoo and Sea Salt Hair Spray. Hair can really take a beating during the summer, and it's important to keep it well conditioned so the ends don't get super dry and damaged. The Mermaid Hair Oil has a nourishing blend of plant-derived oils like argan, jojoba and kukui that hair absolutely loves. The scented blend of wild sweet orange, pine needle and rosemary lend a little wild, coastal vibe to the picture that goes beautifully with the rose geranium and palmarosa from the other products. The pine needle and rosemary actually promote a healthy scalp and hair growth, too, should you decide to use this hair oil as a treatment, which I highly encourage. For the day-to-day, a single drop rubbed between the palms and then worked into the hair ends is all that I need to smooth and protect the hair follicles. Kiss those frizzies bye-bye.
While the Mermaid Hair Collection from Captain Blankenship is fabulous year-round, I think you're going to be especially grateful for these timesaving, beauty-enhancing products all summer long. I hope you enjoy them as much as I do!