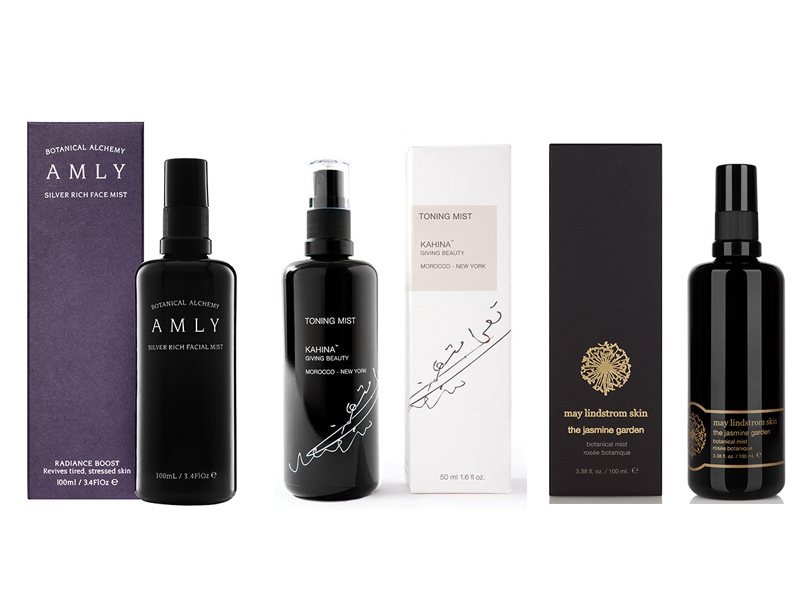 Each summer, I welcome the warm weather—even the sweaty, humid days that happen on the regular where I live. I don't really mind the heat, because I've got my coping strategies, which always includes a cooling facial mist. Whether the summer brings high humidity or dry heat where you live, the antidote that keeps me feeling fresh, cool, and calm is the frequent spritzing of a facial toner or mist. This skincare treat is the equivalent of drinking cucumber water or a fresh watermelon spritzer—the kind that elicits an involuntary "ahhhhhh" and brings your internal temperature down a notch or three. It's pretty addictive for sensory reasons, but your skin will be all the better for it, too.
Here are some of my top picks for refreshing toners and mists this summer…
The AMLY Silver Rich Facial Mist Radiance Boost is a summer meadow in full swing. This radiance boosting silver rich water is infused with highly concentrated flower waters, herbal extracts and pure essential oils. In addition, skin-beautifying ingredients like hyaluronic acid and pea and copper peptides help plump and smooth the surface of the skin and boost collagen production. The mist is bright and uplifting with a light floral fragrance from botanicals like neroli, rose otto, chamomile, jasmine, linden blossom and frankincense at play. The Amly Silver Rich Facial Mist is fantastic for summer weather because it calms overheated skin, and it also contains rapeseed oil, a vitamin E rich emollient known for its ability to protect against UV radiation.
If you are prone to clogged pores and breakouts due to the summer heat, the Kahina Giving Beauty Toning Mist is a must have product. This toning mist contains willow and aspen bark, which add antibacterial and astringent properties that decongest skin and control sebum production. It truly keeps pores looking in tiptop condition, and it is incredibly calming and takes down redness in a jiff thanks to the anti-inflammatory rose hydrosol. The organic white tea extract adds a beneficial layer of protection from environmental skin damage—a welcome addition in summer. This is one of the first toners I used that I felt made a real difference in the appearance of my skin, and it is particularly refreshing for summer, so don't confine its use to your morning or evening routine—spritz away for a skin-boosting pick me up throughout the day.
Talk about a mood booster! The May Lindstrom Jasmine Garden, first of all, smells like summer in a bottle in the must luxurious way. This light mist will cool you down, refresh your senses, and lift your spirits with one press of the nozzle. The fine mist envelopes your skin and your senses in pure jasmine heaven, but it's not all flowers—undertones of chocolate and vanilla give a hint of rich decadence to this floral bouquet, but it still remains light and airy. Witch hazel and silver add astringent, anti-inflammatory properties to the mist. I love to use The Jasmine Garden on as much skin as possible when I'm overheated—face, neck, chest—anywhere skin is exposed during the summer heat. It's one of the most pampering ways to cool yourself down and calm an overheated complexion. Keep this beautiful mist with you on the go and reach for it anytime you feel heat exhaustion setting in. The Jasmine Garden never fails to hydrate and replenish your skin while enhancing your mood.
Finally, I'd be remiss not to mention two additional facial mists that are perfect for summer—the Josh Rosebrook Hydrating Accelerator and MUN Anarose Hydrating Rose Toner. I'm obsessed with these two products year round, and the Hydrating Accelerator is another one that goes with me everywhere. If you haven't given these a try, you'll kick yourself when you finally do. They are perfect products in my book.