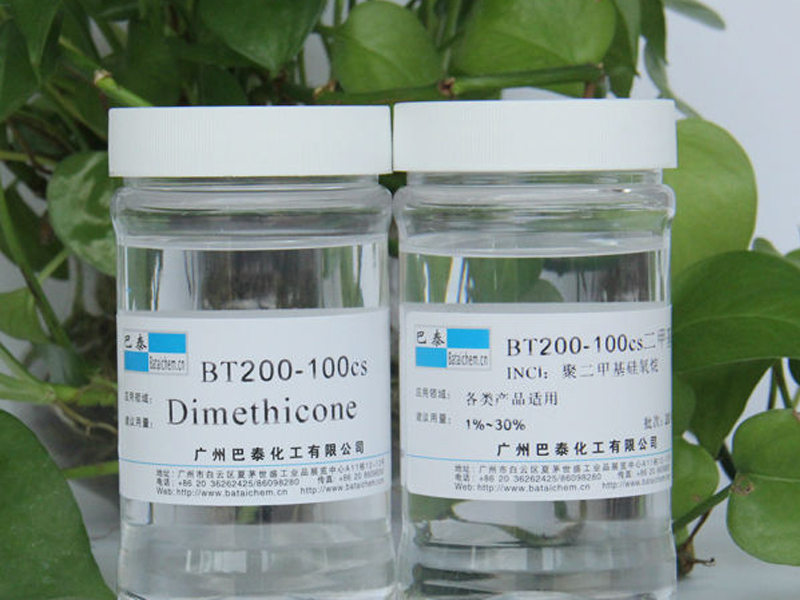 Have you ever wondered what gives some cosmetics and hair care products that silky-smooth texture that glides across the skin and almost seems too good to be true? If it isn't a natural product, chances are its dimethicone. This ingredient is a type of synthetic silicone-based polymer, and its known for creating a subtle luster that feels smooth and silky to touch. It can be found in nearly every mainstream personal care product, including moisturizer, sunscreen, serums, eye cream, foundation, facial powder, eye shadow, and hair conditioners and styling products.
In skin care and cosmetic products, dimethicone is popular because it provides a smooth application and fills in uneven texture and fine lines. That "flawless" look that some products like primers, foundations, and lotions offer usually comes from dimethicone or another silicone. It also acts a mild water repellent by forming a protective barrier on the skin, giving it a temporary "plump" look.
On the surface, these attributes may sound like good things, but I encourage you to think twice about using products with dimethicone or other silicones, and you won't find this ingredient in any of the products carried at Integrity Botanicals.
Personally, I have been dimethicone-free for many years, and I can't stand the texture of it now, which feels cloying and suffocating to my skin. Others may not feel so strongly about it's texture, so why should you avoid dimethicone? One of the biggest reasons is that its coating properties inhibit the skin's natural processes like temperature regulation and the sloughing of of dead skin cells. It creates a film on the skin that traps everything under it—including bacteria, sebum, and impurities—which can lead to unnecessary breakouts and blackheads.
Hynt Beauty founder Meryl Marshall formulated a luxurious cosmetics line without the use of dimethicone, which is no small feat! Meryl sheds some light on the topic, "I don't believe that dimethicone is harmful to our health; I just think it is grossly overused. Many of us are having adverse reactions to it. Years ago, I found that I was getting tiny milia bumps under my skin. Milia are small white hard cysts that occur when keratin becomes trapped beneath the surface of the skin. My superstar aesthetician, Lillian was the one that brought to my attention the drawbacks of silicone ingredients. She explained that moisture, bacteria, impurities, skin oils and sebum are trapped under the silicone film. In a nut shell, this ingredient exacerbates acne and is very drying. She instructed me to stop using all products with silicones. It took quite a while for my skin to be remediated."
But what about hair care products? Dimethicone sure delivers when it comes to glossy, shiny locks. Well, dimethicone isn't exactly environmentally friendly. Meryl explains, "Recently, it has come to my attention that dimethicone harms the environment both in the manufacturing process and when the end user washes off product. There is runoff into our water streams, polluting our environment. Not cool at all." We agree! In the end, dimethicone does nothing to boost the health of skin or hair, so why not reach for a more nourishing, environmentally friendly formula?
Hynt Beauty knows a thing or two about nourishing ingredients. Meryl tells us there are plenty of good substitutes for dimethicone, "We use the following natural emollients to provide slip and smoothing qualities to our products: Sunflower oil, Sesame Seed Oil, Jojoba oil and esters, Avocado oil, and Cupuacu butter. Right now, we are in R&D to create a liquid foundation. We are experimenting with broccoli seed oil. The only drawback is that it smells awful. Other alternatives are Rhatany Root liquid, which has an added bonus of UV blocking properties."
Since natural brands tend to favor luxurious botanical oils over cheap synthetics, ingredients like dimethicone often don't even factor into the formulation process. Kari Gran is blissfully un-phased by the personal care industry's reliance on dimethicone, "Honestly, I didn't look to formulate around dimethicone; it never was an ingredient that I had considered using. When I first began formulating with plant and essential oils, I was so taken by the way they made my skin feel, I never looked back.  Dimethicone is often added to provide the end user with the feel of a smoother application in lotions, primers and foundation.  Personally, I never cared for that feeling and was so happy with the simplicity of plant oils, I decided to not mess with a good thing!"
While dimethicone may not have some of the more serious health implications than other mainstream ingredients have, you're better off without it. So let that beautiful skin breath easy and ditch the dimethicone in favor of more nourishing ingredients. You probably won't even miss it.