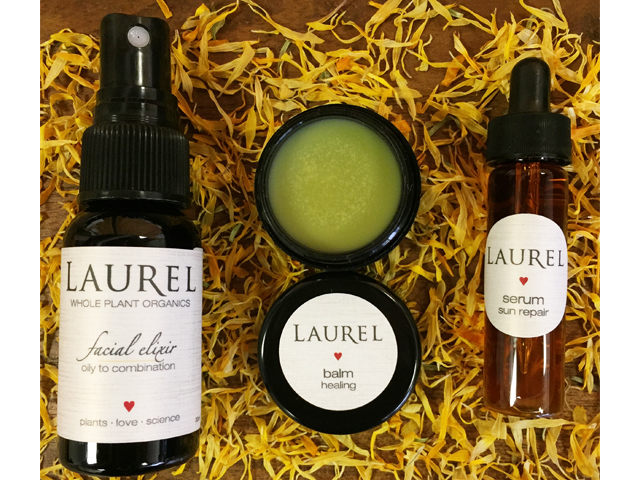 With summer in full swing, we are so excited to share this practical yet pampering summer skin advice from one of the most talented skin-healers we know—Laurel of Laurel Whole Plant Organics!

Whether you're headed to the beach or simply out for a sunny stroll, this is a must-read. Enjoy and don't miss the special offer from Laurel at the end of this post!
Just like everyone else I experience seasonal skin woes. In the summer time it is flushed cheeks, congestion on my nose and forehead, and the occasional sun burn which inevitably leads to thin dried out connective tissue and potentially hyperpigmentation. I love for my beauty rituals to be a mindful and enjoyable practice, but its even better when that ritual ends with positive results! So here are some of my favorites for the sunniest and happiest of days spent at a sandy beach by the endless ocean!
PRE-SUN RITUAL: On these full sun exposure days, after my normal summer cleansing and hydrating routine, I reach for our Sun Damage Repair Serum. I apply that generously to my still dewy face… usually about 8 drops for my entire face on down to my decollate. I focus on areas specifically where I know will get extra sun, like my forehead and cheeks. Then I apply our Sun Body Oil from neck to toe! Both of these products support our skin's own defenses against the sun with their powerful antioxidants, which are very specific to UV rays. After that, if I'm planning to be in full sun for more than 40 minutes uncovered (which is my own skin's threshold), then I reach for zinc based sunscreens for extra protection. My favorites with high purity standards are Josh Rosebrook Nutrient Day Cream for my face and Raw Elements for my body.
IN-SUN RITUAL: Our Oily/Combination Elixir is a great companion of mine on trips to the beach or a sunny hike. It is incredibly refreshing, and the Chamomile and Helichrysum combination are soothing and protective. The cooling mist is such a treat on a warm day. I usually try to keep my face covered with a full brim hat, which prevents me from needing to reapply sunscreen on my face too often. But I always take along our luscious Sun Body Oil and my Raw Elements so that I can re-apply both throughout the day. To take my self care beach vacation up a notch, I love to take along Captain Blankenship's Mermaid Hair Oil and Mermaid Sea Salt Hair Spray. I usually end up coming home from a day at the beach, and my skin and hair are as happy as a day at the spa!
POST-SUN RITUAL: There are times when I do get a bit too carefree, ditch my hat, and don't take the time to reapply antioxidants or sunscreens — yikes! Luckily, I have quite the box of tools to address the redness, inflammation, peeling, and even post-sun hyperpigmentation. Switching to our O/C Cleanser and O/C Elixir are important, because both are so focused on inflammation with deeply cooling Chamomile and rejuvenating Calendula. Even though our Anti-Inflammatory Serum would be most people's first guess to go-to, I like to stick with Sun Damage Repair Serum since its so incredibly specific for post sun care. Those three products are essential all summer long for me! For serious sun burns, I like to use our Healing Balm… its also very cooling and soothing – I alternate misting my skin with O/C Elixir and then applying Healing Balm — its a powerful combo that quickly eliminates any trace of a sun burn. Of course the Sun Body Oil is also meant to address any post damage from the day. And last but definitely not least, our Brighten Mask is truly the real deal for brightening post sun hyperpigmentation. I use it weekly, bi-weekly, or even spot treat with it.
Laurel gives the BEST skincare guidance! And for a limited time, Laurel is gifting a selection of products from her very own Summer Skin Rituals…
This deluxe gift with purchase includes 3 travel-sized products, along with a little card about how to use them for summer skin, all wrapped in a canvas bag—perfect for the beach and beyond.
You'll get the following travel-sized treats (as pictured above):
Receive this gift set from Laurel ($65 value) now through Sunday, July 16th on any sitewide purchase of $120 or more at integritybotanicals.com.

Upon checkout enter code: LAUREL
Supplies very limited! Not valid with any other code or promotion, including other free gifts with purchase promotions or reward point vouchers. Not valid on previous purchases.  One free gift per customer while supplies last.