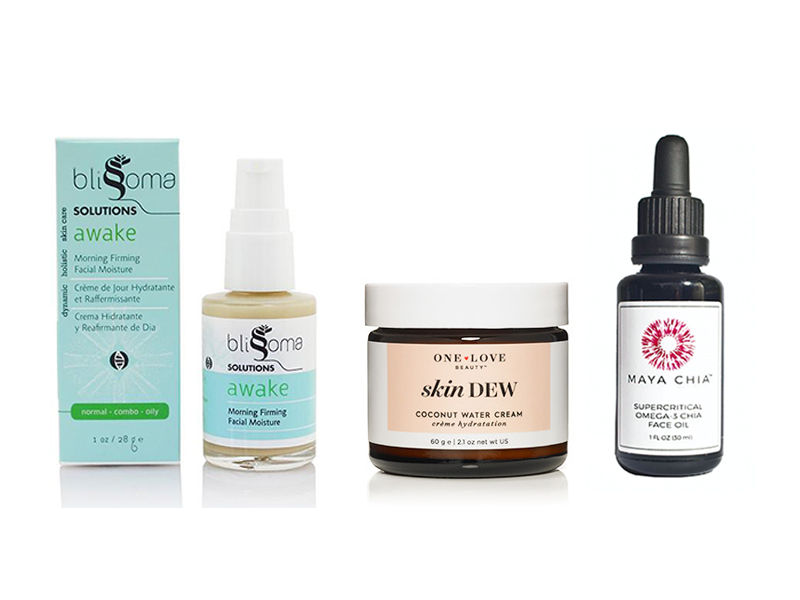 Finding a lightweight moisturizer is no easy thing. Rich, indulgent creams and balms abound, but it's tough to find that perfect moisturizer that actually hydrates while letting skin breath unencumbered by heavy ingredients. I ask a lot from lightweight moisturizers. They have to hydrate and leave my skin feeling comfortable so that fine lines are minimized, and they have to feel comfortable in the humid summer weather. Two light as a feather creams and one powerful but weightless face oil are at the top of my list for summer time lightweight moisturizers.
These are must-haves products for anyone looking to lighten things up while maintaining balanced, happy skin through warmer weather.
The Skin Dew Coconut Water Cream is one of the best moisturizers I've ever used. Leave it to One Love Organics to create a gentle hydrating cream that is light enough for summer but effective enough for winter. The Skin Dew entered my routine over the winter, when my skin was uncomfortably dry. I began layering this beauty under my face oil, and within the first day my skin felt 100 percent better. On its own, it's perfect for warm days. The Skin Dew absorbs beautifully, leaving no shine or residue, and it makes an excellent primer for makeup. The cream has a light, barely noticeable coconut scent. Mineral rich coconut water makes up half of the formula, and the additional ingredients like cupuacu butter, watermelon seed oil, and jojoba help lock in moisture while remaining weightless on the skin. The Skin Dew is a dream cream for all skin types, but it's especially perfect for those with sensitive skin.
For an even lighter moisturizer that balances skin beautifully, try the Awake Morning Firming Facial Moisture by Blissoma. The beauty of this cream is that it's brimming with brightening herbs that tone and fight free radicals, and this goodness is delivered in a formula that feels like a second skin. It's so light, even though it's rich in regenerative oils like hemp, tamanu, and red raspberry seed oil. Calming ingredients like rose and niacinamide keep redness at bay, and the mild herbal scent is equally soothing. The Awake Morning Firming Facial Moisture absorbs beautifully and would be suitable for a wide range of skin types, from super oily to dehydrated skin. It's perfect for layering under a face oil or sunscreen without adding extra weight. As you smooth this moisturizer on freshly cleansed face, your skin will feel toned, refreshed and ready for the day.
For those that prefer lightweight moisture in the form of a face oil, the Maya Chia Supercritical Omega-3 Chia Oil is a must try product. Chia oil is soothing and plumps fine lines while helping skin retain its elasticity, but it is ultra lightweight and quick to absorb. The light citrus scent in this blend is so lovely, and this nutrient-rich superfood oil delivers major results thanks to the fact that chia oil has more omegas than salmon and three times the antioxidants of blueberries. Because of its high vitamin B3 and zinc content, it's beneficial for treating acne-prone skin, as well. I love using the Supercritical Omega-3 Chia Oil on its own or layered over a light cream. It's truly a skin healer that delivers on its promise to keep skin smooth and radiant.
Have you tried these lightweight moisturizers? What's your favorite?