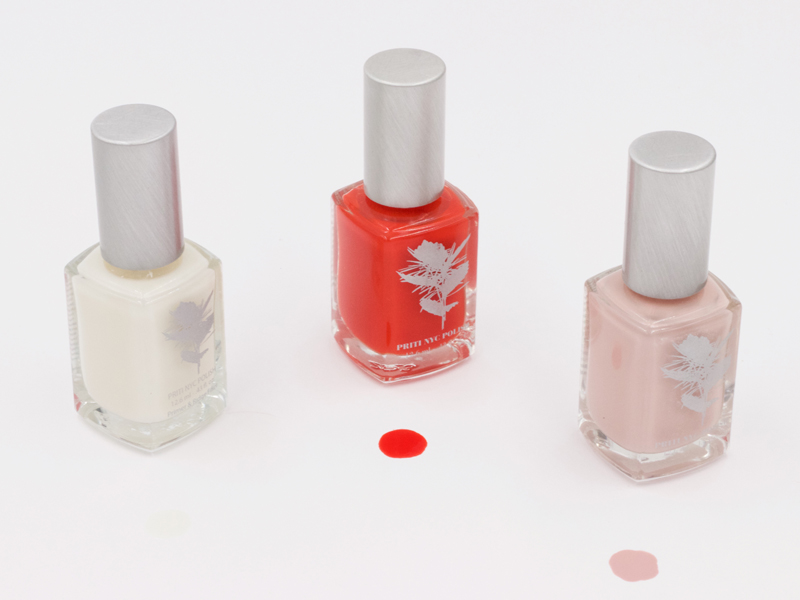 A fresh manicure or pedicure never fails to bring me smiles for days. This little self-indulgence has a way of making me feel lovely even if the rest of my look isn't so put together. There's just something irresistibly pretty about colorful, glossy nails, but like many products in the beauty industry, nail polish has a history of not-so-pretty ingredients. Traditionally, nail polish has contained a host of nasty chemicals ranging from known carcinogens like formaldehyde that have been linked to cancer to toluene, which can cause birth defects and developmental problems in children of pregnant women who have had extended exposure, or camphor—a poison that suffocates nails and deprives them of nutrients, leading to yellow stains on nail beds.
Enter PRITI NYC, a line of gorgeous luxury polishes that are 8-free—meaning no toluene, dibutyl phthalate, formaldehyde, formaldehyde resin, and camphor, xylene, parabens or TPHP—all things you want to avoid, because pretty nails shouldn't come at the cost of exposure to such dangerous chemicals.
As a huge lover of PRITI NYC nail polish, I was absolutely thrilled to hear that Integrity Botanicals is now carrying this brand. With a stunning lineup of colors that range from classics to avant-garde, I also love how many of the colors are named for flowers and other botanical beauties. In terms of performance, these polishes are fast drying, chip resistant, contain a UV inhibitor, and are extremely durable and glossy.  They are easy to apply and give professional looking results.
Two PRITI NYC colors are in constant rotation for me this spring: Secret Garden Rose and Snapdragon. The predictable color choice for me is Snapdragon, an opaque sunset orange with just enough red in it to bring out a bit of fire. I love this punchy color for anytime of year, and it is a serious wardrobe staple for me.
On the other hand, Secret Garden Rose is way out of the norm for me. It's something I chose on a whim in an attempt to be less predicable, but I became obsessed with this color from the moment I applied the first coat. Described as a dusty pink, this is the nude color I've always wanted but had never found until now. There's something about my skin tone that makes most traditional nude colors look really off—either too brown or yellow, or the color isn't opaque enough. Secret Garden Rose has enough pink in it to keep things interesting, but it still comes across as a neutral, nudish shade with great opacity. It's perfect for everyday wear and has become one of my favorite colors in my collection. If you have trouble finding nude nail colors, try this Secret Garden Rose!
All of the colors in the PRITI NYC collection will benefit from using the Primer and Ridge Filler first. This milky base coat contains Vitamin B12, silk powder, and silica, which allow it to serve as a ridge filler and nail strengthener as well as a protector.  The Primer and Ridge Filler has a slightly matte finish, which allows nail polish to go on smoothly and adhere to the nails.  It definitely extends the wear of my polish and helps everything look smooth and lovely while making my nails healthier in the process. Don't miss it!
Have you tried PRITI NYC? Which colors should I try next?