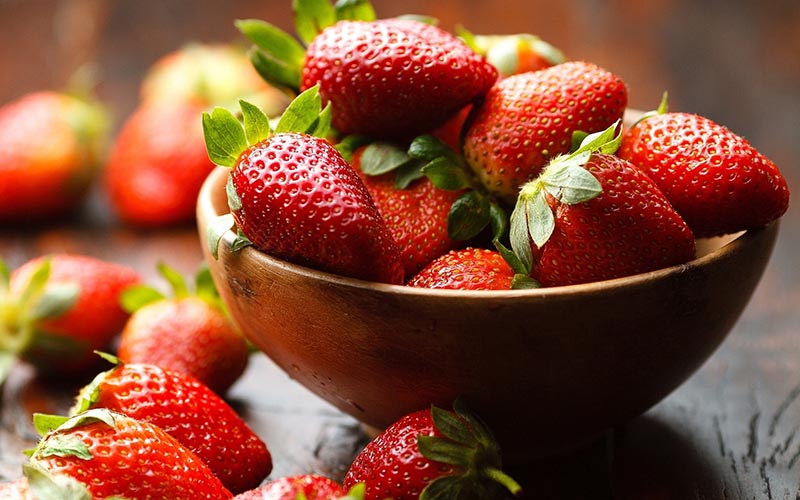 It's strawberry season! I've been going through pints of these luscious berries like crazy. They are a great snack when you're craving something sweet and juicy, and it's no surprise that this antioxidant rich fruit is nutritious, but did you know that strawberries pack a serious punch for skincare, too? Save a few berries for a simple DIY treatment that will have your skin glowing all spring.
You can count on strawberries for their antioxidant, anti-inflammatory and astringent properties—all of which tone and help prevent and repair damage caused by free radicals and environmental exposure.
Strawberries are particularly rich in vitamin C, which is one of the most powerful vitamins in your skincare tool kit thanks to it's ability to brighten, lighten and boost collagen to smooth out fine lines. In addition, strawberries are naturally rich in salicylic acid, a beta hydroxy acid that helps exfoliate the skin and remove excess sebum. If you're battling spots and scars or acne, you'll appreciate what a difference fresh strawberries can make, so give this simple, gorgeous mask a try. Bonus: it tastes delicious!
How to Make a Strawberry & Honey Face Mask…
Mash 2-3 ripe strawberries together with a spoonful of organic raw honey to create a thick paste. Press and pack a nice layer onto your face. Depending on the consistency of your strawberries and honey, the mask might feel a little loose and sloppy, but not to worry! You can recline, close your eyes and let the mask do its thing for ten minutes. Another option is to blend the ingredients in a small food processor or use an immersion blender and then paint a thin layer onto your face using a flat mask or makeup brush. Rinse off after 10-15 minutes and enjoy your fresh complexion.