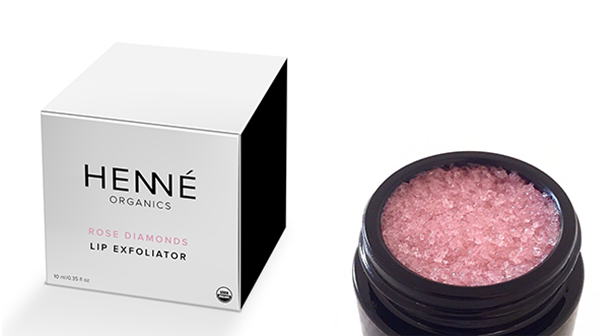 After creating one of the most luxurious lip balms on the market, Henné Organics is back with the perfect compliment—Rose Diamonds Lip Exfoliator. I tried my first lip exfoliator at the young age of 10. Not because my kid lips needed it, but because my mom had one and it seemed novel and fun. Once I grew up and started wearing bright lipsticks, I realized just how important a good lip scrub can be for creating that perfect bold lip. No matter how creamy your lipstick is, without proper exfoliation the color will adhere unevenly to any dry patches, which you may not even realize you have until you apply one of your favorite reds. Even if you don't wear lip colors often, the Rose Diamonds Lip Exfoliator will help your lips look and feel healthy and smooth. With as much work as they do in a day, don't your lips deserve a little pampering?
The Rose Diamonds Lip Exfoliator comes in a violet glass jar that's the same size as the Luxury Lip Balm. Crack the lid and you'll find pale pink sugar crystals sparkling back at you. The sugar is well blended into a base of coconut oil, beeswax, shea butter, jojoba and rose oil. It has a light rose scent that mingles with the natural scent of the base oils nicely. The formula is soft and pliable, so you can easily scoop a small amount out of the jar without spilling or wasting the product, and a little goes a long way. I use less than a pea-sized amount. While the instructions say to apply to damp lips, I've skipped that step and applied to dry lips. The base of the Rose Diamonds Lip Exfoliator literally melts onto the lips and feels so luxurious while the sugar crystals help slough away dry patches and smooth out the texture of your lips. Wipe or rinse away the remaining sugar crystals, and voila—lipstick ready lips. I love that the Rose Diamonds Lip Exfoliator is small enough to tuck in a purse and take with you anywhere.
With the Luxury Lip Balm and now the Rose Diamonds Lip Exfoliator, Henné Organics is proving to be a serious lip care line with stand-out formulas. Perhaps we'll see lip colors from them one day, too. A girl can dream, right?