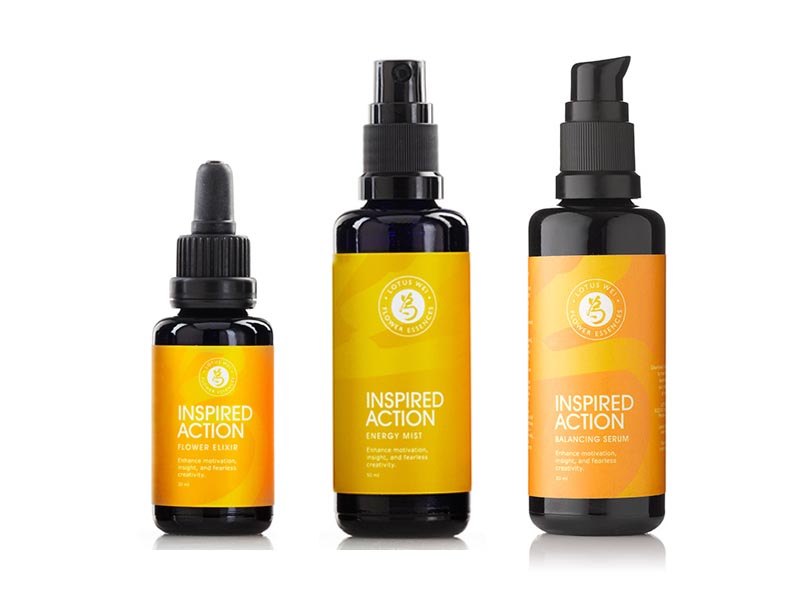 In case you haven't been following along, I've been working my way through the incredible Lotus Wei collection of flower elixirs, mists and anointing oils. Radiant Energy was perfect for kicking off the New Year, while the Infinite Love collection was an obvious choice for February. Now that spring is in full bloom, I'm feeling the need to shake off winter's slow and sleepy embrace and dive right in to outdoor activities, spring cleaning and the like. The weather where I live is keeping one foot in winter and the other in spring, causing lots of confusion. Naturally, I could use a little boost in the motivation department so that despite the wacky weather, I'm not still in winter-mode.
The Lotus Wei Inspired Action collection is the perfect antidote to lingering winter sluggishness, and I've been putting the Inspired Action Flower Elixir and Energy Mist to good use with great results.
Created by flower alchemist, Katie Hess, Lotus Wei uses a combination of aromatherapy and flower remedies to help you manage the challenges of modern life. Both the mists and the elixirs are easy to incorporate into your daily routine, and they add an element of fun to the normal drudge.
The Inspired Action Flower Elixir is an absolute must have for anyone who has a lot on their plate and needs to stay on task and productive—all while in good spirits, of course! As a work-from-home creative and entrepreneur, I need all the help I can get to stay self-directed, motivated and well, inspired! I feel that Inspired Action was made for me, but then again I bet you can benefit from it, too—no matter how different our daily lives might be. This elixir promises to dissolve procrastination, lack of follow through, feeling stuck, writer's block, indecision, projects left undone, and the distracted mind.
This last month has been the perfect testing ground for this elixir. From preparing for my first tax filing as a new business to designing new packaging upgrades and getting into the groove with workshops I'm teaching, I've needed every ounce of help that the Inspired Action Flower Elixir offers. Fire star orchid enhances creativity and innovation, red bird of paradise gives the motivation to get it done, and euphrasia helps with decisiveness and intuition. These are just a few of the flower essences in the Inspired Action Flower Elixir that work along your meridian lines to bring your body back in tune. I love the ritual of taking a flower elixir throughout the day, and I find it makes a true difference.
The Inspired Action Energy Mist is a lovely compliment to the flower elixir. Both of these sit within easy reach at my desk. Starring the same flower power as the elixir as well as an aromatherapy component, the Inspired Action Energy Mist is a fantastic pick-me-up when my eyes are tired from looking at the computer screen. I simply spritz across my face and shoulders, creating a halo of beautiful scent and flower essences, and then I step away for a moment to breath and experience the formula before returning to work. If I'm pulling extra long hours, this mist is a must. Pink pepper, Jamaican bay and citrus oils lift and refresh your mood instantly. It's a little spicy with a sweet citrus kick. There's also an Inspired Action Balancing Serum if you prefer to get your dose of flowers that way.
With the Lotus Wei Inspired Action Energy Mist and Flower Elixir on hand, working hard never felt so easy.