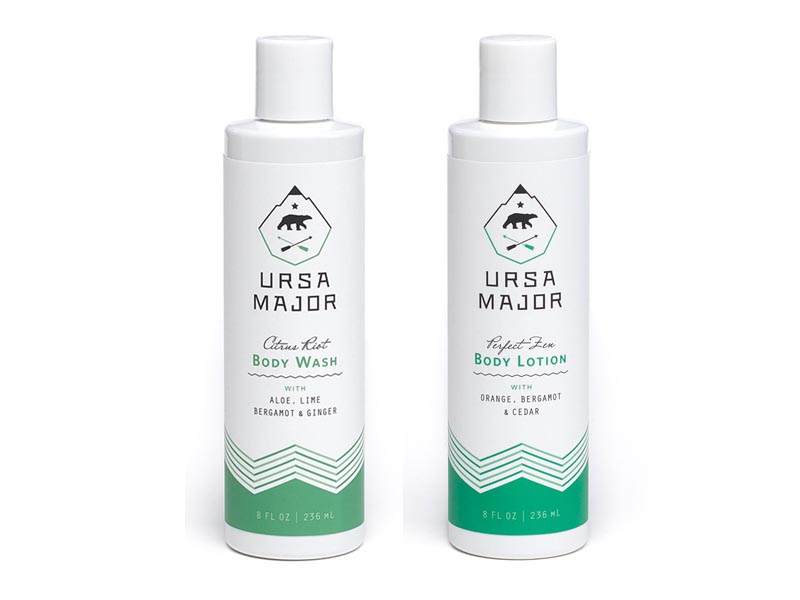 Ursa Major is such an easy brand to love. They make family friendly, unisex products that feel and smell amazing with clean ingredients. Did I mention how reasonably priced the products are? Ursa Major's branding really stands apart, too. It's fun, modern and stylish with clever little quips on the bottles like "YOU are the active ingredient"—love that! I've been dying to get my hands on Ursa Major's Perfect Zen Body Lotion and the Citrus Riot Body Wash since they launched last year, and after trying them out, I can tell you these will be staples along with some of their other products that my husband and I use daily. The Ursa Major body wash and body lotion are indeed the perfect duo.
If you're the kind of person who requires something zesty and fresh in the shower to truly wake up, then meet Citrus Riot Body Wash—your new favorite product. When this aloe-based body wash arrived, I popped the lid off and just couldn't get enough of the punchy fresh lime aroma. It's so much more than just a bright citrus, however. Notes of ginger, fir, cedar and vetiver help give a full-bodied depth and hint of sexy to the awakening lime and bergamot notes. It's walks the line between masculine and feminine beautifully. Even on my grumpiest mornings (it happens), I feel peppy and ready to rock the day after using the Citrus Riot Body Wash. The formula itself is silky, especially for a gel body wash. It produces a gentle foamy lather, so a little product is all you need for your whole body. Let's face it, a beautiful scent only gets you so far, and the best part about the Citrus Riot Body Wash is that it cleanses thoroughly but gently, and it doesn't strip my skin of it's moisture. #winning
Speaking of silky things, the Perfect Zen Body Lotion is going to be in heavy rotation all spring and summer long. Maybe you're not a big body oil fan, or maybe like me you just want something lighter and fast absorbing for the warm seasons. Whatever your situation, I recommend the Perfect Zen Body Lotion for a light moisturizer that hydrates well and sinks into skin beautifully. While the scent is a little more feminine to my nose than the body wash, it is delightful, fresh and not too girly for my husband. He's a big fan of the Ursa Major Face Balm and is very hard to please when it comes to moisturizers but always asks for something for his hands and arms. The Perfect Zen Body Lotion suits both of us. The scent is relaxing and calming, and while it's pitched as an orange, bergamot and cedar fragrance, I can definitely pick up the notes of lavender and sandalwood that help soften the scent. Another aspect I love about this body lotion is that I can apply it right before bed and not worry about greasing up my sheets or the book I'm falling asleep with. I've decanted a bit of the Perfect Zen so that I can keep it in my purse as a hand cream. I hope that Ursa Major will make travel sizes available soon.