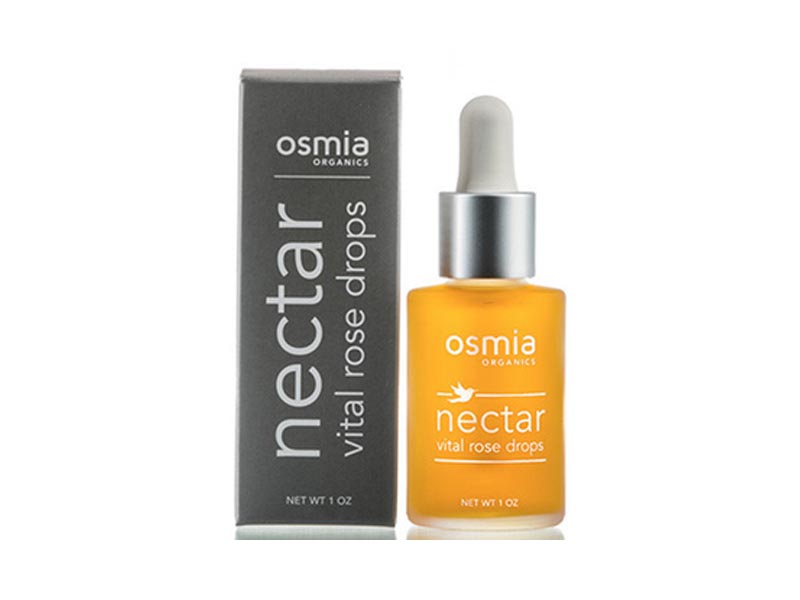 Do you have trouble achieving balanced skin? We often have this idea that our skin is one thing—oily, dry, combination—and treating our skin as if it's always one type can exacerbate imbalances. This is why it's important to really listen to your skin and observe what it needs from day to day. For example, right now my skin is extra dehydrated from a bout of travel and dull from eating less veggies than normal while on the road. Such is life, but when you can recognize these little shifts in your skin you can address them easily by adjusting a few things in your routine. A booster oil that's full of concentrated nourishment is the perfect thing to have on hand for times when you need to customize your skincare routine to address a sudden imbalance, and Osmia Organics Nectar Vital Rose Drops is a great choice for this purpose.
Formulated to boost your favorite cream moisturizer or serum, the Nectar Vital Rose Drops can help increase penetration of those products and help skin retain moisture more effectively.
A few drops is all it takes. I've had great results with my experiments, which include adding 2-3 drops to a lightweight cream, a foundation and a sunscreen. I just blend together in the palm of my hand and then press into the skin. The Nectar Vital Rose Drops can be used alone for a conditioning treat, too. The finish is velvety soft. It's not too heavy and contains ingredients that will nourish and condition without clogging pores. Safflower, argan, pumpkin seed, prickly pear (also known as Barbary fig seed oil), and rosehip seed oil are the ingredients—all rich in healing vitamin E and more. These are some of my absolute favorite ingredients for skin health, and combined they make the perfect booster oil to compliment your normal moisturizing routine.
As with all the Osmia Organics products I've tried, the Nectar Vital Rose Drops smell heavenly. Soft and floral with a little spice, Nectar features precious Bulgarian rose otto blended with a touch of sandalwood and a hint of jasmine. The scent is calming, grounding and heart opening—all around very healing and peaceful, which helps when your skin feels like a hot mess. The scent isn't overpowering and hasn't clashed with anything I've blended the drops into. Quite the opposite! It makes everything I've used it with smell even better.
The Nectar Vital Rose Drops are a luxurious way to care for yourself. Try this silky, nutrient rich boosting oil if you're still struggling to balance out skin with the transition to spring, or if you want something on hand that can help you customize your skincare from day to day.