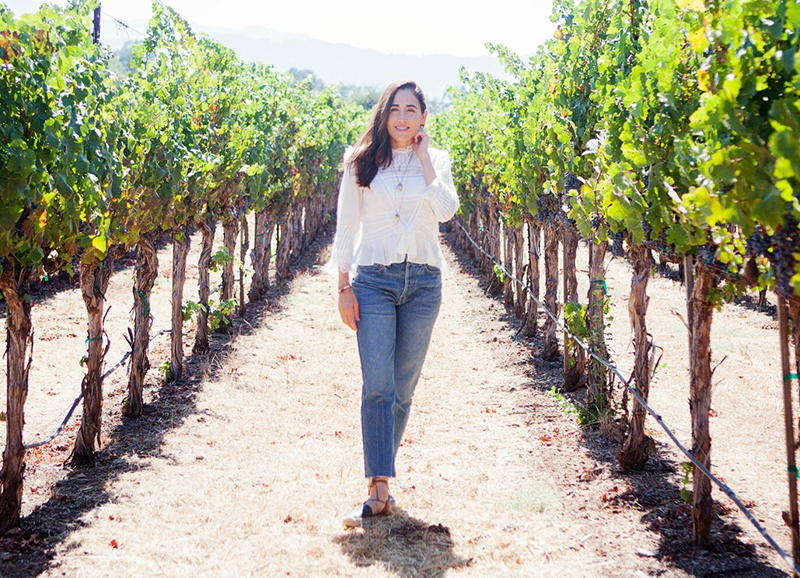 We're excited to welcome back to the Integrity Botanicals blog, the Vintner's Daughter herself, brand founder April Gargiulo.  With its rave reviews and cult following, Vintner's Daughter has been one of the top selling face oils at Integrity Botanicals since its introduction over 2 years ago.  In this Q&A, April shares her inspiration, discusses how her family's background in winemaking influences her approach to creating an amazing face oil and provides some insight into what makes Vintner's Daughter so special.
Integrity Botanicals: Can you tell us the inspiration and journey behind creating Vintner's Daughter?
Vintner's Daughter began when I opened my eyes to the lack of quality and safe ingredients in traditional skincare. I was shocked to find out that active ingredients accounted for less than 10% of a product and the rest was cheap and often toxic filler. I dreamed of a 100% active and non-toxic product that would seriously treat all of my skin issues – acne, discoloration, clarity, tone, elasticity and health. When I couldn't find it on the market, I spent the next two years developing it with very talented formulators. Our goal was to create a face oil with the ultimate multi-correctional activity and penetration. Gratefully, we succeeded and then some.
With a background in fine wine making, do you feel this foundation assisted you when developing the Active Botanical Serum? (If so, how?)
Fine winemaking informs everything we stand for at Vintner's Daughter. I grew up in a family business that is dedicated to making one of the finest wines in the world. For us that means quality is the yardstick by which we measure everything. There is no room for shortcuts from the dirt the grapes grow in to the barrel it is aged in. Every step of the process is critical to the outcome. I applied this same uncompromising focus to the development of Vintner's Daughter.
With twenty-two different active ingredients in the serum, how did you go about selecting them?
We chose the most high-quality, nutrient-rich and results-driven botanicals in the world. As important, we left them whole in order to extract their full range of activity. We believe this is critical to making a product of uncompromising quality and efficacy. Plants are intrinsically balanced and naturally provide skin both performance and nourishment. Using only one active ingredient misses the larger picture. This is how Active Botanical Serum is at once highly active and super balancing. We take advantage of every part of the plant – all the minerals, the vitamins, and the fatty acids. Because skin is made from the same nutritive building blocks, it knows what to do with Active Botanical Serum and becomes more balanced, bright and healthy.
Vintner's Daughter has been hailed as "The Face Oil to End All Face Oils", why do you think it has resonated with so many people?
Active Botanical Serum was researched and formulated to be my desert island product. I wanted one product that would do everything and do it at the highest level of performance. I didn't want to compromise non-toxic for performance and vice versa. Because we addressed my issues at such a foundational level, almost all skin types benefit – acne, rosacea, hormonal etc. I think this multi-correctional idea resonated with a lot of busy, high performing woman. It delivers life's true luxuries; quality, performance and time-savings all in one.
You use the traditional and pain staking technique of enfleurage to release and infuse nutrients from other plants into your foundation oils. Can you tell us about the process and why you chose to do it this way?
Enfleurage is an ancient method of extraction. It honours and protects every part of the plant to ensure a full range of the plant's nutrition is infused into the foundation oil. It is very time-consuming and expensive, but there is no other way to provide the skin with as much optimal and skin beautifying nutrition. We don't believe you can isolate specific active ingredients from a plant. That active will never perform as well as it would if the full range of vitamins, minerals, protein, and fatty acids were there. Nature provides the perfect balance.
The raw ingredients are all sourced from small providers and family farms, why was this important to you?
I come from a family of farmers. I have a deep respect for the women and men who dedicate their lives to agricultural pursuits. We are proud to work with so many small family farms that in many case shave been in operation for generations making one particular ingredient.
Vintner's Daughter is a company built on principles of purity, quality, efficacy and honouring the earth. How does this translate in your own day-to-day life?
Most fundamentally it translates into a profound sense of gratitude for the earth and all she provides.
Can you tell us about your beauty routine?
I am all about simple but super effective. I cleanse, tone and apply Vintner's Daughter using Push / Press. I add an additional layer of moisture depending on what is going on with my skin. The rest of my beauty routine consists of balanced nutrition (no refined sugar, cow dairy or gluten), movement, spirituality, friends and family. It's a bit corny, but I believe true beauty is a light from within. It's hard to describe. You know it when you feel it yourself or see it in others. Maybe its equal parts truth, intention and magic.
You have two young daughters, what advice, wisdom or example do you try to communicate to them when it comes to beauty?
They aren't old enough yet to get too deep on the subject, but they know beauty is a twinkle in the eye, being brave, showing kindness to others, always being thankful for what they have and sharing it.
What is next for Vintner's Daughter, any new products, projects or developments you can share with us?
We are focused on creating the very finest products in the world. Active Botanical Serum took over two years to formulate. I imagine our next product will take as long or longer. We don't want to just put something out there to fill shelf space. It must fill a real skincare need in the most effective, toxin-free way.