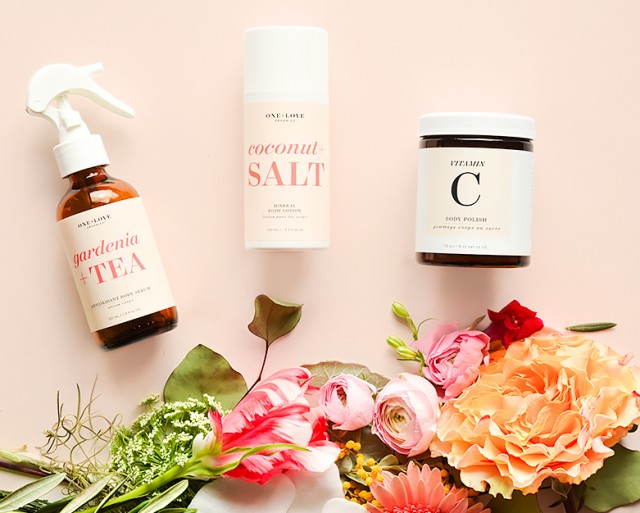 Happy day! One Love Organics has launched several much-anticipated new products, and they are sporting new packaging that is too pretty for words. It's a seriously gorgeous makeover that has me proudly displaying One Love Organics on my vanity and elsewhere. Plus, perhaps you haven't heard, but One Love Organics is now certified organic by ECOCERT®!
Let's get to know some of the new offerings…
Gardenia + Tea Antioxidant Body Serum. One Love Organics has a reputation for creating weightless body serums, and the Gardenia + Tea Antioxidant Body Serum is their best version yet. It feels incredible and fully absorbs within a quick minute even on dry skin—a rare trait in this category. Antioxidant-rich green tea, aloe, chia and sea buckthorn nourish and hydrate skin while a clinically proven ingredient called Antileikine 6 (a proprietary antioxidant blend of caprylic/capric triglyceride and laminaria ochroleuca extract) protects skin cells against damage from UV exposure and other environmental stressors. You will adore the soft scent that is reminiscent of gardenia but also slightly beachy . It leaves you wanting more and more. The experience is made even better thanks to the clever delivery mechanism, an easy to use spray bottle that makes application fast and efficient. This is one body serum I will purchase time and time again.
Coconut + Salt Mineral Body Lotion. Lucky me, I had the fortune to try this new body lotion over the winter in advance of the launch and I couldn't get enough. The fresh and natural scent of coconut oil, aloe and sun-dried Atlantic sea salt does wonders when you're wishing for warm summer weather. Now I'm on my second bottle and summer is nearly here, yet this lotion works as beautifully in warmer temps as it did on dry winter skin. Lightweight but moisturizing, the Coconut + Salt Mineral Body Lotion is perfect on its own or layered with a body oil. No surprise, it pairs with the Gardenia + Tea Body Serum like they were made for each other. This is the kind of lotion you want to keep several bottles of in strategic locations—bathroom, bedside and desk-side at least. The sea salt is mineral rich and acts as a humectant, attracting and retaining water from the air for better hydration. The bottle is compact for traveling, and the pump applicator is handy, too.
Vitamin C Body Polish. New to the One Love Organics + Elizabeth Dehn Vitamin Collection, some of you may have tried the Vitamin C Body Polish as part of the limited edition Tropical Getaway Gift Set that launched over the holidays. Now you can buy this exfoliator individually, which is good news for those of us who developed a quick obsession with this rinse-able skin brightening polish (moi!). It has the same luscious pineapple scent featured in the Vitamin B Cleansing Oil and Vitamin B Body Oil that I crave—sweet, juicy and uplifting. This is one of the best scrubs I've used for a couple of reasons. The texture is on the thicker side and doesn't dissolve instantly on wet skin, but it still spreads easily. It also doesn't separate in the jar so you don't have to remix it before each use. Organic sugar crystals act as the main exfoliating agent, truly polishing your skin. The formula is moisturizing without being too oily and leaves you with extra smooth skin.
To celebrate the new One Love Organics products and packaging, Integrity Botanicals is giving away all three! Enter to win the Gardenia + Tea Antioxidant Body Serum, Coconut + Salt Mineral Body Lotion and Vitamin C Body Polish.