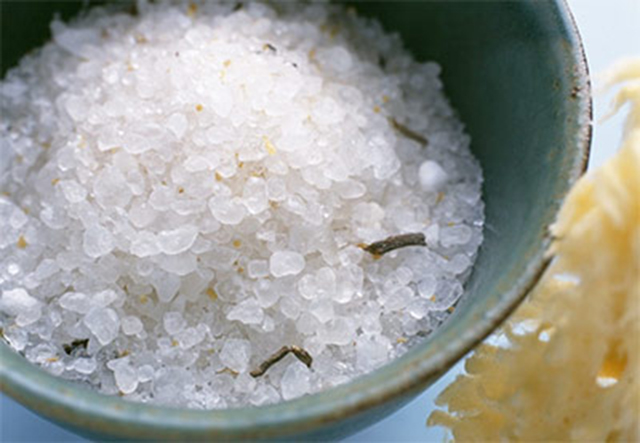 This spring, I've vowed to stay ahead of the foot care game going into summer. Every year when winter ends and I break out sandals and flip-flops, I'm pleasantly surprised by how soft my feet are after a winter of being hidden away under fluffy socks. All I have to do is paint my toenails and go! After several weeks of living in my Havaianas, I begin to notice the softness fading as the skin on my feet thickens and little callouses form here and there.
To keep my feet looking and feeling as soft and smooth as possible through the summer, I've developed a proactive regimen to keep everything in check before it gets out of control. It's much easier to slough away a little dead skin before it builds up to a thick layer, which happens quickly with feet. Plus, I've just never been someone who can use harsh tools or pumice stones on my feet — too sensitive and ticklish! This DIY foot scrub is gentle but effective, and it feels like a mini spa treatment in the comfort of your own home, so it's a lovely chance to relax and recharge all while taking care of business.
Exfoliating Foot Scrub

½ cup fine sea salt
¼ cup coconut oil (heated gently until melted)
2 drops peppermint essential oil
Add sea salt to a small jar or glass bowl. Pour the coconut oil in a little bit at a time, mixing with the salt. The consistency should be a thick paste, so stop adding oil if it begins to overtake the salt quotient. Once the salt and oil are blended, add two drops of peppermint oil and blend thoroughly.
If you prefer a different oil like olive or sunflower oil, it's fine to use that instead. You can also substitute lavender or eucalyptus oil for the peppermint oil. All will have a disinfecting and refreshing affect on feet, but the peppermint oil is stimulating and creates a mild tingling sensation that feels incredible on tired feet.
It can be challenging to use a foot scrub at home depending on your set-up. I don't like using them in the shower because the water tends to wash away the scrub before I've had a chance to really work it in. I like to sit on the edge of the bathtub with my feet in the tub, then crossing one knee over the other so I can bring my foot closer to my hands I massage the scrub in and work the edges of my feet well. After both feet are scrubbed, I turn on the bathtub faucet to rinse. Be careful when standing up, as the oil can increase your risk of slipping. It's a good idea to have a hand towel beside you to dry your feet and soak up any excess oil before you stand up.
Use this foot scrub weekly or twice per week to maintain soft feet throughout the summer season.