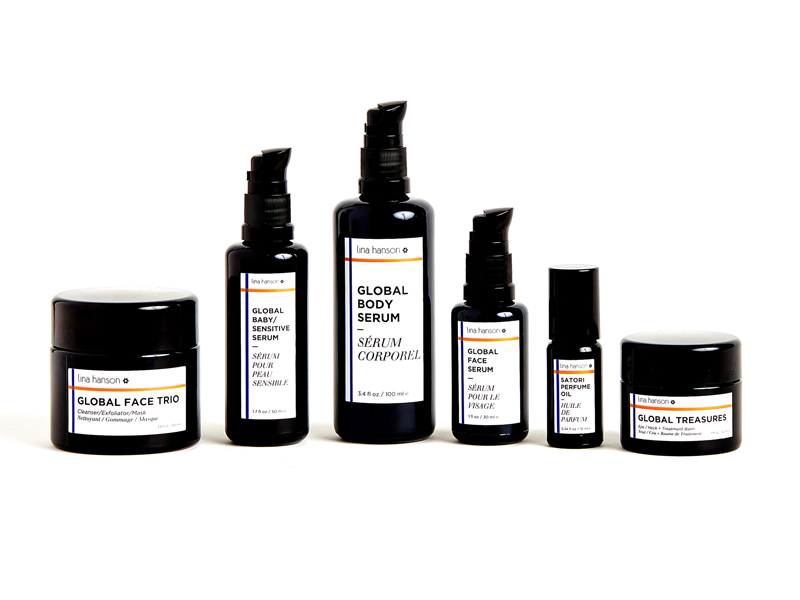 Have you ever run across a product that felt so elevated and gorgeous that you could practically feel the love that went into the blend? Lina Hanson has had that effect on me since trying the Global Face Serum years ago. It was one of the very first face oils in my repertoire, and it set the bar high for all to come with its glow-inducing finish and calming mandarin and neroli scent. I received the Global Face Serum just in time to take with me for a week on the North Carolina shore, and it puts me instantly into vacation mode every time I smell it. Who doesn't want to feel like that? The Global Face Serum and the Global Body Serum are gorgeous treats that everyone deserves to experience at least once, so put them on your wish list—somewhere at the top will do.
Lina Hanson herself is passionate and hardworking, and she's been busy since last launching the Satori Perfume Oil. The haute clean line is back with an updated look and some exciting new products that remain true to the Lina Hanson philosophy and experience. Here's what's new from Lina Hanson…
Global Treasures will play skin charmer to those who love exotic ingredients. Pearl and 24k gold will dazzle more than just your senses—they are included as precious skin revitalizers. Pearl's role in skincare has ancient Chinese roots, and it's known to regenerate collagen and repair damaged skin. Gold is a natural antioxidant that brightens skin and improves circulation. While these ingredients are luxe indeed, I love that Global Treasures contains Kalahari melon seed oil and coffee bean oil, which work to keep skin clear and add potent antioxidants to the treatment. Global Treasures is non greasy—the finish is protective and light, perfect for the eye and neck areas it's formulated for, though don't be afraid to enjoy this beauty all over.
While Lina Hanson has mostly focused on products that moisturize and condition, she's just introduced a unique cleanser/exfoliator/mask called the Global Face Trio. It's a lovely addition to the skincare line that clarifies and balances skin. I enjoy using it as a mask, though it's nice as a quick morning cleanser/exfoliator, too. The powder smells luscious and invigorating thanks the lemongrass oil. Sometimes I just open the lid and inhale for a little aromatherapy. The Global Face Trio is a pale yellow color that shows happy hints of the turmeric root and white kaolin clay. A pore cleansing Burmese bark called Thanaka is in the mix as well as skin-softening bamboo powder and brightening herbs like ginseng and licorice. The Global Face Trio is nonabrasive and very soft on skin, but it still has exfoliating power. A spoon is included for easily doling out the perfect amount.
The Lina Hanson makeover also brings us a newly reformulated Global Baby / Sensitive Skin Serum. I was a big fan of the simple, healing original formula and gifted it to friends with newborns and myself alike. The new Global Baby / Sensitive Skin Serum is even more lovely. It maintains the purity and healing qualities of the original but includes vitamin E rich cucumber seed oil now, which lends a faint watery cucumber scent that's really nice and uplifting. I love using this all over my body after a shower. It really protects and moisturizes well, but it isn't heavy. Again, I love that the first ingredient in the formula is Kalahari melon seed oil. My skin adores watermelon seed oil because it actually helps dissolve oil build up in the pores—perfect for summer!
So far I'm loving the new treats from Lina Hanson and the gorgeous new look, too! What Lina Hanson products are in your routine?